lessons in life…
a scene by scene breakdown….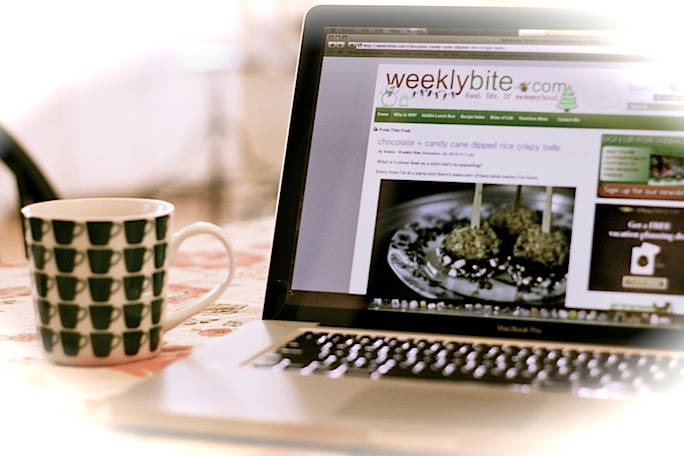 Scene 1: Estela is working hard on her computer at 7pm on a Saturday night. Next to the computer is Mr. Weekly Bite's glass of water. M eye's her mommy on the computer and gets instantly jealous of the attention she's not getting. M reaches for the keyboard and spills Mr. Weekly Bite's water all over her mommy's computer.
Scene 2: Estela becomes panic stricken and doesn't know weather to scream or cry. She quickly calls the Apple hotline and follows instructions to remove the battery from said computer. She makes an appointment for the next morning in hopes of salvaging her computer.
Scene 3: Estela gets refreshingly good news from the Apple Store. Her computer is still working, albeit hanging by a thread, but working nonetheless.
Scene 4: Early Monday morning as Estela is publishing her morning post, she notices an odd ticking sound coming from the computer. Immediately after her post is published, said computer crashes.
Scene 5: Estela rushes to the Apple Store, spends money she doesn't have, and purchases a computer so big she doesn't know half the things it can do. Estela becomes distressed when they explain to her the new computer won't be ready for 3 days. Distraught and confused as to what life will be like without said computer, Estela hangs her head like a sad puppy and goes home.
Scene 6: Estela finds herself with so much free time at home that she completed multiple loads of laundry, reorganized her closet, cleaned every bathroom, reorganized M's toys, cleaned out the guest bedroom, and read countless books to M. Mr. Weekly Bite is overjoyed with Estela's newfound productivity.
Scene 7: Estela receives word that her new computer is ready! She drives like speed racer to the Apple store, picks up her new computer with a smile so big its scary, speed races back home, plugs in said computer and types away.
LIfe Lessons:
Keep child away from computer at all times.
Keep beverages away from computer at all times.
Organize life a little better to keep home/work life balanced.
The. End.