Magnolia Cupcakes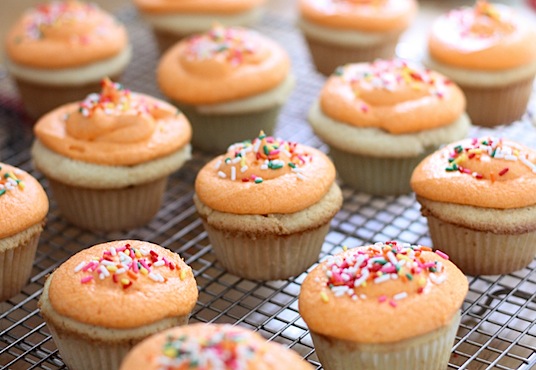 I need your help.
You see, my husband and I have been having a big debate.
Our baby girl is turning one in just a few weeks. I've been looking forward to taking that messy picture of her.
You know… the one with cake and icing all over her face. That priceless picture that will forever celebrate the fact that my husband and I made it one whole year with a kid.
My husband agrees that she can have a cupcake… but here's the kicker… he doesn't want her to have any icing. WHAAAAAAAT?
How can you have a cupcake with no icing? Is that even legal?
He thinks that's way too much sugar for her.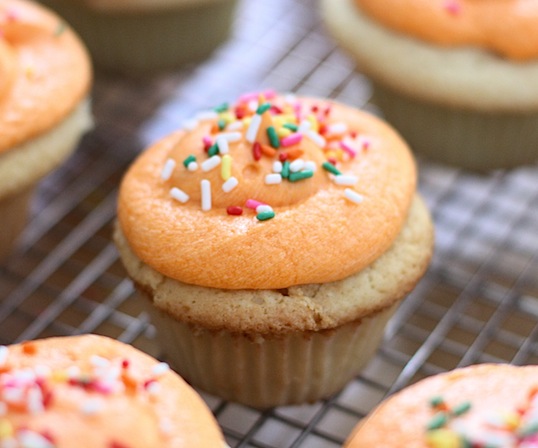 But…. a few Sunday's ago I made some whole-wheat pancakes. I cooked up a little one for M, cut it up, and gave to her for breakfast.
My husband was appalled that I gave her a pancake without any syrup. He was acting like I had broken some sort of cardinal rule.
My reply… "Our daughter can have syrup on her pancakes but no icing on her cupcakes?!"
Moving on…..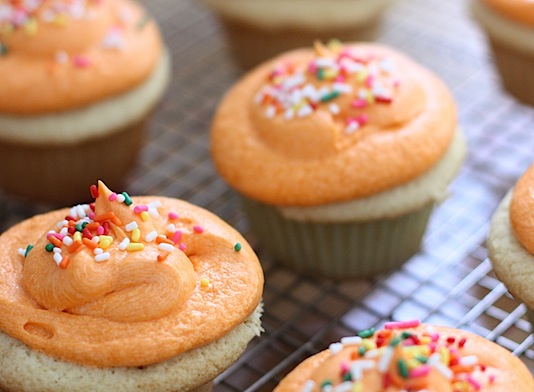 Every Friday I meet with my Mommy Happy Hour group. I hosted this past Friday.
One of our boys celebrated his first birthday… so naturally, I made cupcakes.
Having never made cupcakes from scratch before, I turned to the tried and true recipe used by Magnolia Bakery in NYC. They have some of the best cupcakes I've ever tasted.
I made the classic Vanilla on Vanilla. I threw a little coloring in the icing for some fun.
You can get the recipe for the icing here, and the recipe for the cupcake here.
I didn't have a pastry bag so I just used the ziploc bag method where you snip the corner and use it as a pastry bag.
They were delicious!
~~~~~~~~~~~~~~~~~~~~~~~~~~~~~~~~~~~~
So… what's your opinion in the icing debate?
I'm not a fan of regularly giving a child sugar… but its her birthday…. maybe I can put a thin layer of icing on hers?