Meat Free Kid Lunches
Its Kiddie Lunch Box… Bento Style!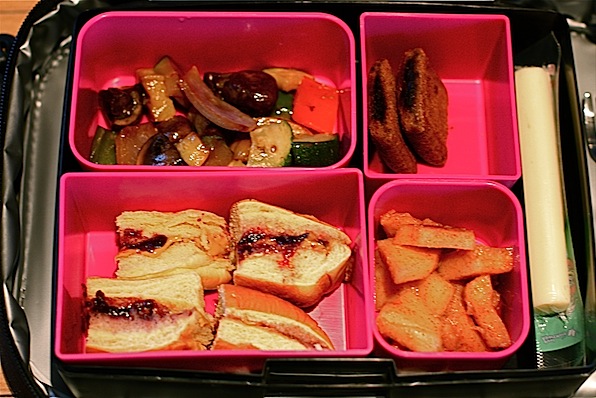 Since M started going to preschool a couple times a week, I needed to think of a better lunch box for her. I was sending her to school with multiple ziploc bags. It was very unorganized and wasteful. After doing a little research, I decided to buy her a bento box from Laptop Lunches. Its fun, its cute, its insulated, its BPA-free, and most important, its visually appealing when she sits down to eat. Well, as visually appealing as you can get for a 16 month old.
Here's a pic of the outside. I'm sure you're lovin' that hazelnut coffeemate in background 😉

The inside…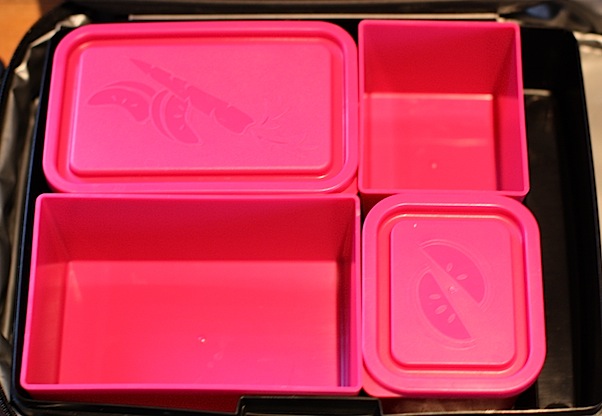 On the menu for Miss M was a Soynut butter & Jam Sandwich on a potato roll (M's school is nut-free), Cinnamon Apples, Leftover mixed veggies, two whole wheat Fig Newman's, and string cheese.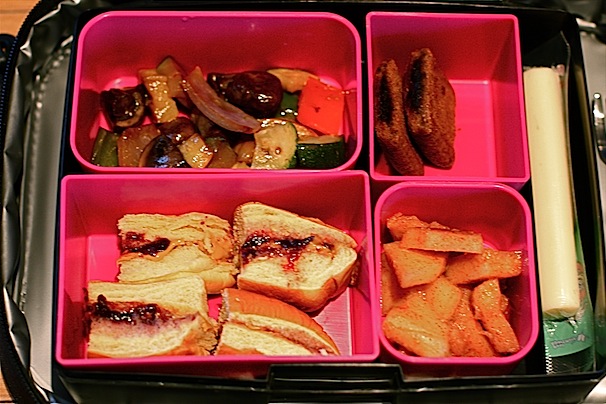 So far I've been very happy with M's bento box! Hopefully she likes it too 🙂
Meat-Free Kid Lunch Ideas…
Last week I was talking to a friend of mine and she was telling me her son goes to a preschool that's meat-free and she's running out of lunch ideas. After brainstorming and doing a little research, I came up with these ideas.
Sandwiches: Any of the below can be used inside whole wheat bread, bagels, english muffins, whole wheat tortillas, wraps, or flat bread.
Cream Cheese & Smashed Avocado
Cream Cheese & Jam (I like Crofter's Super Fruit spread)
Cheddar Cheese & Apple or Pear Slices
Brie & Pumpkin or Apple Butter
Peanut Butter or Almond Butter & Honey Sandwich
Soynut Butter & Jam Sandwich (if your child's school is nut-free)
Grilled Cheese
Quesadilla with Cheese & Low-fat Refried Beans
Peanut Butter & Banana
Soynut Butter & Banana
Cottage Cheese & Pumpkin or Apple Butter with flat bread on the side
Meat Substitutes: Can be added inside a sandwich or on the side with whole grain crackers.
Nut Butters
Hard Boiled Eggs
Cheese (Low-fat)
Refried Beans
Edamame (shelled)
Yogurt (low-fat)
Tuna Salad
Egg Salad
Tofu Dogs
Cottage Cheese (low-fat)
Hummus
Beans (garbanzo, kidney, black beans)
Meal Tip: Whenever I'm cooking dinner, I'm always thinking about M's lunch. Whether she's at school, or at home. I always think of food she may eat, plan it into our meal, and cook extra so I have it on hand to include in her lunch the next day.
Do you have any ideas for meat free kid lunches? I know my friend will greatly appreciate it 🙂
Have a great day!!