Mediterranean Salmon Salad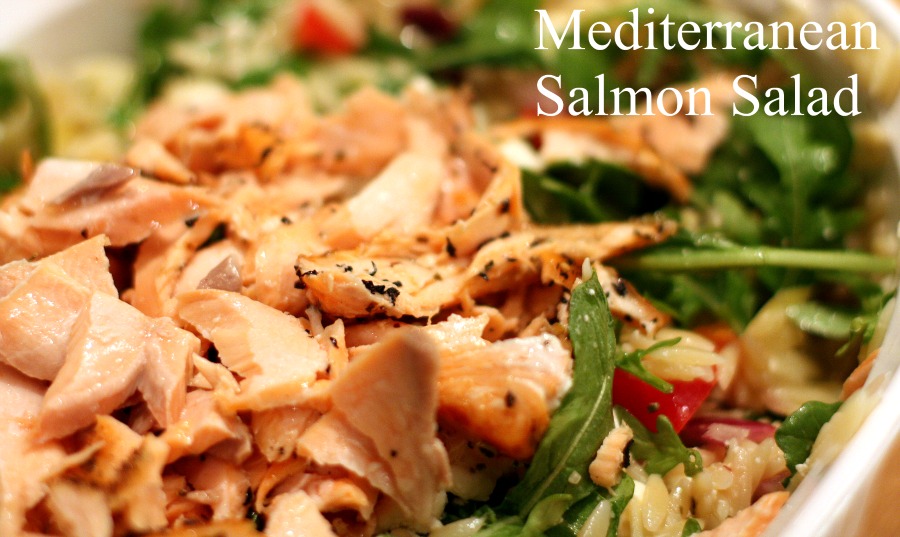 One of my favorite dishes of all time is Greek Orzo Pasta Salad.  Its one of those dishes I can eat everyday.  This time I wanted to change it up a bit.  After surfing the internet for hours, I finally came up with this Mediterranean Salmon Salad.  Its healthy, light, and super easy to make.
To start, you're going to need some orzo pasta, kalamata olives, red onions, and red bell pepper…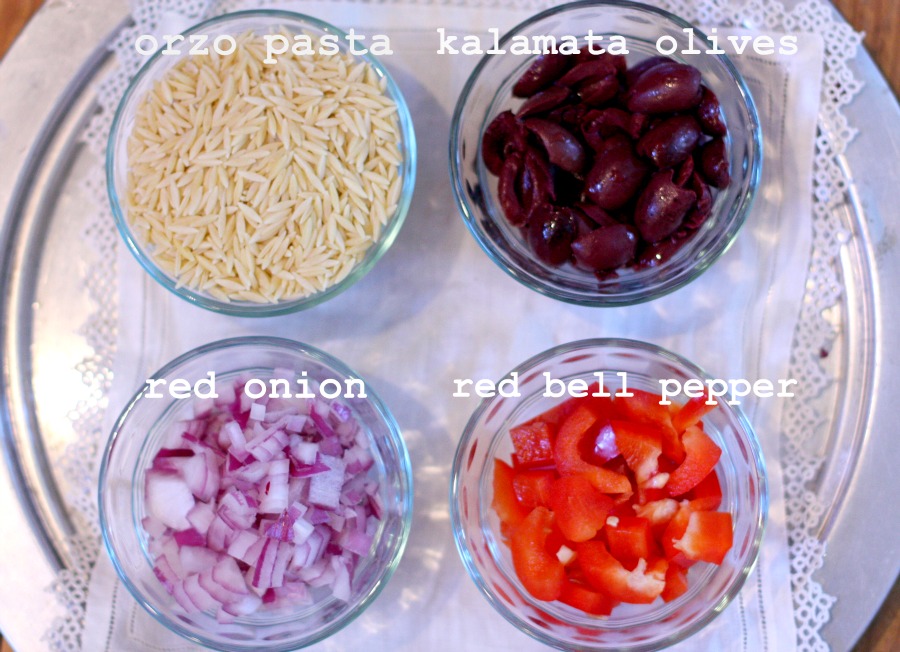 Next you'll need artichoke hearts & feta…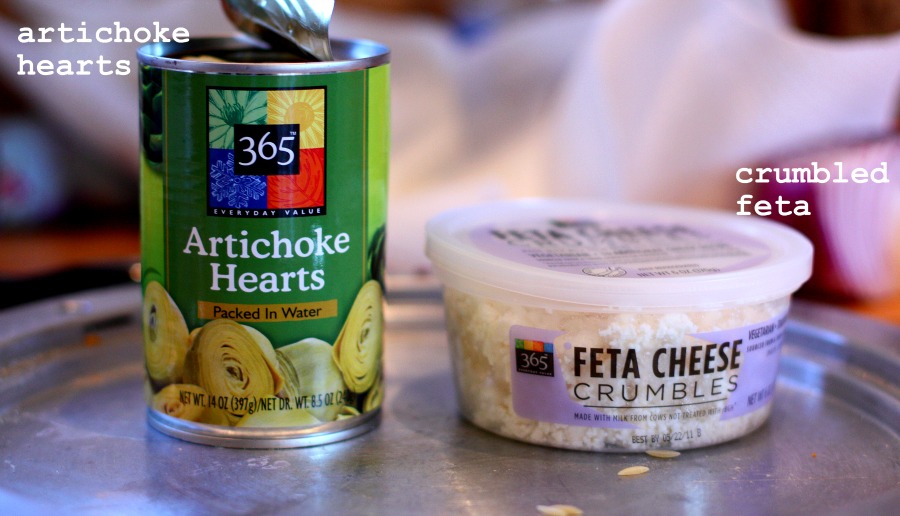 Delicious arugula…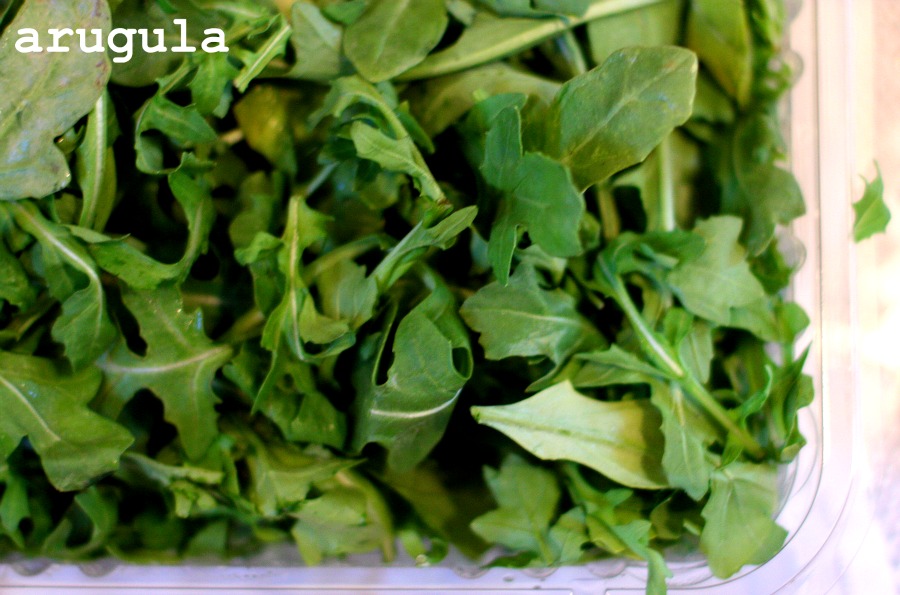 & finally, 3/4 pound fresh salmon filet.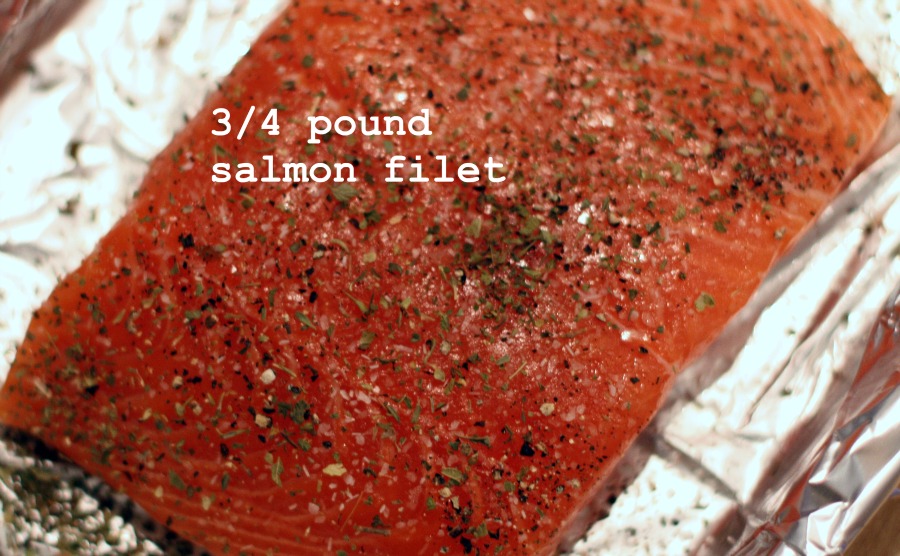 First thing you wanna do is make the dressing.  For this recipe I decided to use Becky's dressing (its delicious). Its good to make it ahead of time, that way the flavors have plenty of time to develop.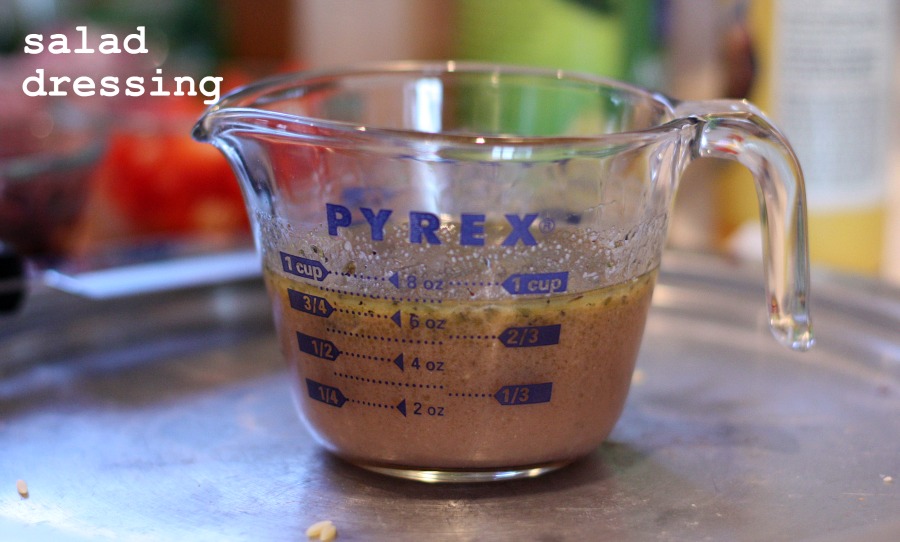 Next you want to place the salmon in the broiler for 10-15 minutes, or until the center is cooked.
While the salmon is cooking, you want to boil your orzo.  This pasta only takes about 7-9 minutes to cook.  Once the pasta is cooked, you want to drain it, place it in a deep casserole dish, and pour 1/4 cup of the dressing over it.  Gently toss to distribute the dressing. (This will keep the pasta from sticking)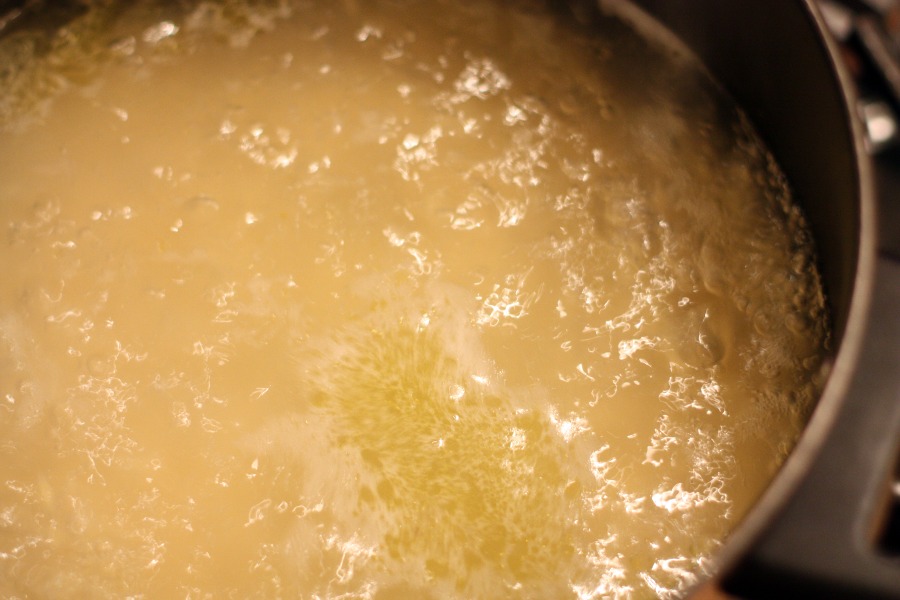 Once the salmon is cooked, you want to flake the salmon using two forks.  I love how crispy the outside gets when salmon is broiled!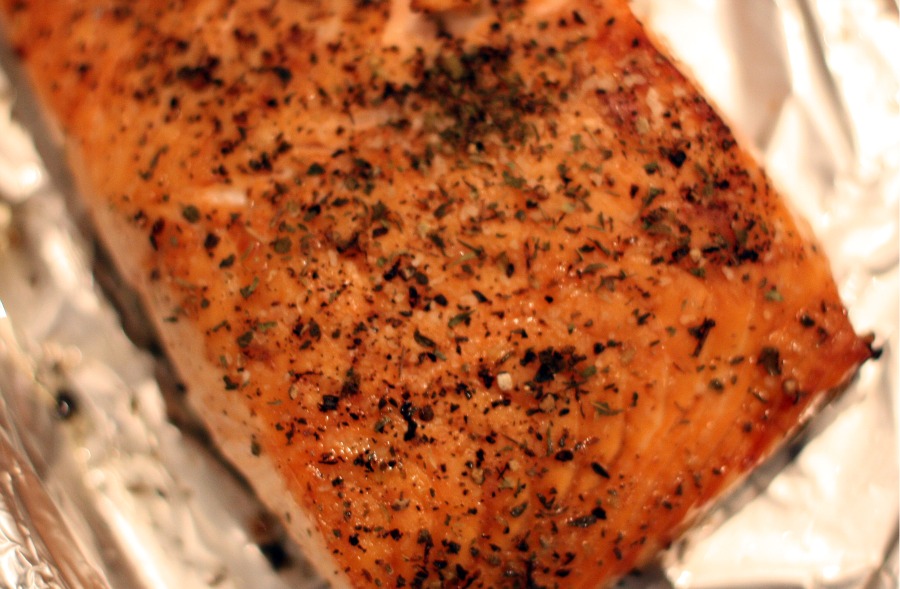 Delicious………..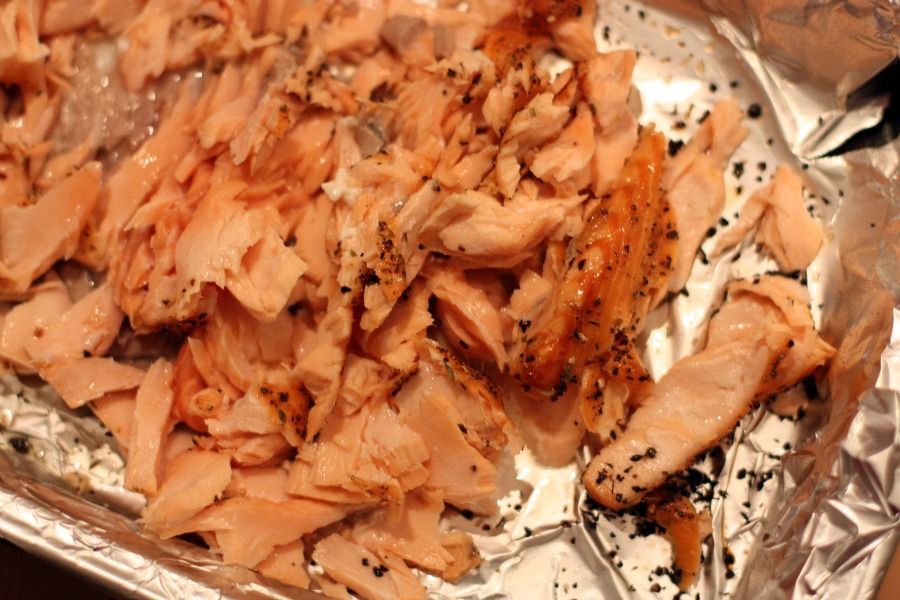 The final step is too assemble the dish.  To the orzo, you want to add your kalamata olives, artichokes, red onions, red bell peppers, feta, and arugula.  Using a forked spoon, gently fold all ingredients together and top with salmon.  Serve with the dressing on the side that way dinner guests can add however much they need.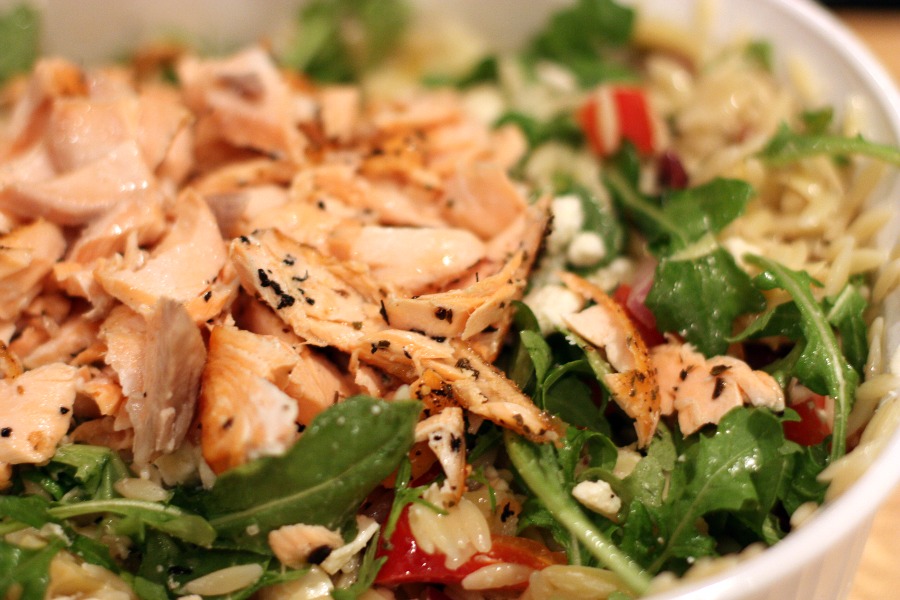 Recipe adapted from Cooking Light.
Ingredients:
3/4 lb salmon filet
1/4 tsp salt
1/4 tsp black pepper
1/4 tsp dried oregano
1 cup orzo
1/2 cup kalamata olives
1/2 cup red bell peppers (chopped)
1/4 chopped red onions
1/2 cup crumbled feta
1 14oz can artichoke hearts (quartered)
2 cups arugula
Becky's dressing (see recipe)
Directions:
1) Make recipe for Becky's dressing, set aside.
2) Preheat broiler
3) Sprinkle salmon with salt, pepper, & oregano.  Place under broiler for 10-15 minutes, or until center is cooked.
4) Cook pasta according to package directions.
5) Drain pasta and place in a deep casserole dish.  Pour 1/4 cup of dressing over pasta and gently toss.
6) Once salmon is cooked, flake salmon using two forks.
7) Too the orzo, add olives, red bell peppers, red onions, feta, artichoke hearts, & arugula.  Use a forked spoon to gently combine all ingredients.
8) Top with flaked salmon & serve with dressing on the side.
Mr. Weekly Bite loved this dish so much he packed the leftovers for his lunch today 🙂
Here's M's kiddie plate.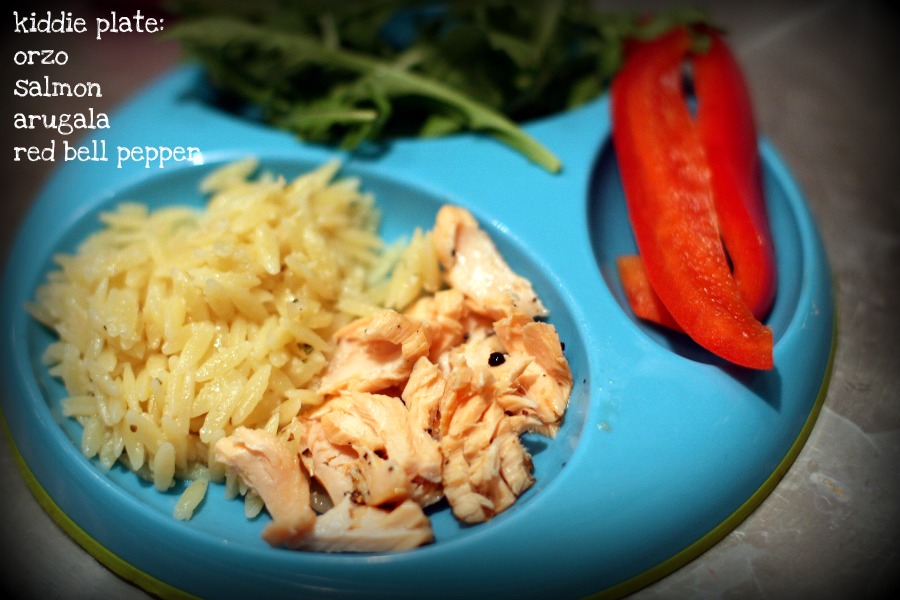 I've gotten many emails asking if she eats the same dinners we do, or if I make a separate meal for her.  I'm a firm believer in only cooking once and not becoming a short order cook.  I always have her picky palate in mind when I'm creating a meal.  For meals like this I normally serve her a deconstructed version of the meal, and on the side I have a little bowl for her with the complete meal that way she can try it if she wants.
From this meal she ate all the salmon, all the orzo x2, two bite of arugula, and half a bell pepper strip 🙂
Have a great day!