Mommy Arms…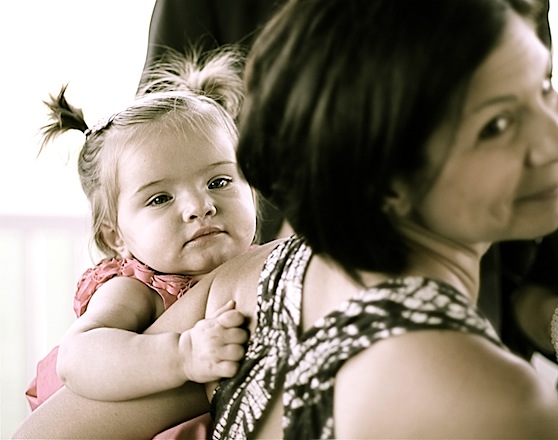 I was having a case of the blues yesterday 🙁 We all have days like that, right? After moping around and throwing myself a little pity party, I decided to get off my heinie, do something productive, and focus on some happy things.
There's lots of things that are making me happy right now and I thought I'd share a few with you…
I've talked to ya'll about my obsession with candles. Well I found another one, and this one is by far my favorite! Capri Blue Volcano candle by Aspen Bay will make your house smell like you're in a spa! Its a nice large candle that lasts for hours and hours. The smell will fill up every room in your house. Every time I light it it makes me happy. The blue colored glass also adds a splash of color to your room. I suggest you go by it now 😉 It also makes a great gift too.
Mommy arms make me happy! Before you start to think I'm crazy… let's talk about what mommy arms are. Something happens to your arms after you've had a kid. It doesn't happen right away… it takes time… but they do change. I've never really liked lifting weights. When I do push-ups I almost always have to drop to my knees. But I'll tell you one thing… toting around a baby builds your biceps like none other. Day in and day out I'm carrying a 23 pound kid on one arm and four grocery bags on the other. We go up the stairs, down the stairs, I lift her over my head, on my shoulders, behind my back. Its all makes for lovely toned arms… aka: mommy arms 🙂
This picture makes me especially happy! Its my screen saver on my laptop. I love M in her pj's and she looks especially cute smashing her face into that bright red balloon.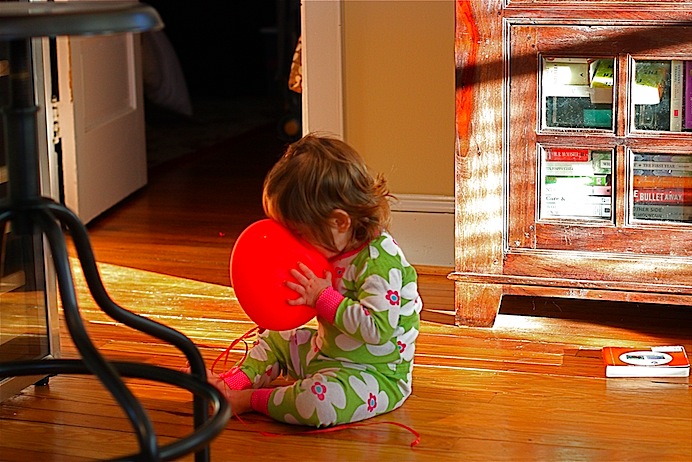 And finally, Mindy Gledhill's music makes me happy. I love her vintage vibe! Her voice is so beautiful, happy, and refreshing. Click here to sample one of her songs…
What things are making you happy today?