No Food Today Folks….
Hi 🙂
Yesterday morning I had one of the hardest Bikram Yoga classes ever! Even though Bikram Yoga is the same routine every time…. I swear the instructor makes the class! The heat was perfect, the humidity was perfect, and the instructor was awesome! He pushed us so hard… Every inch of my body is feeling it today!
For those of you who are regular readers, you know that my father passed away two months ago. One of his favorite things to do was paint. Growing up, he painted all the time. When I left Texas, I took several of my dads paintings and have been slowly finding a place for them in our home. I hung the first painting yesterday. He painted this the year I was born, and framed it in this exact frame that same year. I felt sad…. but every time I look at it, I see him… and that makes me happy 🙂 …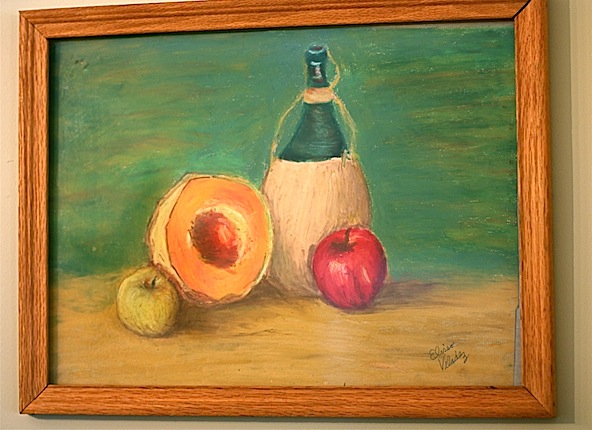 You know what else makes me happy? Flowers 🙂 I love having fresh flowers in my home. I bought these to put on the mantel over my fireplace. Aren't they pretty 🙂 These are called Alstroemeria. They come is tons of different colors. I like these flowers because they last for at least two weeks in a vase.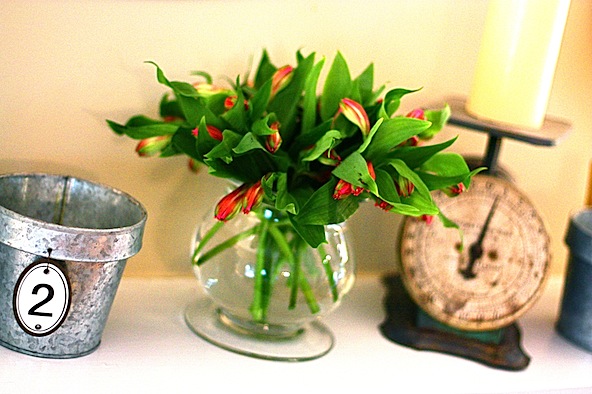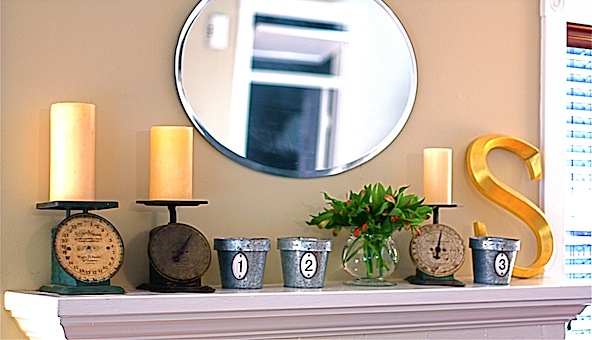 And because I have a feeling you might ask… Yes… I have a slight obsession with antique scales. I found these at three different antique/consignment shops and paid next to nothing for them.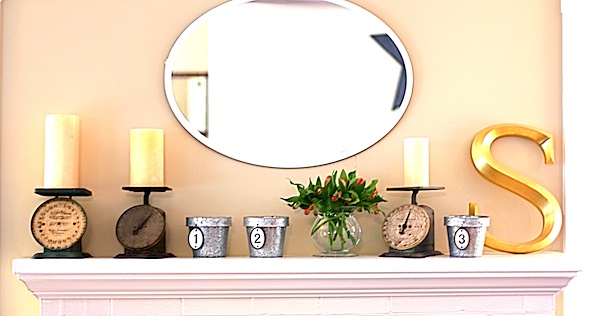 I also got these on sale at Pottery Barn 🙂 I love having these little buckets around the house to store random things in…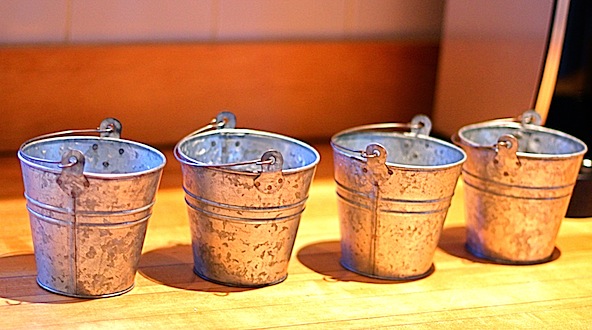 I finally snacked on those pickles I made on Sunday morning…. The Verdict?
I'm obsessed!! I love them! The spicy ones definitely have a kick… but they are delish! They were ready to eat after about 6-8 hours.
The Pickled Okra took a little longer to pickle. Because they are so thick… they need a full 36-48 hours to pickle. The Verdict? Soooo good! If you like pickles and okra… I suggest you make them!
I got a few emails asking where I got the pickling jars from. I bought them at the Crate & Barrel Outlet. They're super affordable!
On my agenda today:
Get a 6 mile run in with the jogging stroller
Catch up on some long over due emails
Buy a birthday gift for my little brother
Mail birthday gift for my little brother
Work on Weekly Bite Newsletter
Laundry, Laundry, Laundry 🙁
Write some very long over due thank you cards…
I'm the worst with thank you cards. I know they have to be done… but I'm such a procrastinator.
Is there a time etiquette on Thank You cards?
Have a wonderful day 🙂