Old Bay Roasted Potatoes
I can always tell when my husband is hungry.
There are certain things he does.
He hangs around the kitchen, talks a lot, and starts stirring or flipping whatever food I'm cooking.
I pretend to tolerate it… but it secretly gets on my nerves…
Our kitchen is pretty small… so with two people in it… its crowded.
He's constantly behind me sampling and tasting all the food…
And then he does it…
He goes to the spice cabinet and grabs the same seasoning every time.
What is it about Old Bay that men love so much?
I mean, its a good seasoning and all… but does it HAVE to be added to EVERY meal I cook?!?!!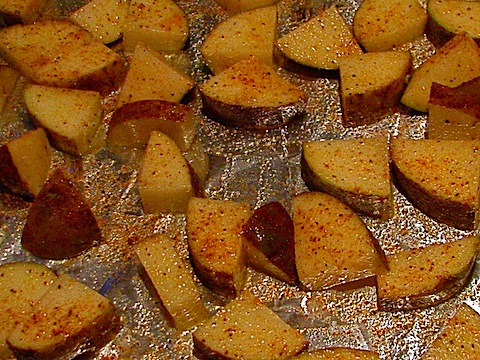 He puts Old Bay in his eggs, his tuna, his steaks, his chicken, his fish, his soup.
He even sprinkles a little in his turkey sandwiches.
I'm surprised he doesn't put it in his cereal… because that would be gross.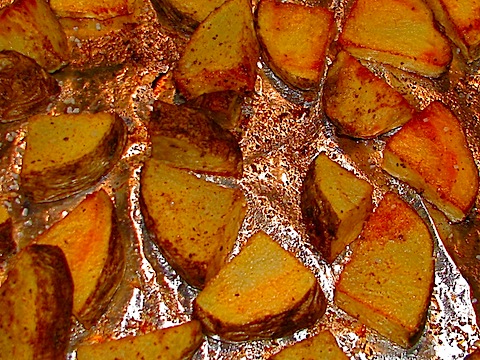 So I make these roasted potatoes for him.
To him… it would be a sin NOT to add Old Bay to such a basic side dish.
I have to admit… Old Bay does make these potatoes pretty tasty!
Ingredients:
3 large Yukon Gold Potatoes cut into 1 inch chunks
2-3 tablespoons olive oil
2 tablespoons Old Bay Seasoning
2 teaspoons Garlic Powder
Directions:
Preheat oven to 450 degrees.
In a large bowl, combine potatoes with olive oil.
Add Old Bay and garlic powder and mix until potatoes are coated.
Spread potatoes on a large cookie sheet.
Baked in oven for 20 minutes, then flip potatoes and bake for an additional 10-15 minutes or until potatoes are golden brown.
Enjoy!!!!
~~~~~~~~~~~~~~~~~~~~~~~~~~~~~~~~~~~~~~~~~~~~~~~~~~~~~~~~~~~~~~~~~~~~~~~~~~~~~~~~~~~~~~~~~~~~~~~~~~~~~~~~~~~~~~~~~~~~~~~~~
Have a great weekend 🙂