Old Bay Salmon Marinade
Phew… I'm back!
Weekly Bite is back up and running! No more harmful crazy contaminants! Just a normal crazy blog 🙂
You should be able to open my website without any issues… if you have any problems opening it, just let me know.
Okay… moving on….
So I made Sock-Eye Salmon the other night for dinner. I'm always looking good marinades. I don't know where I read this… but somewhere, somebody used mayonnaise to season salmon. I told my husband I was going to spread mayonnaise on top of the salmon and he thought I was crazy.
"Why would you ruin a perfectly good piece of salmon?" he said…
I was determined to try it… but first I had to change it up a bit.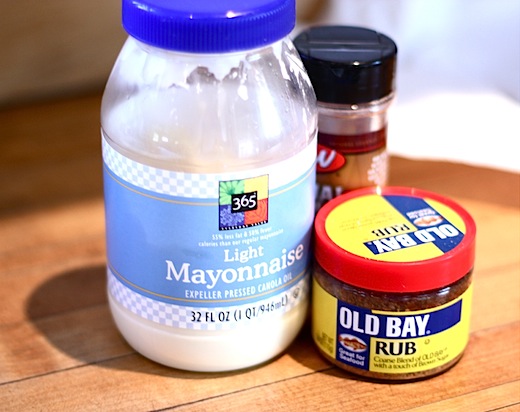 I decided to add my husband's favorite seasoning… Old Bay…
I also added a little Big Kahuna seasoning mix… if you don't have Big Kahuna, any old BBQ seasoning will do.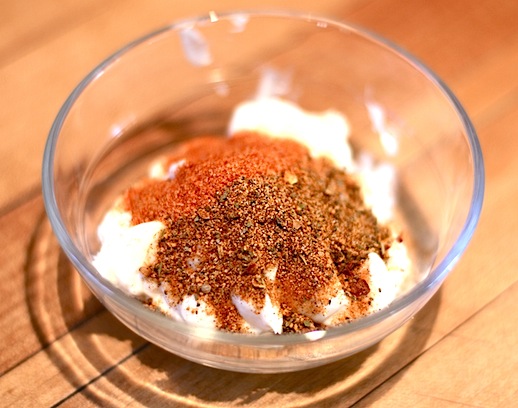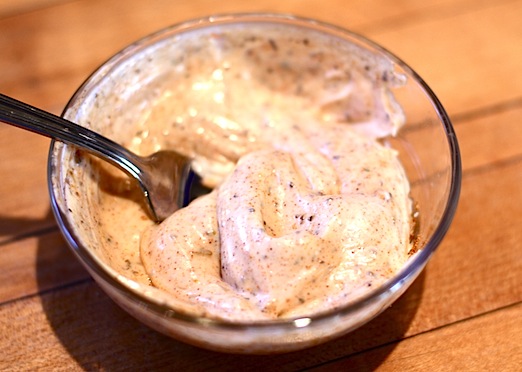 This was perfect!!!
My husband went crazy for the flavor!
The only thing I might do different next time is add some fresh lemon juice to it.
Ingredients:
1/4 cup light mayonnaise
1 tablespoon Old Bay rub
1 teaspoon of your favorite BBQ seasoning
Directions:
Mix all ingredients together in a small bowl. If you have some time, make this a day ahead and store in the fridge to let the flavors develop.
Using a pastry brush, brush a thin layer on top of the salmon.
Bake salmon at 350 degrees for about 25 minutes or until cooked through.
ENJOY!
~~~~~~~~~~~~~~~~~~~~~~~~~~~~~~~~~~~~~~~~~~~~~~~~~~~~~~~~~~~
I used the rest of the marinade the next day in our turkey burgers. It was delicious!
~~~~~~~~~~~~~~~~~~~~~~~~~~~~~~~~~~~~~~~~~~~~~~~~~~~~~~~~~~~
Question of the Day?
Have you ever used mayonnaise as a marinade? Or in anything else out of the ordinary? I once read a cake recipe that included mayonnaise… that sounded a little strange to me….