our little story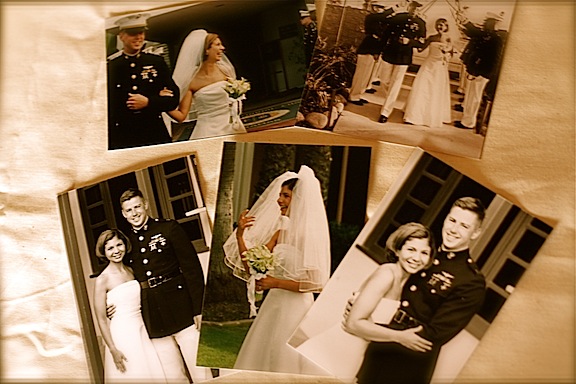 I've gotten several emails asking how Mr. Weekly Bite and I met. Here's our little story…
I had actually seen him a couple times before we actually met. It was my senior year in college and I was home for christmas break. What else does a girl do but go out with her girlfriends? We went out to the same bar almost every weekend. He was there each time. Tall, handsome, always with the same group of guys. My girlfriends noticed him right away. Every time we saw him they would argue about who was going to talk to him first. I never said a thing. I was always the silent supportive friend. Don't get me wrong… I thought he was terribly handsome, but if my girlfriends were into him, then I was there to support them.
It was the first weekend of January, 1999. I remember that day like it was yesterday. The girls and I decided to break the night up and go to a hockey game before going to the bar. I remember waiting in line at the concession stand and Lou Diamond Phillips was standing behind me. I'd always had a baby crush on him from his La Bamba days. He introduced himself to me, told me I had a great smile, and to enjoy the game.
I was on cloud nine! There was no way the night could get any better…
but it did….
After the hockey game we headed over to our regular bar. There was a long line outside, it was cold, but we didn't care. We knew it was going to be fun. We got inside and the place was packed. We worked our way through the crowd, found a place to settle, and then it happened. My friends started gushing the cute boy is here! the cute boy is here! I laughed and said one of them was going to have to talk to him that night. But they didn't have to…
He started walking towards us. My friends were about to explode… and then it happened.
He didn't talk to them… he introduced himself to me… and then he asked me if I knew how to break dance…
Stay tuned for part ii…