peak inside my bag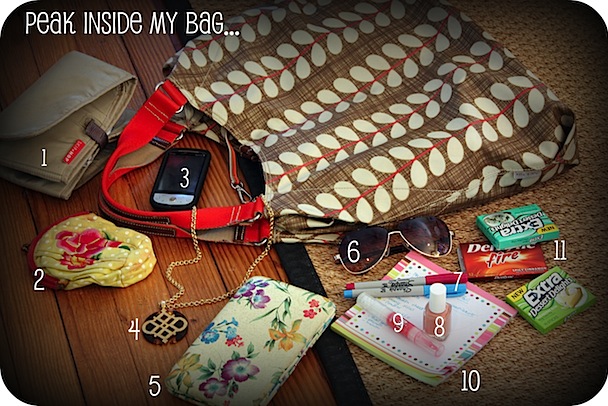 I've always wanted to do a post where I dump the entire contents of my bag and you all see my mess. Aside from some loose change and lots of lint, here's a peak:
Skip Hop changing pad with a diaper in the middle. (I just realized I have no wipes! Bad mommy!)
A coin purse my mother-in-law gave me as a gift. I'm pretty sure she got this from Anthropologie (she knows my favorite stores 🙂 )
My cell phone ( this is always with me no matter what.)
A necklace that I ordered from QVC just after M was born. I'm pretty sure its from Tori Spelling's jewelry line (don't judge, I was hormonal when I purchased this and I still think its cute)
My beloved wallet that I purchased for ten dollars at Urban Outfitters.
My favorite pair of Aviator Sunglasses from Target.
Sharpie pen's in teal and hot pink. (Sharpie pens are my favorite)
Essie nail polish in 'Mucho Dinero.' This is my favorite color. I buy a bottle every time I find it.
Stila lipgloss in 'Starfruit.' I've used this color for years.
A notepad.
Gum. Gum. And more Gum. I can't live without it 🙂
I also had a baggie of graham crackers for M. But she snatched it up mid-picture.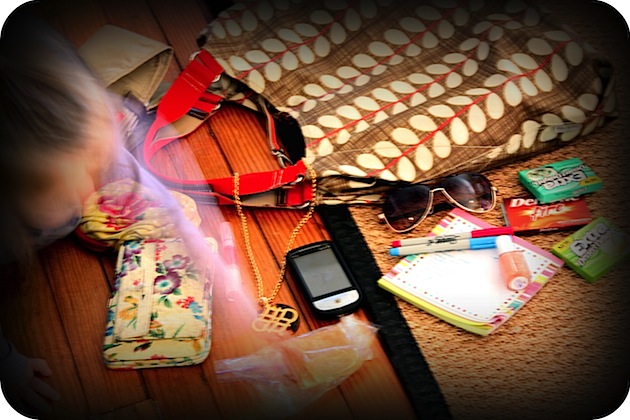 I hope you enjoyed peaking inside my bag 🙂