Peanut Butter Chocolate Chip Oatmeal Cookies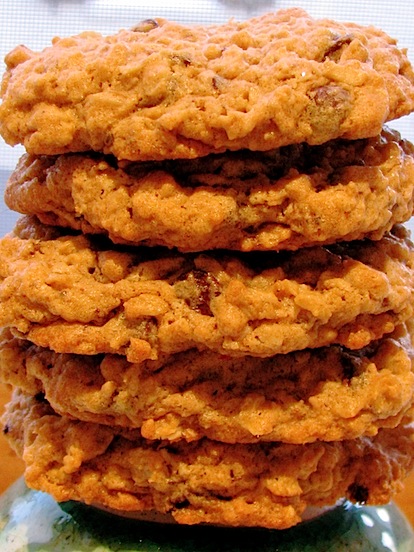 I peaked.
Seriously… I should just retire now. I should retire from cookie making.
I've literally died and gone to cookie heaven!
This is the best damn cookie I've ever made!
Never has a bite of cookie brought me to my knees.
Can you tell I love these cookies!
I originally started out with all intentions to make standard oatmeal cookies. As I started to pull all the ingredients out… I thought to myself "Wait a minute… I don't even really like oatmeal raisin cookies." I put the raisins back in the cabinet and pulled out the chocolate chips. Behind the chocolate chips was a huge jar of Jif peanut butter (my husband refuses to eat the all the natural stuff). From this, Peanut Butter Chocolate Chip Oatmeal Cookies were born.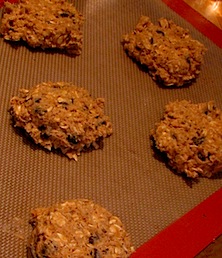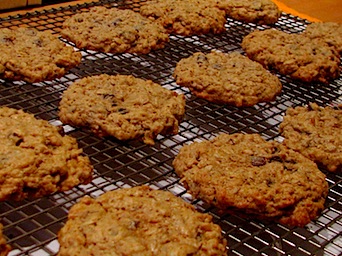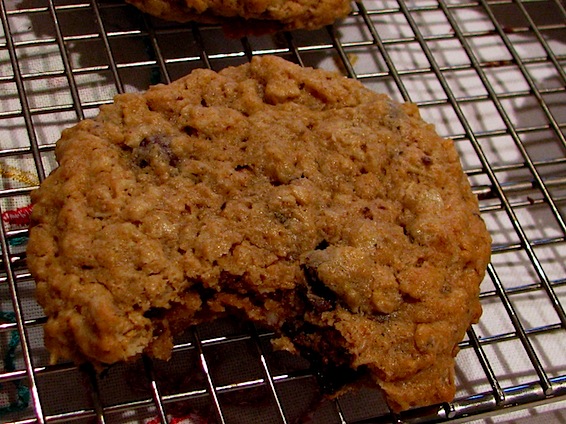 To scoop out my cookies I use a small ice cream scoop (about 1.5-2 tablespoons). This makes for the perfect seven bite cookie. My husband went nuts over these cookies! They were so good he said I shouldn't make them for while (cause he'll eat them all)!
Ingredients:
2 sticks butter (softened)
1 cup firmly packed brown sugar
1/2 cup granulated sugar
2 eggs
1 tablespoon vanilla
1 cup creamy peanut butter
1 1/2 cups whole-wheat pastry flour (all-purpose flour can be used too)
1 teaspoon baking soda
1/2 teaspoon kosher salt
3 cups quick cooking oats (old fashioned oats will work too)
1 cup semi-sweet chocolate chip cookies
Heat oven to 350 degrees
Beat butter and sugars until light and fluffy (about 5 minutes). Add eggs and vanilla, beat well. Add peanut butter, mix until creamy.
Add combined flour, baking soda, and salt. Mix well. Stir in oats and chocolate chips.
Use a small ice cream scoop or about 2 tablespoons worth of cookie dough onto ungreased cookie sheet. With your fingers, flattened cookie a little.
Bake for about 13-15 minutes or until lightly golden brown. Let cool on cookie sheet for about 3 minutes. Transfer to wire rack.
Proceed to enjoy the best cookie you've ever had!
~~~~~~~~~~~~~~~~~~~~~~~~~~~~~~~~~~~~~~~~~~~~~~~~~~~~~~~~~~~~~~~~~~~~~~~~~~~~~~~~~~~~~~~~~~~~~~~~~~~~~~~~~~~~~~~~~~~~~~~~~
Question of the day?
In cookie heaven, what cookie would you be surrounded by? You know my answer 😉