Prettify My House….
I hate it when I'm out running errands and all of a sudden become insanely hungry! M & I were out and about and we both got grumpy. She is her mother's daughter. I was at Whole Food's to buy some specialty ingredients I needed for a recipe. I knew I had nothing in the house for me or M, so I hit up the Whole Food's salad bar for both of us. I really had her in mind at the salad bar. I was so hungry I just started grabbing random things I knew she would eat.
Here's what was in the mix for M:
black beans
steamed broccoli
grilled mango
hard boiled egg
In the mix for me:
spicy bean salad (underneath the mango)
spicy tempeh
and a bowl of their delicious black bean soup 🙂 (not pictured)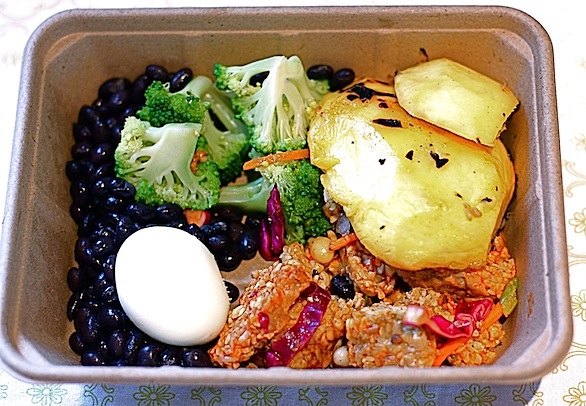 Here's M's plate. She gobbled it up 🙂 This was my idea of "healthy fast food." I know not everyone has the option of Whole Food's… but most grocery stores have salad bars with healthy options 🙂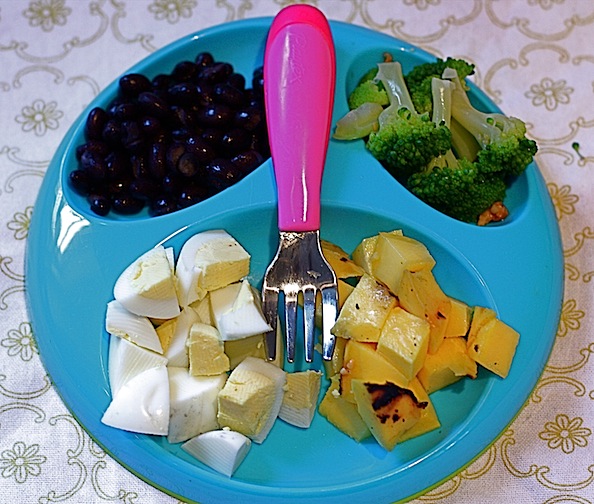 I Like Pretty Things…
I learned something about myself over the weekend. Well, I have actually known this for a while… but this is the first time I've ever publicly admitted it.
I consider myself good at lots of things… but when it comes to cleaning… eh… not so much. What I've noticed is that i like to focus on aesthetics. If I have something pretty, I'll keep it clean. New, or "new old" pretty things motivate me to keep it looking that way.
Here's an example… If I go buy flowers for the house, or a new candle, or new throw pillows, I start to obsessively clean the house… or at least the area of the house where I purchased that something for 😉
Are you like that?
So, I decided to start a new project called Prettify my House. I don't know how long this project will take… but I'm taking it room by room.
Here are my rules:
Obviously set a budget for each room.
Do the work myself (this involves sewing which I'm awful at.)
Never pay full price for something. I will be shopping at my favorite stores, but will focus only on the sale items and stay within my budget.
Rearranging furniture counts as "prettifying a room."
Do not impulse buy! I'm going to take time with this and only buy things I love.
I will be documenting project Prettify My House on the blog. If you have a room you'd like to Prettify, feel free to join in 🙂
The room I will be starting with is my office… it needs some major help! Before pics are coming soon!
WB Updates:
Check out the new Kiddie Lunch Box page 🙂 Now you can just click on the page and see pics of all of M's lunches 🙂 I'm still adding lunches to it so stay tuned.
I only made it to yoga once last week, so I'm excited for class today 🙂
Conference call at 1:30pm
Work on article edits
Work on WB Newsletter
Start packing list for vacation 🙂
Have a great Monday!! 🙂 🙂