Running With A Jogging Stroller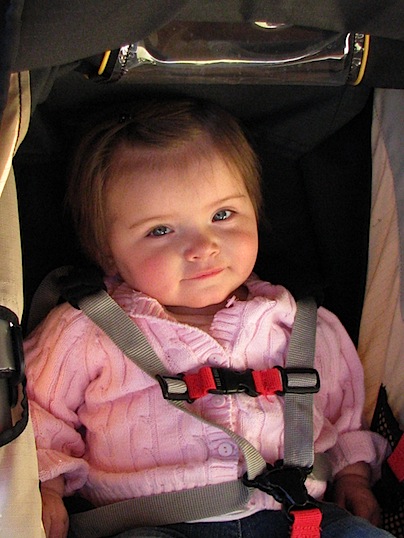 When I was pregnant, my husband and I knew we wanted a jogging stroller. We're both runners. After doing tons of research, we decided to purchase the Bob Revolution with the Infant Car Seat Adapter. It's perfect because we could just plop the car seat in when she was younger, and now that she's older, she can sit front facing. When I first started running with her, I was so nervous… both for her and for myself!
Would she like it?
Would I like it?
How exhausted will I get?
Will she cry the entire time?
…. Truth?
I LOVE IT! And so does she!
Running with a jogging stroller is one of the hardest workouts I've ever done!
Pushing a twenty pound baby in a twenty pound jogging stroller for 6 miles with rolling hills is intense!
It's definitely taken my running to a whole other level!
I felt a little awkward at first. I had no idea what type of form to use. I was worried that I would be leaning forward too much.
Here are some tips I use when running with a jogging stroller:
To ride in a jogging stroller, the baby has to be at least six months old. If you have an infant car seat adapter, then they can run with you younger than six months.
I always keep at least one hand on the stroller when running. Its easier for me to run with one hand on the stroller and swing the other arm.
My pace is a little slower. But I'm okay with that. I'm pushing forty pounds… so a slower pace is expected.
I always pack a cell phone and some cash. Even though I'm not too far away from my home… you never know when it'll come in handy.
I can carry water now! I've never been one to run while carrying a water bottle. With the stroller, I can easily pack a water bottle… both for me and for her.
The best thing about it is that we both get out of the house. I feel better because I get my run in… and she gets the stimulation of the outdoors.
What about you? Does anyone run with a stroller or know someone who does? Any tips?