Savory Corn Chowder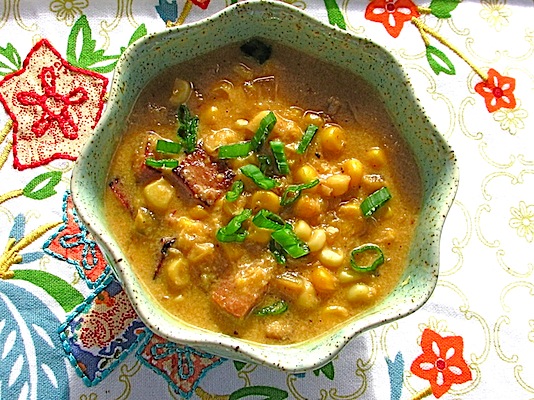 Hi
Are you a day dreamer? I day dream… a lot. Everyday I have a day dream or two… or three…
Today I'm day dreaming about running in the warm weather, a beach, and a frozen margarita.
You might be thinking:
Why is Estela day dreaming about this?
Answer: Because it's cold here! It's really freaking cold here! I'm talking bone chilling, whipping air, make you wanna cry cold. It probably doesn't help that my husband has been watching the Kona, Hawaii Iron Man Marathon all day and talking about he should be training for one instead of sitting in front of the TV. By the way, did I tell you he really is training for one? Seriously… he really is!
Okay, enough about that… back to my day dream. Since I'm stuck with bone chilling cold weather, and I can't go for a warm run, lay on a beach, or have a frozen margarita… wait, I just realized I can have one! I decided to go to the kitchen and make a frozen margarita flip through my recipes for a comforting soup.
I decided on this corn chowder… and let me tell you… IT. IS. GOOD! It's super comforting, creamy, but not so heavy that it feels like you have a brick in your stomach.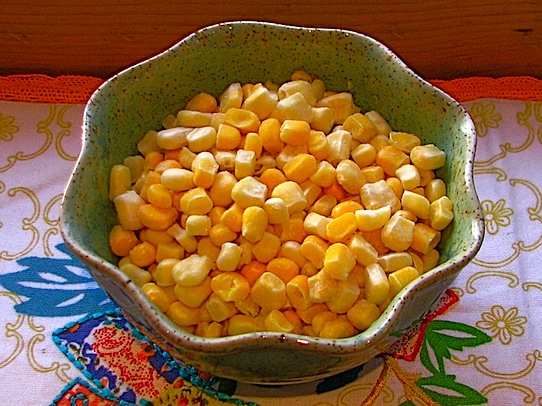 The recipe called for bacon, but since I had so much left over ham from New Years I went with that.
Recipe adapted from Real Simple
Ingredients:
8 ounces ham or bacon cut into 1/2 inch pieces
1 large white onion
3 cloves garlic (minced)
1/2 teaspoon paprika
1/4 teaspoon crushed red pepper
2 10-ounce bags frozen corn
3 cups low sodium chicken broth
3/4 cup half-and-half
1/4 cup low-fat milk
3 tablespoons flour (optional)
Green onions thinly sliced for garnish
Cook ham or bacon in a large sauce pan until nice and crispy. Remove ham from pan and leave the dripping.
Cook the onion in ham dripping until soft (about 7 minutes). Add garlic, paprika, and red pepper. Stir for a couple of minutes
Stir in the frozen corn, chicken broth, half-and-half, and milk. Simmer for about 15 minutes. DO NOT let the soup boil… the milk will curdle (I made this mistake before). Take about half of the soup and pour into a blender. Puree until nice and smooth. Pour the puree back into the soup. Season with salt and pepper. If the soup isn't thick enough for your liking, take 3 tablespoons flour and whisk with 1/3 cup water until dissolved. Pour flour mixture into soup and simmer for about 7 minutes.
Serve with a nice big piece of crusty bread!
This meal went perfect with a nice bottle glass of Sauvignon Blanc 😉
~~~~~~~~~~~~~~~~~~~~~~~~~~~~~~~~~~~~~~~~~~~~~~~~~~~~~~~~~~~~~~~~~~~~~~~~~~~~~~~~~~~~~~~~~~~~~~~~~~~~~~~~~~~~~~~~~~~~~~~~~
Question of the Day?
Are you a day dreamer? What was your last day dream about?
I still have that margarita beach on my mind…