School Pictures
The holiday season is here!!
Cue the all holiday music channels on Sirius and XM, start the crazy advertisements and "mega" sales at 5 in the morning.
Today you are probably packing the car or heading to the airport (TSA yikes!) to start the journey to your parents house to celebrate with them. You will be excited to see your brothers, sisters, mom & dad…..but you know what is waiting to greet you when you walk in their house. Besides the 80's decorating and the list of things "wrong" with their computer that they need help with; there on the wall of the living room in all your 80's and 90's glory………your school pictures!!!! Your spouse will make fun of you and you will wonder out loud, "what your parents were thinking"
Welllll, now I know.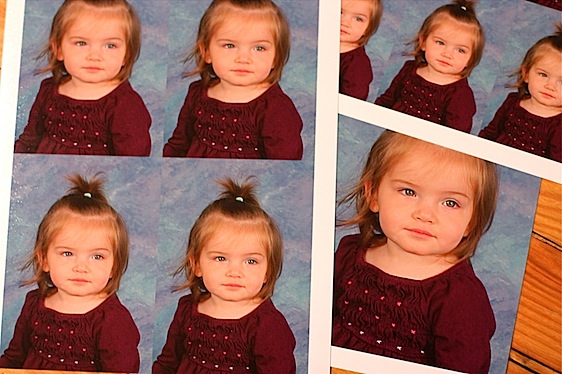 My parents, just like I do now, thought that every picture of their children were perfect.
I realize she's going to hate me one day for posting these pics… but they're just so darn cute I can't help it!
All in all not much has changed since my school picture days…
Same blue backdrop
Same picture packages
You still have to cut your own pictures
In a perfect blogging world, this is where I'd post some of my school pics. Lucky for me they are thousands of miles away in Texas. If any of my junior high or high school friends are reading this you know exactly what pictures I'm talking about. For those who didn't know me then… think big poofy bangs, large framed glasses, and really bad fashion choices. Yep, I was a knock out… or at least those are the lies I tell myself 😉
If I have to pick the worst school picture experience ever… It'd be my 5th grade class picture. The photographer took tons of pictures. A couple weeks later we received our pictures and I was yawning. Yes… Yawning… right smack in the middle of the picture. Sweeeeet!
Now its your turn… what's your worst school picture moment? I know you have one…..