Setting An Example… Faces of America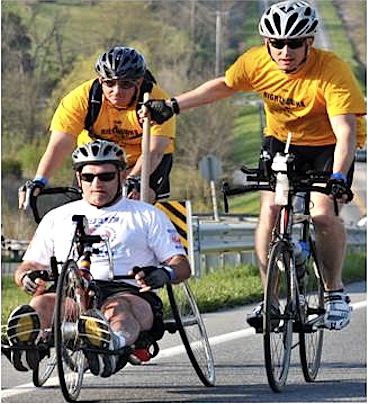 I normally don't put up posts like this… but this is such an incredible cause I can't help but write about it.
In this picture is my husband (yellow jersey on the side) pushing a fellow war veteran who lost normal body function from the waste down due to an injury from the war in Iraq.
This time last year, my husband… along with a fellow Marine (pictured in the back) helped push this war veteran for 110 miles. This was the first time this man had ever been on a bike before. This incredible man was on his third (and last) deployment in Iraq right before retirement. During his last deployment, he was injured pretty badly. He heard about this ride the week before it was to take place. He flew out on Friday morning… was fitted for a hand crank bike and rode it for the first time, 110 miles, from DC to Gettysburg.
This "Wounded Warrior" ride honors and actively includes service members who have been severely injured in the War on Terror. World T.E.A.M. Sports (The Exceptional Athlete Matters), works with the Walter Reed Army Medical Center, The Semper Fi Foundation, Soldiers Angels Foundation, and other in reaching out to and helping these severely injured service members participate in this life-changing ride. All costs for the wounded service members are paid for by World T.E.A.M Sports. This ride is open to ALL, including civilians and service members both with and without disabilities. This year has been challenging for many due the the slowing economy. Remember… these guys will face their physical challenges for the remainder of their lives.
Push handles are added to the back of many handcycles to give able-bodied cyclists a place to provide assistance pushing riders up the many hills along the route… like my husband did in the above picture.
Last year was the first time my husband participated in this event. I was 8 1/2 months pregnant at the time and was unable to witness this incredible event. I remember my husband walking through the door and saying this was the most humbling experience of his life! This year, I will be there, along with our beautiful daughter, to see him complete this event that he calls one of the greatest experiences of his life.
Last year my husband raised over $3000 dollars to support this cause. All the money goes to providing bikes for injured war veterans. This weekend my husband will be participating in the event again. He's hoping to raise even more money than last year. I will be setting up a page on my blog through this Saturday titled "Wounded Warrior Ride." All donations can be made by clicking here.
We truly appreciate your support!
Thank you so much for reading 🙂 I will have a full recap of this weekends race on the blog!