Snacking Plate – Kiddie Style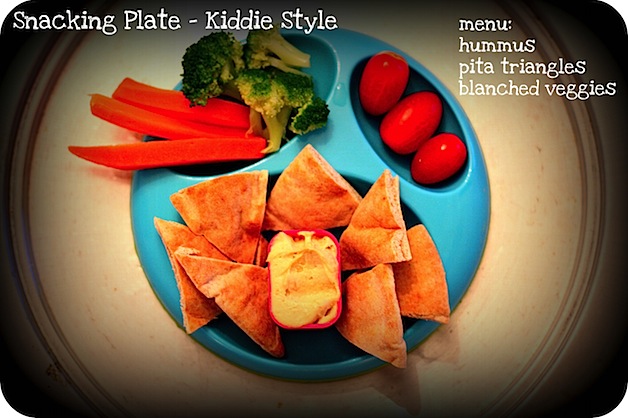 The picky eating stage is slowly creeping up on us. M's getting more comfortable saying the word 'no', and I spend my days trying to coerce a toddler into eating her veggies.
Lucky for me, M is fascinated with dips. She'll dip anything into anything. Here's an example… For lunch yesterday I made her a grilled cheese sandwich with some sliced kiwi on the side. I gave her a tiny bowl of ketchup for her grilled cheese (Mr. Weekly Bite turned her onto this). However, she didn't dip her grilled cheese in the ketchup, she dipped her kiwi slices in the ketchup. I sat there and watched her do this while trying to disguise the look of confusion on my face as she dipped kiwi after kiwi into the ketchup saying Mmmmmmmmm…… At least she ate her fruit 😉
In an attempt to squeeze more veggies in I made her a snacking plate for lunch. M loves hummus and cleans out this little container every time I serve it to her.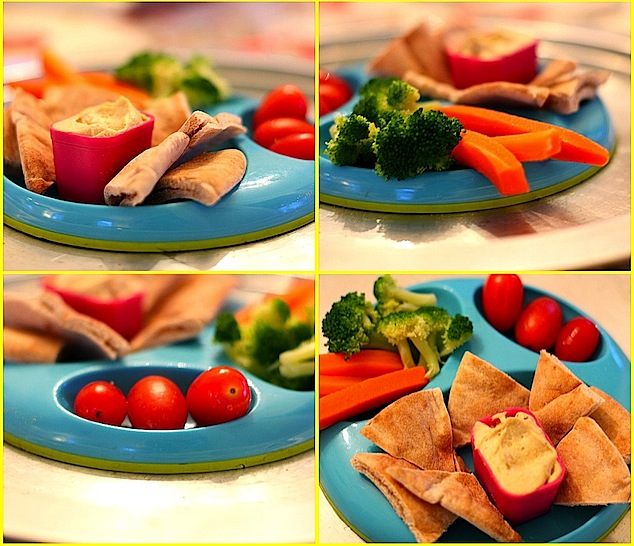 I blanched the veggies to make them a little easier for her to eat. She managed to eat everything but the tomatoes. That means the snack plate was a winner!
Stay tuned this afternoon for a peak at our Christmas decorations. I went a little color crazy this year… consider yourself warned 😉