Soynut Butter – Kiddie Lunch Box Style…
M's been feeling a bit under the weather; nothing more heartbreaking than a little kid who's under the weather.
They are so confused and just need comforting all the time.
Being sick also throws off M's appetite so I sent her to school with an easy to eat lunch.
Parmesan Green Beans & Roasted Butternut Squash (left over from dinner the night before)
Soynut Butter & Jam Sammie…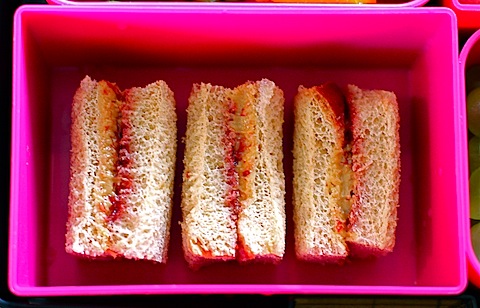 Newman's Organic Alphabet Crackers…

And Refreshing Grapes…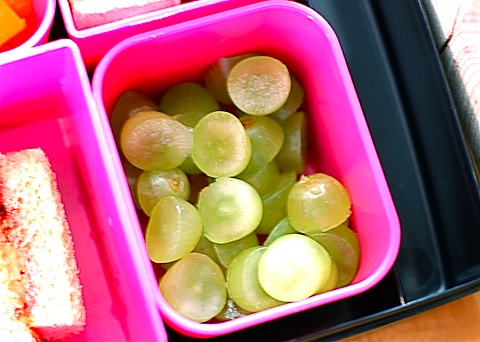 When I picked her up from school, I checked her lunch and saw she ate all her veggies, all her alphabet crackers, and all the grapes. Her sandwich didn't even look like it had been breathed on.
But she was hungry after school so she ate it for her afternoon snack.
This is my first time ever buying/tasting/eating soynut butter. It had a little bit of an awkward texture at first, but M's school is "nut free".
Mr. Weekly Bite understands the rules and the safety concerns of M's school, but still just wants his daughter to eat good ol' PB&J!
He kids me all the time about what M eats for lunch. As he likes to say, "All I can ever remember getting was a PB&J sandwich on white bread, a piece of fruit, maybe some Cheez-It's, and 25 cents for milk…..whole milk…….not soy or rice or organic milk from a grass fed, free range, non-denominational cow!" And it all came in either a Metal lunch box…..or a brown paper bag.
Of course now he eats much healthier, but every now and then I think he still feels the need to rebel and go "old school" with his eating. (Remember when he came home with "Steak-Umms")
What did you used to get as your school lunch?
Any favorite foods that brings you back to your childhood, but by today's standard may not be "socially accepted or diet friendly"?