Streusel Coffee Cake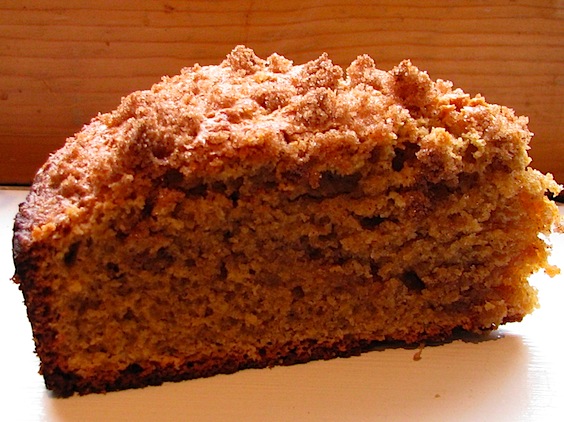 Hello 2010!
Happy New Year to Everyone!
Do you have any family traditions? We have some… but this year we've taken it to a whole other level.
Having this cutie pie in our life is what really brought it home for us!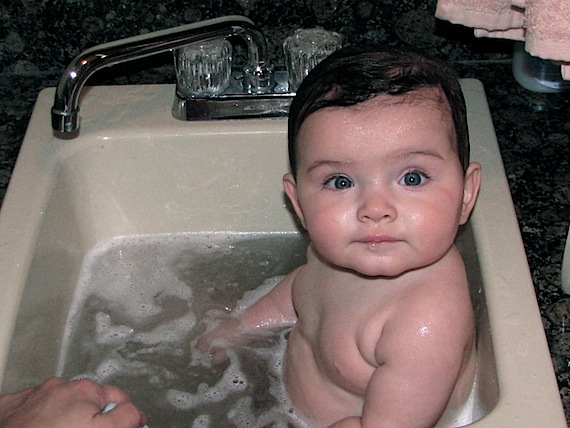 Here she is taking a tub at Grandma & Grandpa's. Isn't she cute…
For New Year's Day my hubby and I thought of two breakfast foods we would love to have in the morning.
My choice was homemade coffee cake. His was homemade biscuits.
So low and behold, New Year's morning, we had fresh coffee cake and biscuits. (Biscuit recipe to come later in the week)
I was in heaven having a slice of this cake with a fresh cup of coffee. It was delicious!
Streusel Coffee Cake
Cake:
2 cups whole wheat pastry flour
1 teaspoon baking soda
1 teaspoon kosher salt
1/2 teaspoon nutmeg
1 teaspoon cinnamon
3/4 cup unsalted butter at room temperature
1 cup sugar
2 large eggs
1 cup sour cream
1 tablespoon vanilla
Streusel Topping:
1/4 cup sugar
1/4 cup brown sugar
1/2 cup walnuts
1 teaspoon cinnamon
1 teaspoon vanilla
1/2 stick melted butter
Make streusel topping by mixing all ingredients together in a small bowl. Set aside.
Preheat oven to 350 degrees F. Spray a round 9×2 inch deep cake pan with non-stick cooking spray. In a separate bowl mix flour, baking soda, salt, nutmeg, and cinnamon… set aside.
Cream butter and sugar on medium to high speed until light and fluffy. Add the egg, then mix sour cream and vanilla. Slowly add the flour mixture and mix until just combined.
Spread half the batter in the pan and sprinkle with half the streusel topping. Spread the remaining batter on top and scatter remaining streusel topping on top. Bake coffee cake for about 50 minutes or until a tooth pick inserted in center of cake comes out clean. Cool on rack for about 15 minutes.
Enjoy!!!
~~~~~~~~~~~~~~~~~~~~~~~~~~~~~~~~~~~~~~~~~~~~~~~~~~~~~~~~~~~~~~~~~~~~~~~~~~~~~~~~~~~~~~~~~~~~~~~~~~~~~~~~~~~~~~~~~~~~~~~~~
Question of the Day?
Do you have any special New Year's tradition? Are there any special food's you eat?
Don't forget Monday January 4th… No Diet's in the New Year!