Streusel Banana Muffins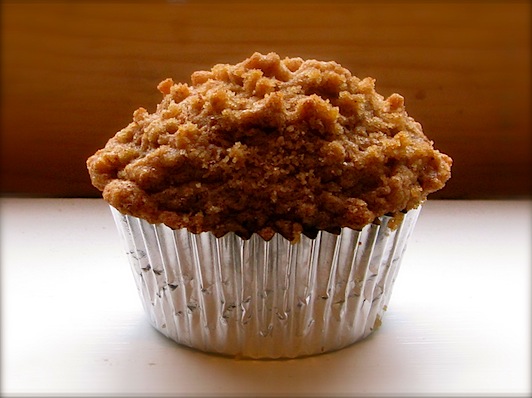 I have more banana's than I know what to do with.
I keep on buying them, then right when they're about to go bad, I peel them, throw them in a ziploc bag and put them in the freezer.
Then, I buy more bananas, and the cycle repeats itself.
I have thirty-seven bananas in the freezer.
Just kidding…
Not Really….
I was gonna use my tried and trusty Vegan Banana Muffin recipe, but then I thought… "Hey, I should branch out… try something new."
This was a big mistake. There's a reason why I love my original recipe so much!
Since I had enough bananas to feed entire entire monkey village, I used my favorite recipe to bake another batch and added a streusel topping.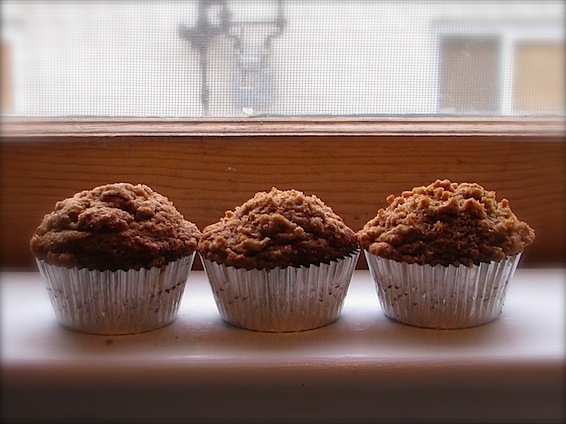 All you do is follow the recipe for Vegan Banana Muffins.
Before you pop them in the oven, make the streusel topping. It's really easy.
Streusel Topping:
3 Tablespoons cold butter cut in the small squares
1/3 cup brown sugar
1/3 cup flour
1.5 teaspoons cinnamon
Put all the ingredients in a food processor and pulse until it looks like crumbs. If you don't have a processor, you can use a pastry cutter.
Top each muffin with about 1 tablespoon of streusel topping.
Bake according to directions on original recipe.
ENJOY!
~~~~~~~~~~~~~~~~~~~~~~~~~~~~~~~~~~~~~~~~~~~~~~~~~~~~~~~~~~~~~~~~~~~~~~~~~~~~~~~~~~~~~~~~~~~~~~~~~~~~~~~~~~~~~~~~~~~~~~
Question of the Day
Have you ever strayed away from a trusty recipe and regretted it?
I've done this on several occasions. I should've learned my lesson by now 😉