perfect thanksgiving meal {under fifty bucks}
On the menu: Roast Turkey Breast, Pureed Candied Sweet Potatoes, Cornbread Date Stuffin' Muffins, Parmesan Green Beans, Fresh Rolls, & Red Velvet Cheesecake. (yes… Red Velvet Cheesecake)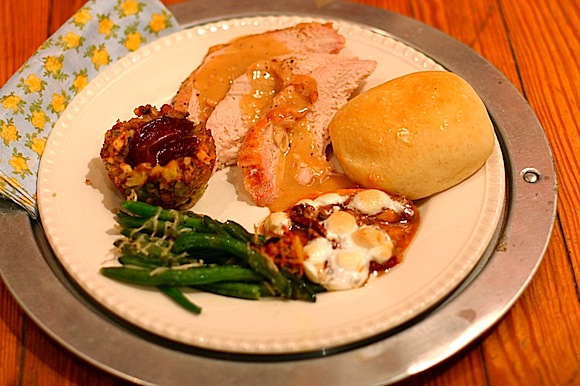 I don't think I ever officially made this announcement… but Weekly Bite has partnered with Sam's Club. I'm so excited about this! This would explain all the Sam's Club posts lately 😉
As part of this partnership, I was given the challenge to create a Thanksgiving dinner for a family of four for less than fifty bucks.
Here were the rules:
1 meat
2 sides
1 bread
1 dessert
All products must be unique to Sam's Club
Meal must be for four people, all for under fifty dollars
My theme going into this challenge was semi-homemade. I wanted to create a traditional meal that was easy to put together. That way there's more family time and less fuss in the kitchen.
Armed with my fifty dollar gift card I headed to Sam's Club to do some shopping. Here's what I got.
8lb turkey breast
6-pack Stove Top Cornbread stuffing
Pre-made Member's Mark Pureed Sweet Potatoes
Green Beans
Yeast Rolls
Red Velvet Cheesecake
Extras needed to fancy up the meal:
celery
onion
olive oil
butter
chicken stock
flour
pecans
brown sugar
dates
grated parmesan cheese
salt & pepper
I bent the rules a tiny bit. I opted to do three sides instead of two… but I still stayed within my price point 🙂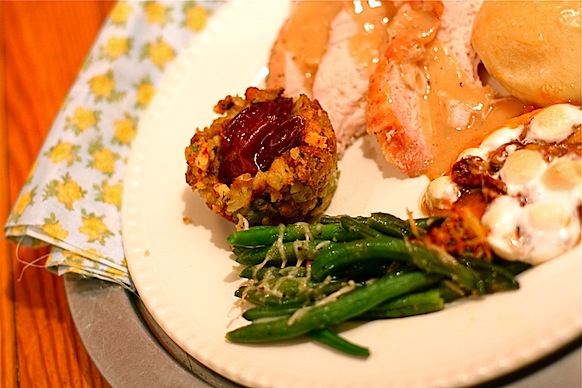 First thing you wanna do is prep the turkey. Preheat the oven to 350 degrees. Rub either olive oil or butter on the turkey. Coat with salt & pepper. Place in oven and cook according to weight. This turkey cooked for 1 hour and 45 minutes.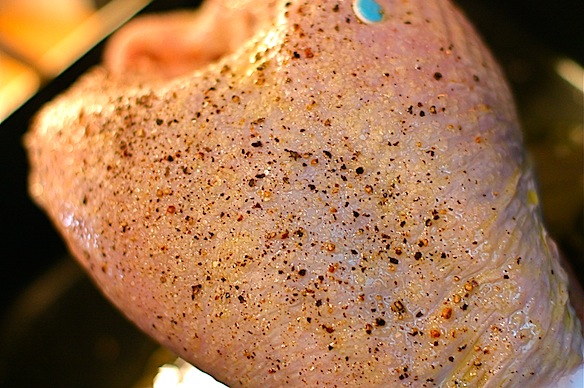 While the turkey's cooking, you wanna get the stuffin' muffins ready. Here's everything you need.
4 tablespoons butter
1 small onion, chopped
2/3 cup celery, chopped
2 packs of stove top stuffing
4 cups chicken broth
pitted dates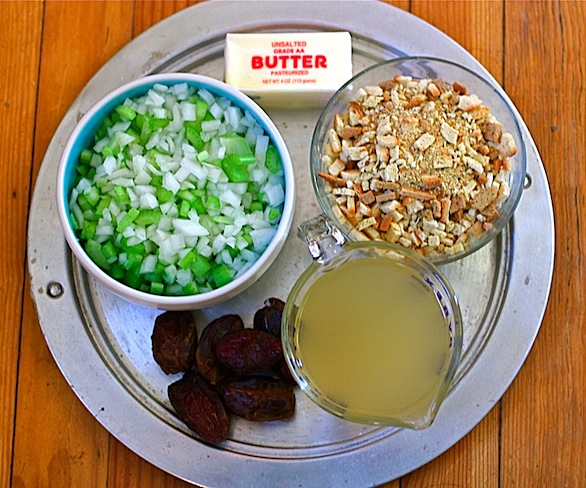 Melt the butter in a large saucepan. Saute the onions and celery until tender. Add chicken broth, bring to a boil. Turn off heat and add stuffing. Cover and let bread crumbs moisten.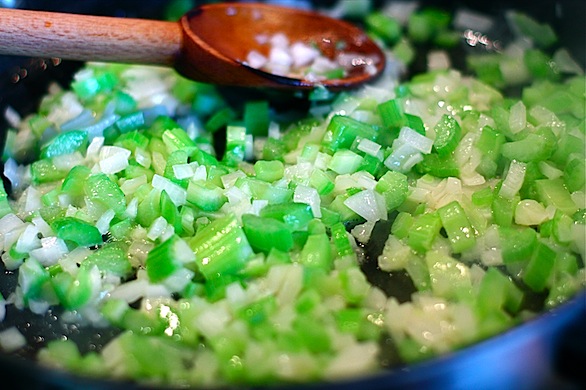 Spray a muffin tin with non-stick cooking spray. Using an ice cream scoop, scoop stuffing into muffin cups.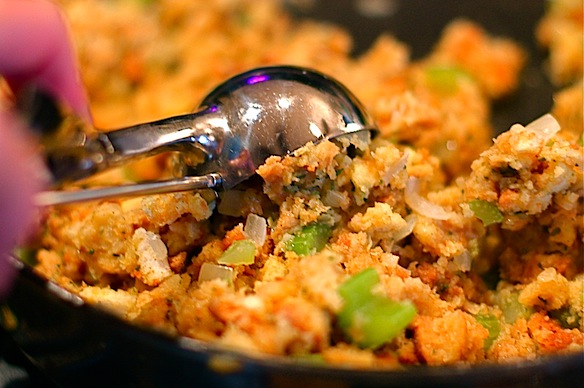 Just so you know… I'm pretty sure Rachel Ray named the stuffin' muffin. I only wish I was clever enough to come up with a name like that 😉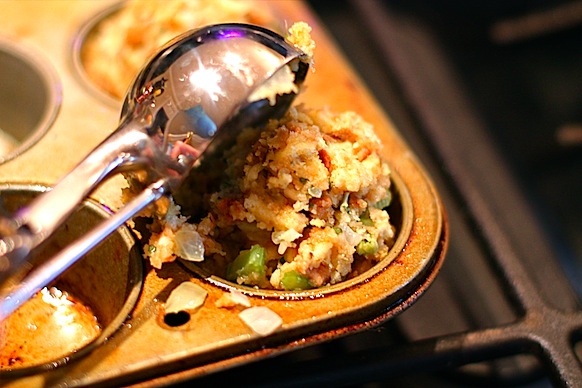 Aren't they cute 🙂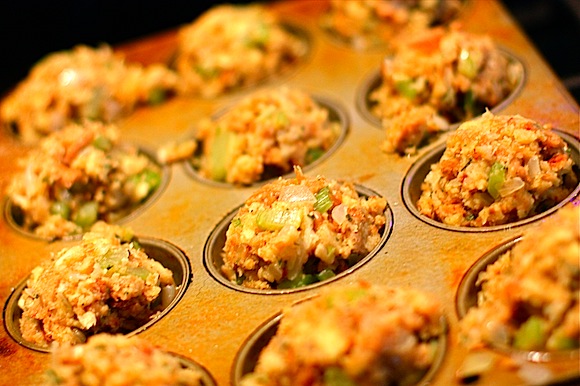 Press a pitted date into the center of each muffin.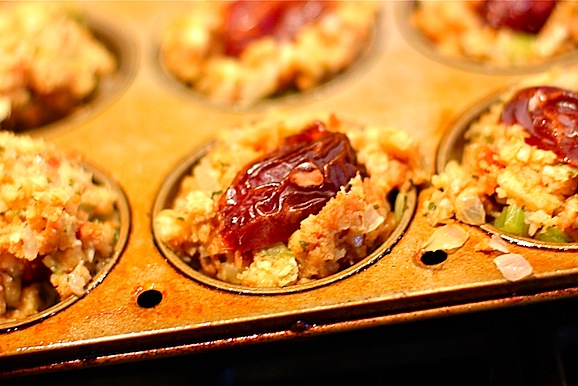 I only did half because Mr. Weekly Bite doesn't like anything fancy 😉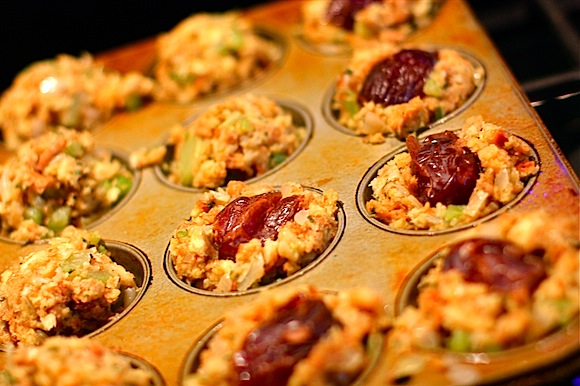 Set the stuffin' muffins aside and began prepping the sweet potatoes.
Here's everything you need:
Member's Mark (Sam's Club brand) pre-made sweet potatoes
Marshmallows (they come with the potatoes)
Butter
Brown sugar
Pecans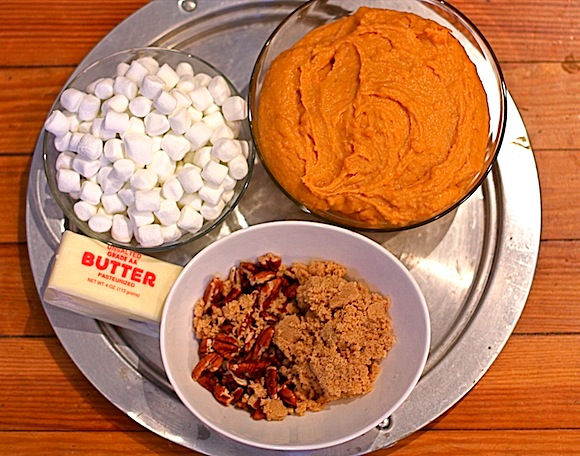 Step 1: Spread the sweet potatoes on the bottom of a casserole dish.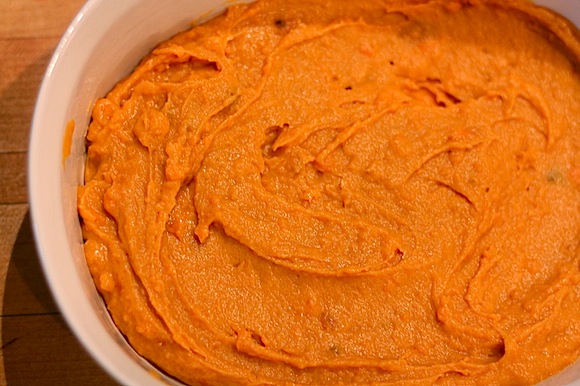 Step 2: Melt 2 tablespoons butter. Mix butter with 1/3 cup brown sugar & 1/3 cup chopped pecan. Drizzle over sweet potatoes.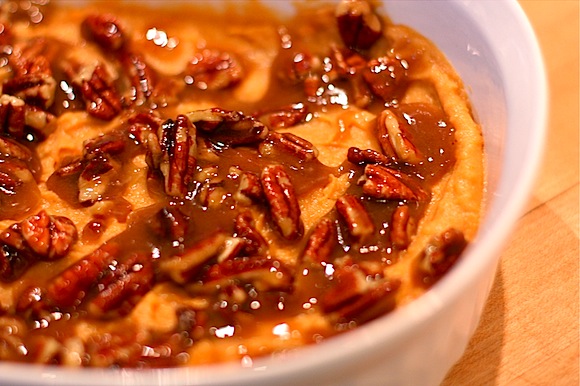 Step 3: Sprinkle marshmallow's on top. Set aside.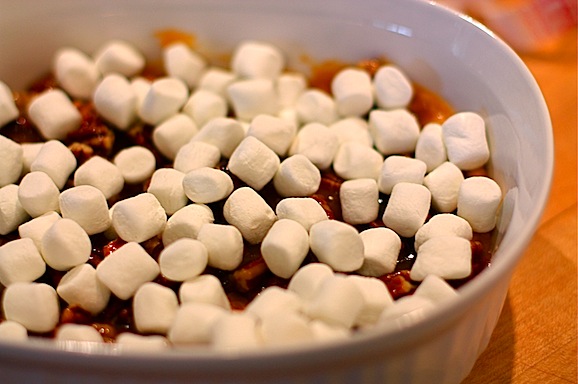 I did buy a giant bag of green beans. Its impossible for a family of four to consume that much green beans in one sitting. I figured it was worth the money to have extra green beans for multiple meals.
These green beans are super simple and so good. You can find the recipe here 🙂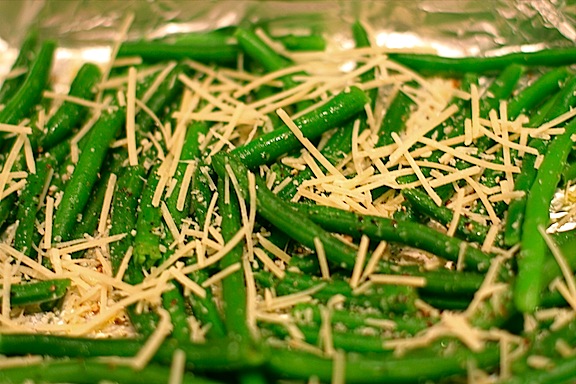 Buy the time you're done prepping all the sides, the turkey should be just about done.
I bought a turkey with that little pop-up temperature thingy. It worked great!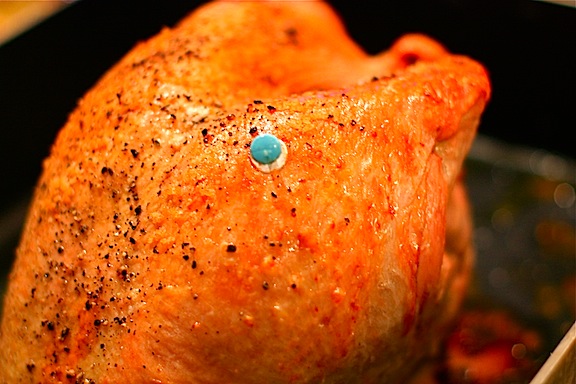 Remove the turkey from the pan. Place on a platter and cover with aluminum foil. Let the turkey rest for about 20 minutes.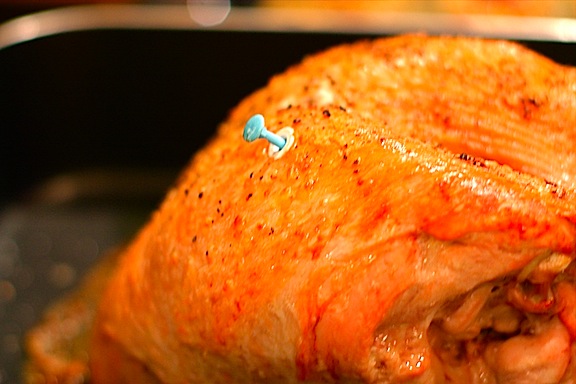 While the turkey's resting, place all the sides in the oven.
Now you wanna make the gravy. See all those drippings in the pan? That's all the good stuff you need for some awesome gravy.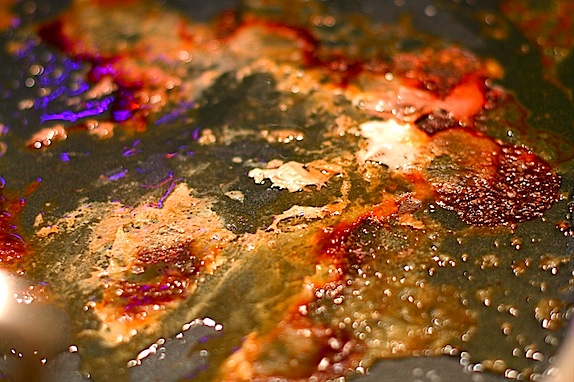 To make it easy, we're gonna make the gravy right in the pan.
Place roasting pan over two burners. Sprinkle about a 1/4 cup of flour in the pan. Whisk away and make sure to loosen up all those little turkey bits.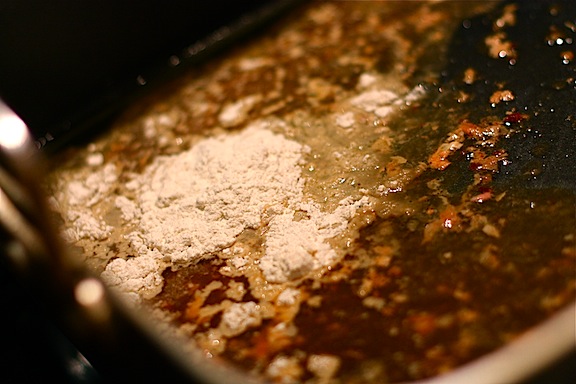 Add 1-2 cups of chicken broth (more or less depending on how much gravy you want)
Whisk until gravy is smooth. If you want thicker gravy, whisk in more flour. If you want thinner gravy, add more chicken broth. Add salt and pepper to taste. For a more detailed gravy making tutorial, click here 🙂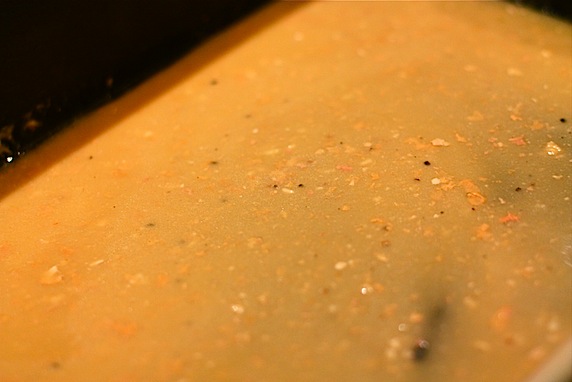 The sides should take about 20-30 minutes to cook. Once everything is golden brown, remove from oven.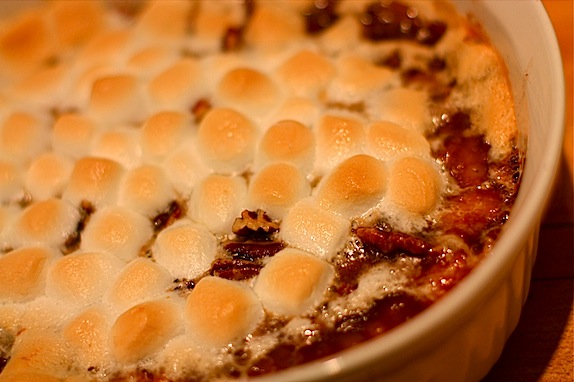 I loved the date melted into the stuffing!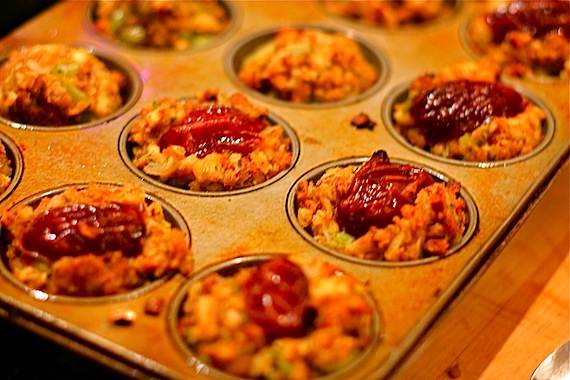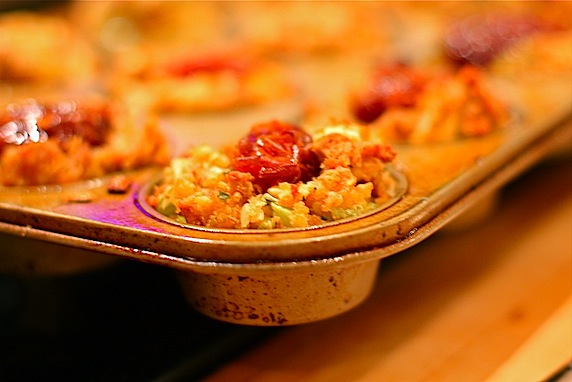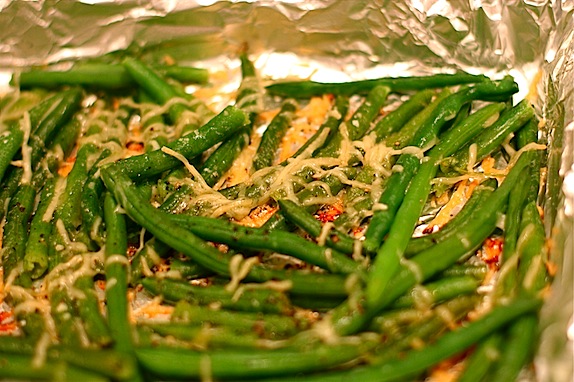 While the sides are cooling, place the rolls in the oven. I brushed a little butter on top. These only take about 5 minutes to cook.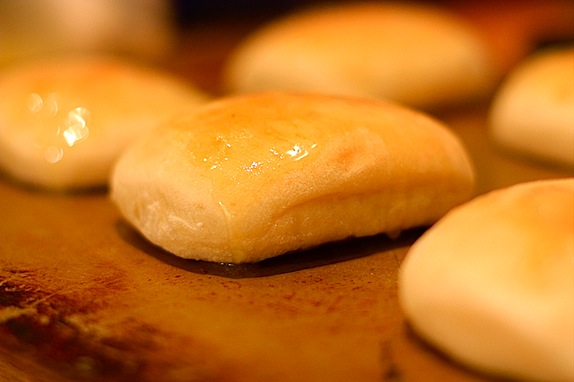 We ate this for dinner on Wednesday.
Here's M's little plate. Her favorites were the turkey and the stuffing.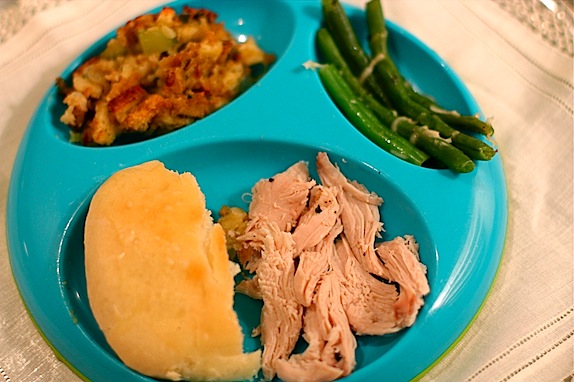 Our plate…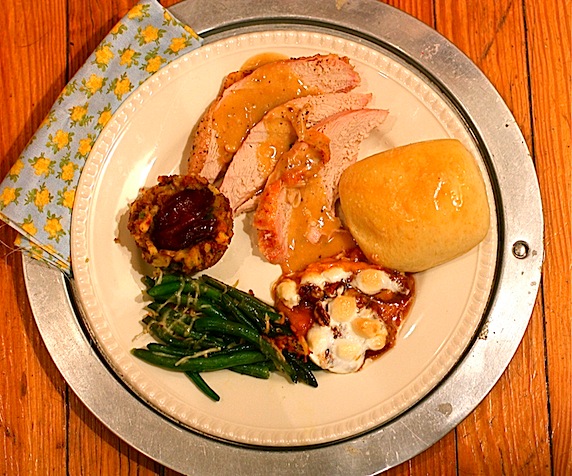 And then dessert!!!!!!!!!!! Red Velvet Cheesecake!!!!!!!!!
Cheesecake factory created this cheesecake especially for Sam's Club. Remember when I mention I hated red velvet?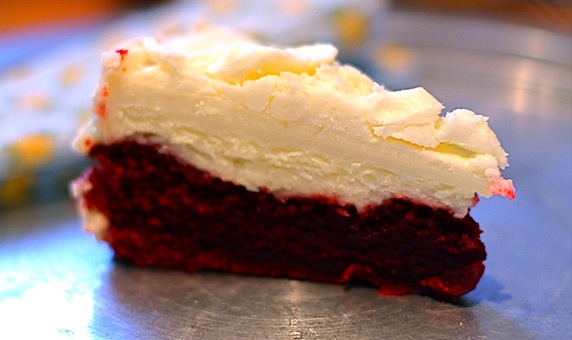 Well I don't hate it anymore. This was the best cheesecake I've had in my entire life! No joke!
This cake has a moist red velvet cake layer topped with rich cheesecake, topped with cream cheese frosting, topped with white chocolate shavings. Oh my was this good!!!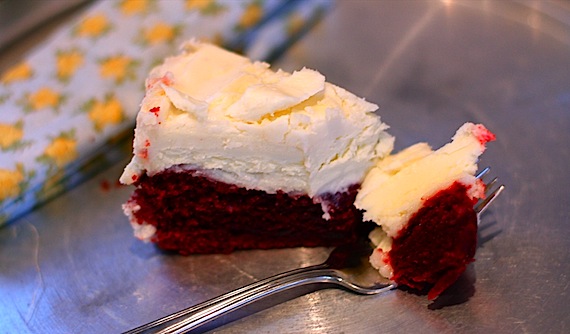 If you're anywhere near a Sam's Club I highly suggest you go buy this now. No need for toilet paper or massive quantities of paper towels.. buy the cheesecake.
And finally… we are done with this meal! Phew!
This was longest post in Weekly Bite history.
Overall, I'm very happy with the way this meal turned out. I spent 2 hours in the kitchen from start to finish, which is exactly what I wanted.
And my meal for four produced a lot of leftovers… which is always good in my book!
Disclosure: All of the opinions I've expressed are my own. Sam's Club provided compensation for my participation in the perfect thanksgiving.
~~~~~~~~~~~~~~~~~~~~~~~~~~~~~~~~~~~~~~~~~~~~~~~~~~~~~~~~~~~~~~~~~~~~~~~~~~~~~
In other news…. I was lucky enough to be chosen to participate in a phone call with Food Network Star Sandra Lee!! We talked about all sorts of fun holiday ideas. Stay tuned Monday for a full recap of my phone call and a fun giveaway!