Prettify Before Pics – The Office
Let me take you on a tour… Shall we?
We live in a two-story home and at the top of the stairs we have an open loft. This loft was once an office, then a T.V. room, and currently, an unused sitting area that accumulates dust… it will be turned back into an office.
At the top of the stairs you'll see very high ceilings and a sofa…. (sleeper sofa to be exact.)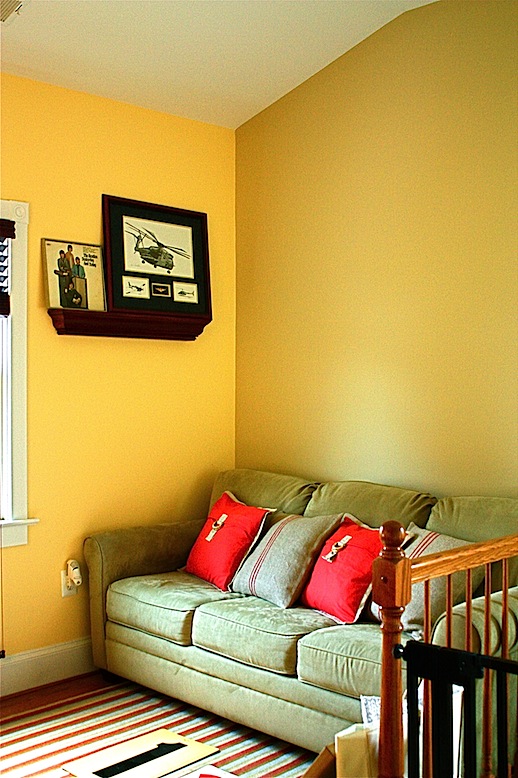 As you can see, the back wall is painted tan (latte), the the adjacent was is painted yellow (butter). The colors will be staying the same.
My husband put in the ledges to display pictures. I'm pretty sure those are staying…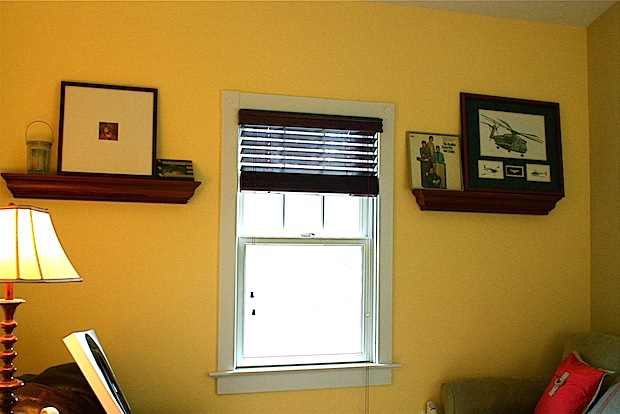 Opposite of the sofa is a huge leather chair. When I say its huge… I'm not lying. We bought two of these from a furniture store in San Diego that was going out of business for a hundred dollars each.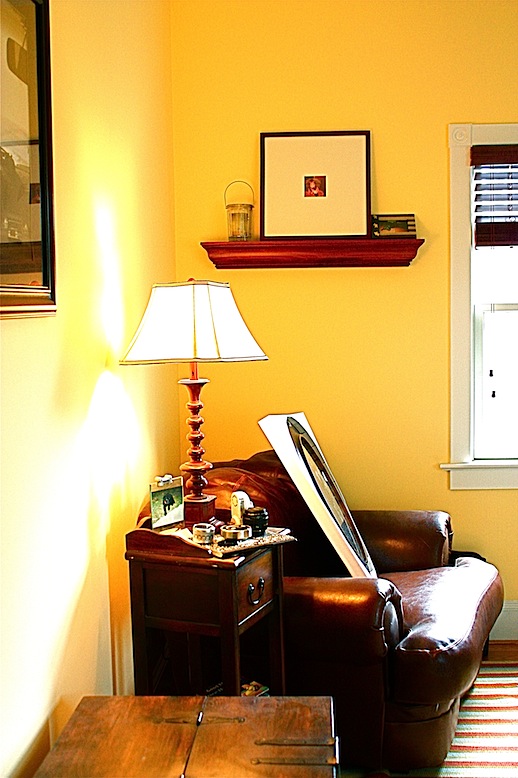 The wall opposite to the sofa leads to the bedrooms.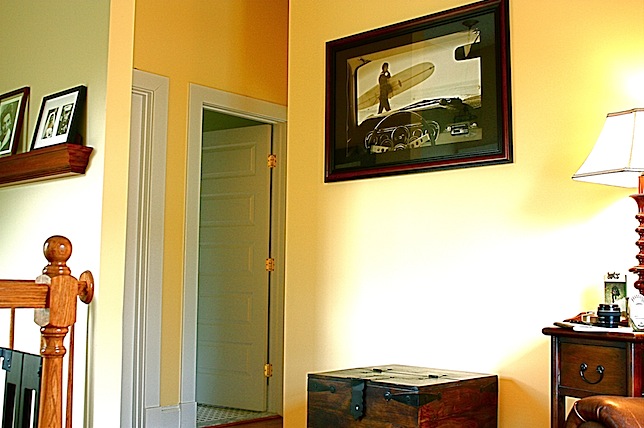 Before I start my prettify project, there are some things that will be staying in that area.
The sofa and the throw pillow. This sofa is a very light olive green color. I know it blends with the wall… but repainting is not an option, neither is moving the sofa.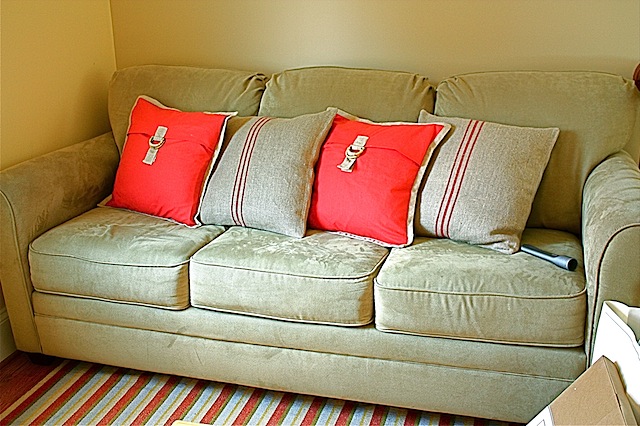 The pillow will be staying. I bought these throw pillows about three weeks ago from Pottery Barn. They were on sale for $13.99 each 🙂 That's a bargain considering the regular price was $40.00!! I actually only purchased the pillow covers. The inserts are the plain pillows that came with the sofa.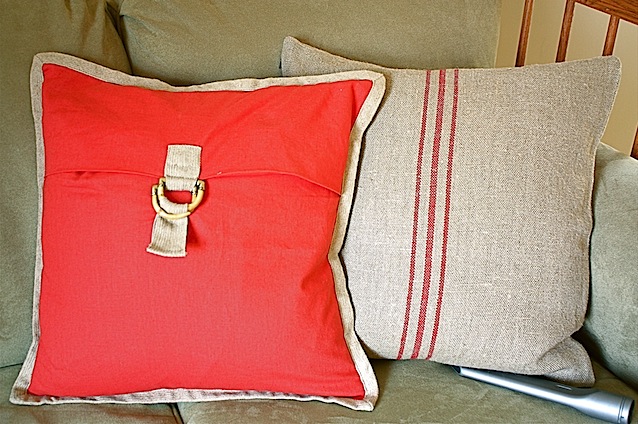 The striped rug was purchased a year ago. I bought it to fit that space… so there's no other place in the house where it would fit.
I bought these old vintage numbers off of etsy. These are the numbers that were used to display the price of gasoline back in the fifties. They were super cheap. I only purchased a couple because I wanted to see what condition they were in before I bought more.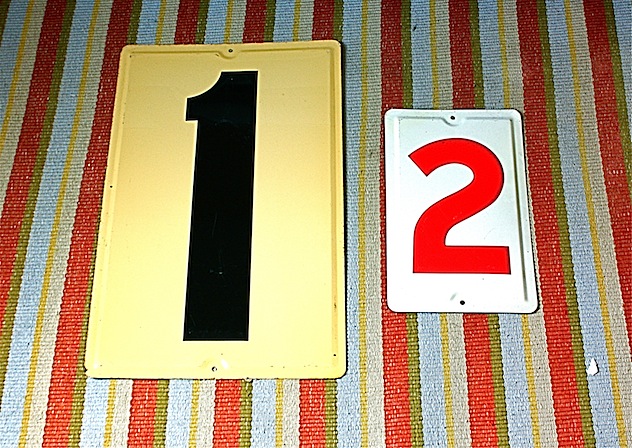 You should be warned… I have a slight obsession with numbers, letters, and stars. I've had this obsession since high school and I have no idea why. So when you see a abundance of these items, you know why 😉
I bought this mirror last week at TJ MAXX for $24. It a lot bigger in person.
Can you see me 😉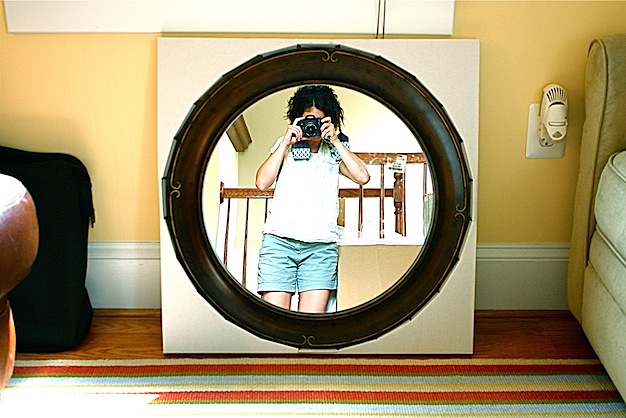 My husband loves surfing! He's been surfing since he was fourteen years old. Any chance he can get, he gets in the water and surfs. We saw this picture at an art gallery a couple years ago. He fell in love with it! I was able to convince the owner to sell me a print (not the original) at a much cheaper price. I gave it to him as a birthday gift last year. He was so surprised! This picture is hanging in our soon-to-be office area… and it will stay there.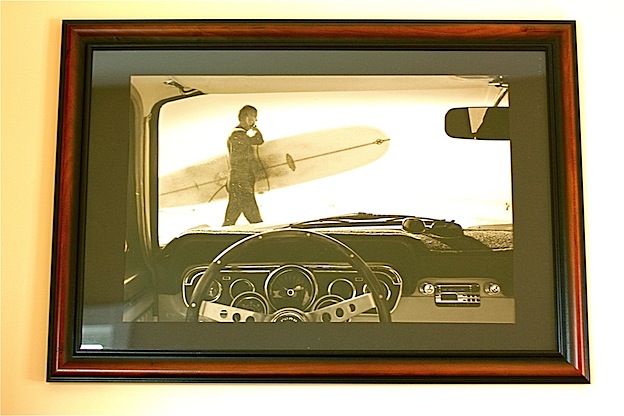 So there you have it. Thats what the space looks like. Its not bad at all… but I need to Prettify it 🙂 We already have a desk thats in our bedroom. Its an ikea desk… and it works for now. Buying a new desk is not in our budget, so I'll be fixin' our ikea desk up.
I have a budget for this project… but not a timeline. I truly believe that in order to have a space you love, you have to have items that you love. If I'm rushed and set a time for this to be complete… I know I'll just buy things to get it done… not because I love them.
If you have any ideas for the space I'd love to hear them!
Weekly Bite will be back for regularly scheduled programming tomorrow 😉
Have a great day!!!!