Training Too Soon After Pregnancy…
Helloooo! Happy Wednesday!
I had one of the best lunches yesterday!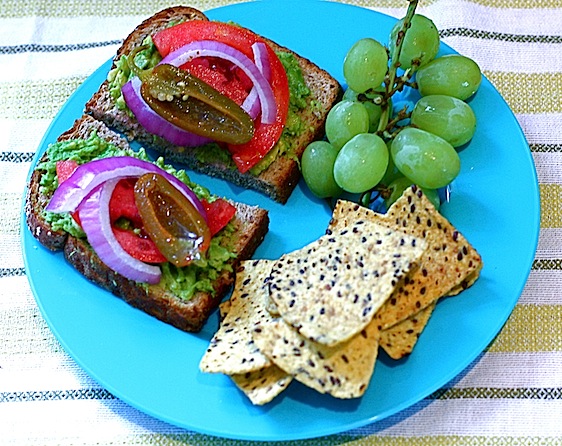 This tasted like a deconstructed guacamole sandwich! All I did was smash a perfectly ripe avocado on a slice of whole grain bread, topped with my last garden tomato, sliced red onion, and a homemade jalapeno.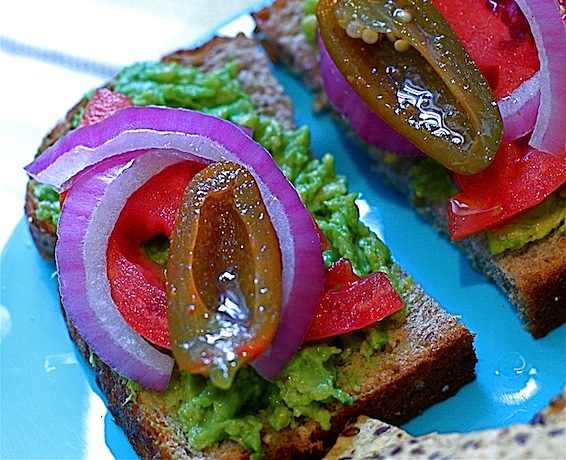 The salty vinegary cumin taste of the jalapeno made the sandwich. The only thing I think would've made it any better was if I had some queso fresco to sprinkle on top. Other than that… this was a stellar lunch! I had some Trader Joe's Soy Flax Tortilla chips and ice cold grapes on the side 🙂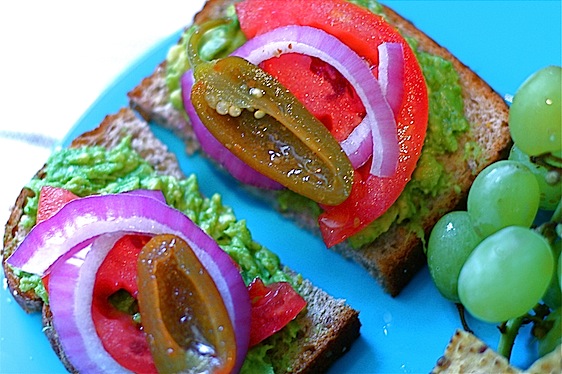 Training Too Soon After Pregnancy…
I know I have a lot of mommies-to-be who read my blog, so I wanted to touch on this topic.
My husband subscribes to Triathlete Magazine. I was minding my own beeswax and he plopped this article on my lap and said "You need to read this."
It was an article about running to soon after pregnancy. Its important to know that while I was anxious to get my fitness routine up and running, I knew how important it was to let my body heal. After M was born, I slowly started with some walking. Nothing too hard, just easy walking. At my six week check-up my doc said I was all healed up and I could run my little heart out. I was so excited!! I started out very slow. It was more like a shuffle than a jog 😉 It also involved lots of walk breaks. By three months post-pregnancy I was up to five miles and feeling great… then something happened. My lower back started to hurt. It hurt to the point where I was walking with a limp.
I knew this wasn't normal… but I never went to the doctor…. whoops. Instead, I just took a step back and slowed my running down. I incorporated more yoga, but even with that, by back was killing me. In time, my back pain went away and my body felt normal again. This was around five months post-pregnancy.
According to this article, the reason I was having so much back pain was due to the hormone relaxin. Relaxin creates ligamentous laxity throughout the body (loose ligaments to have room for baby). This is important because it allows the pubic bones to widen during delivery. After delivery, relaxin stays high for several months, leaving joints susceptible to injury.
Here's the million dollar question…
When's the right time to come back after having a baby?
Unfortunately, there's no straight answer. Some can come back quickly, other more slowly. The best rule is to use caution. Start back gradually and slowly. And most important… listen to your body!
So there you have it my future mommies-to-be. Take your time with your exercise comeback and listen to your body.
Question for you…
Have you ever experienced back pain after having a baby? What are your thoughts on exercise post-pregnancy?