Vegan Chocolate Chip Cookies
Do you mind if I gloat for a few seconds? Thanks!
I have never in my life been so excited about the weather as I am today.
You see, this girl (me), was born and raised in South Texas where I met my super cool husband.
My husband took me from Texas to San Diego… I know… I'm spoiled…
Then, my husband took me from San Diego to Washington, DC.
Here in DC, I have experienced some of the most beautiful fall weather with gorgeous fall leaves.
We have a giant Cherry Blossom tree in our backyard, which when bloomed in the spring, looks like pink cotton candy flowers.
And here, in DC, this girl from Texas has experienced more snow then I have seen in my entire life. Thirty-seven inches to be exact!
I have never been more ready for spring!
And today, this first day of March, the weather is suppose to reach a high of just over 50 degrees!!!!!!!!
Spring is on its way! I may even bust out the jogging stroller today… who knows… the options are endless!
Okay… I'm done gloating 😉
If you haven't figured this out yet… chocolate chip cookies are my absolute favorite!
I have a few recipes that I love. One of them is this recipe. When I made these vegan cookies, people can't even tell they're vegan.
Well… they're kinda vegan. I'm not a huge fan of carob, so I use regular semi-sweet chocolate chips 🙂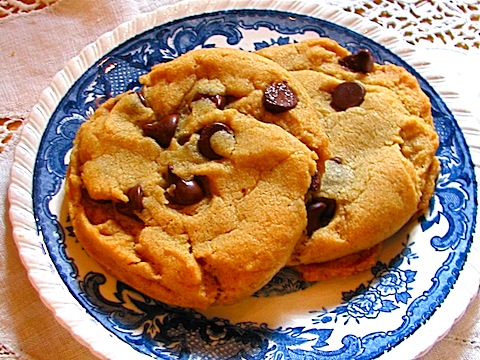 A couple of years ago I came across this recipe online from Dreena Burton of Eat Drink & Be Vegan.
Over time I've slightly altered the recipe. What I love about her recipe is the creative use of molasses.
The molasses combined with maple syrup makes this cookie taste like there's tons of brown sugar in it… but there's none at all!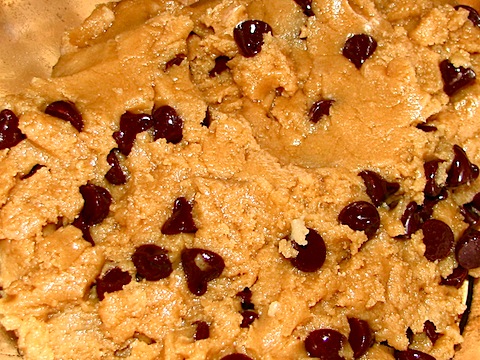 My favorite part about baking chocolate chip cookies is eating the cookie dough!
The fact that there's no eggs in this recipe makes me feel less guilty about indulging!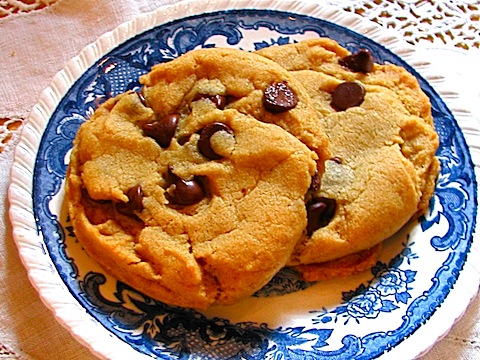 Ingredients:
1 1/4 cup whole wheat pastry flour
1 teaspoon baking powder
1/2 teaspoon baking soda
1/4 teaspoon kosher salt
1/4 cup sugar
1/3 cup maple syrup
1 teaspoon blackstrap molasses
1 tablespoon vanilla extract
1/3 cup canola oil
1/2 cup semi-sweet chocolate chips (or carob chips)
Directions:
Preheat oven to 350 degrees
Combine flour, baking powder, baking soda, salt, and sugar. Whisk until combined.
In a separate bowl, whisk maple syrup, molasses, vanilla, and canola oil.
Combine wet ingredients with dry ingredients. Mix until well combined. Add in chocolate chips.
Drop by HEAPING tablespoon onto ungreased cookie sheet. Will make about 9 cookies.
Bake for 10-12 minutes. Remove from oven immediately. Let set on cookie sheet for 2 minutes, then carefully remove and place cookies on cooling rack.
Enjoy!
~~~~~~~~~~~~~~~~~~~~~~~~~~~~~~~~~~~~~~~~~~~~~~~~~~~~~~~~~~~~~~~~~~~~~~~~~~~~~~~~~~~~~~~~~~~~~~~~~~~~~~~~~~~~~~~~~~~~~~~~~
Have a great Monday!!!!