Vegan Nut Butter Cookies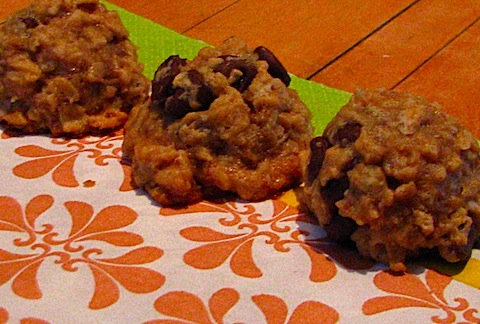 In honor of my very cool vegan friend Natalie, who wrote a fabulous guest post for me yesterday… I decided to post this recipe.
Before I get started on this recipe, I just want to thank everyone for being patient with me this week. I'm feeling so much better!
Ok… now for the cookies!
I've seen this recipe floating around the blogosphere for a while now. I think it may have originated from this website… not sure though.
What attracted me to these cookies was how incredibly easy they are to make.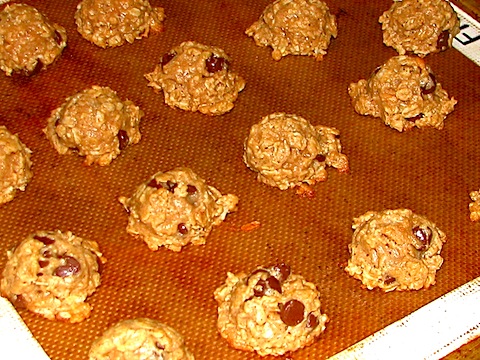 In the original recipe, you can use just about any nut butter you like, plus there's lots of add ins like dried fruit, nuts, coconut, etc…
When it comes to cookie combos, I like things simple.
I've tried all the nut butters and as much as I'd like love Barney Butter, or other nut butters… I'm a PB gal through and through… to me, nothing tastes better.
As far as cookie combos, PB & Chocolate is my favorite… plus its simple.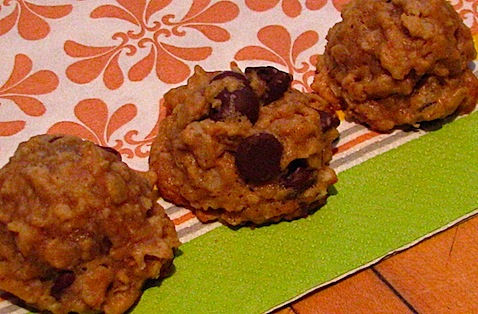 This recipe is so easy I know it by heart.
I also use my little melon scooper to keep these cookies bite size 🙂
Ingredients:
1 cup old fashioned oats
1/2 cup maple syrup
1/2 cup peanut butter (or any nut butter you like)
1 tablespoon vanilla
1/2 cup semi-sweet chocolate chips or carob chips
Directions:
Preheat oven to 325 degrees
Combine oats, syrup, peanut butter, and vanilla.
Stir until combined.
Fold in chocolate chips.
Use a melon ball scooper or a small spoon and drop onto cookie sheet.
Bake for 11 minutes or until lightly golden brown.
Cool on baking sheet.
ENJOY!!!!
~~~~~~~~~~~~~~~~~~~~~~~~~~~~~~~~~~~~~~~~
Question of the Day?
What's your favorite nut butter? Mine is peanut butter, specifically the Trader Joe's brand 🙂