Vegan Pineapple Date Coffee Cake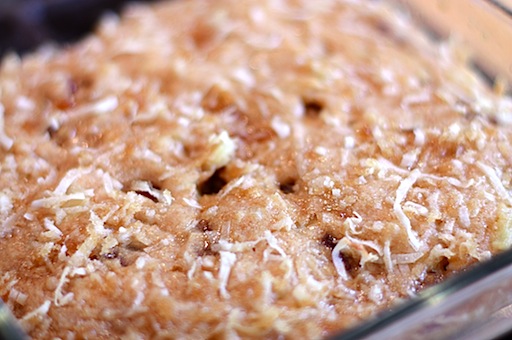 I feel like its been years since I last blogged!
It appears someone or something evil hacked into my website. Why oh why would someone do such a thing?!?!!
Apparently it was a GoDaddy/Wordpress thing and happened to A LOT of bloggers.
So… I need you to do me a favor…
If you get any sort of malicious website notice or security threat pop up window on my site, can you let me know?
Thanks!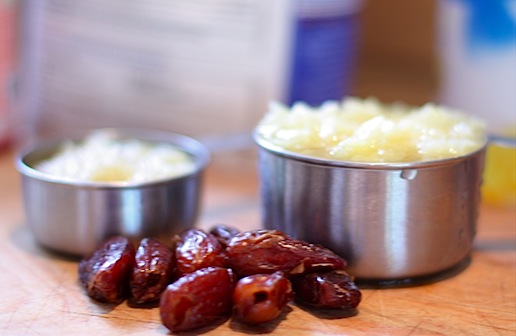 While my site was being cleansed, I baked you all some cake and took some blurry pictures for you.
This isn't just any old cake…
Its Vegan Pineapple Date Coffee Cake! (Yes… I know that's a long name)
This cake has all the good stuff in it! Its got pineapple, its got dates, and has a gentle sprinkle of coconut on top.
One thing this cake doesn't have….
Coffee!
Isn't it strange that coffee cake doesn't have any coffee in it?
It's actually a cake that was made to be eaten with coffee.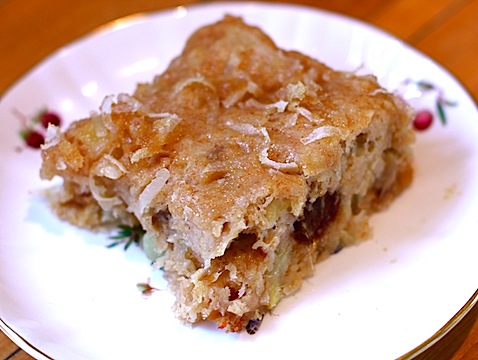 I like to eat it with coffee, with tea, with milk, with water, or with no beverage at all 😉
This cake makes for the perfect healthy snack! I suggest you make it today!
Ingredients:
3/4 cup whole wheat flour
3/4 cup all purpose flour
1 1/2 teaspoons baking powder
1/2 teaspoon baking soda
1/4 teaspoon salt
10 oz crushed pineapple with juice (do not drain)
1/2 cup applesauce
1/4 cup canola oil
1 tablespoon vanilla
1 cup chopped dates
Topping – 2 tablespoons brown sugar, 2 tablespoons shredded coconut
Directions:
Preheat oven to 325 degrees
Spray an 8 inch square pan with nonstick cooking spray.
Combine flours, baking powder, baking soda, and salt. Mix until combined.
Stir in pineapple with juice, applesauce, canola oil, and vanilla. Fold in dates.
Spread mixture into pan.
Combine brown sugar and coconut. Sprinkle on top of batter.
Bake for 25-30 minutes or until toothpick comes out clean.
Cook cake completely.
Enjoy!!!!