Vegan Strawberry Bread Muffins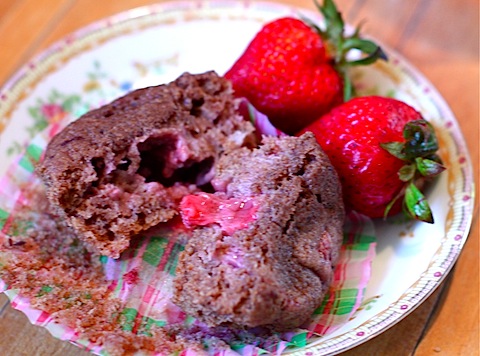 I had every intention of blogging yesterday! I don't know how it happened… but the day just got away from me.
Between juggling a baby who wouldn't nap and accidentally dropping the coffee pot and watching it shatter all over the floor… it was a heck of a day!
Is it sad that my biggest concern was getting a new coffee pot before the next morning? I can handle a lot of things… but take my morning coffee away and I'm a mess!
I did manage to squeeze in a much needed trip to Trader Joe's. I impulsively purchased a container of dark chocolate covered expresso beans, and then proceeded to eat a handful or two at eight o clock at night.
Why did I do that? Why?
Why did I ingest one of the most concentrated forms of caffeine, coated in more caffeine?
As you would guess, I ended up getting over caffinated, couldn't go to sleep, and ended up baking strawberry bread muffins at 10:40 p.m.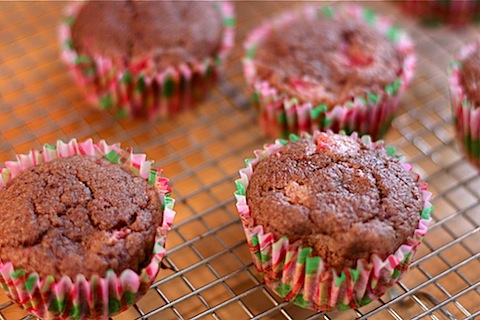 The inspiration came from Sarena. She posted some gluten-free Strawberry Bread on her site… so naturally, I decided to make them into my most favorite food… muffins!
This was my first trial with this recipe creation. They came out good… but not awesome. I think I added too much applesauce for the amount of strawberries I used.
Here's the recipe… but if you make these… cut the applesauce to 1/2 cup 🙂
Ingredients:
2 cups whole wheat flour
1/2 cup sugar
1/4 teaspoon kosher salt
1 1/2 teaspoons baking soda
2 tablespoons flax meal
1 teaspoon vanilla
1/2 cup canola oil
1 cup applesauce (cut down to 1/2 cup when you make this)
3 cups fresh strawberries
Directions:
Preheat oven to 350 degrees. Line muffin tin with muffin liners.
Combine all dry ingredients in a bowl. Set aside. In a separate bowl, combine vanilla, canola oil, and applesauce. Add wet ingredients to dry ingredients… stir until combined. Take two cups of strawberries. Chop them and then mash them. Use whatever you have to mash them. I used a potato masher.
Add mashed strawberries to batter and stir until combined. Take last cup of strawberries, roughly chop them, and then fold into batter.
Fill muffin cups with batter, 3/4 full.
Bake for 25 minutes or until toothpick comes out clean. Place muffin tin on cooling rack and allow muffins to cool until completely cooled.
Enjoy!
Have a great weekend!!!
If you're in DC, the weather is suppose to be incredible!! Enjoy!