White House Easter Egg Roll 2010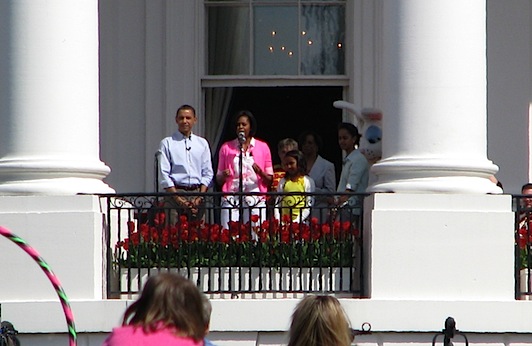 Yesterday was an exciting day! We were fortunate to score two tickets to the White House Easter Egg Roll!! The weather was fantastic!!!
The South Lawn of the White House was transformed into a giant playground for thousands of children. They were calling it "America's Backyard." There was music, sports, cooking, and traditional Easter egg rolling.
The theme this year was "Ready, Set, Go!" and aimed to encourage all of us to begin to lead a healthy and more active life. This theme went along with Michelle Obama's "Let's Move!" initiative – a campaign against the childhood obesity epidemic.
To give you a bit of history… President Abraham Lincoln's son, Tad, hosted the first documented informal egg-rolling parties in 1861, however, the tradition we know today as the Easter Egg Roll was established by President Rutherford B. Hayes and his wife Lucy. Since the early 1870's young egg-rollers would flock to the Capital's steep, grassy terraces every Easter Monday for an exhilarating day of play.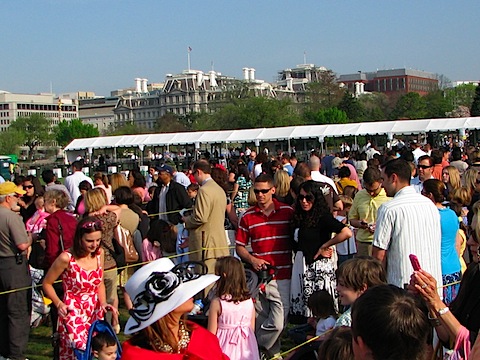 Thirty thousand tickets were given away! We were broken up into 5 groups of six thousand! Each group had a two hour time slot.
We were up early and in line for our time slot by 8 a.m.!
Here's a picture of M while we waited in line 🙂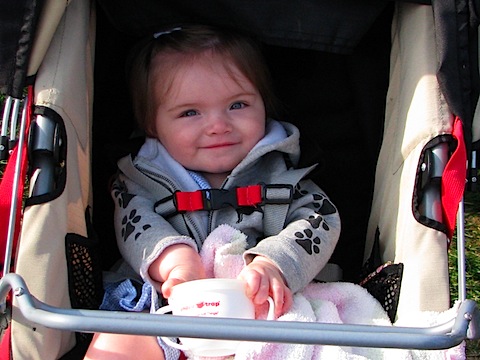 On the Rock-n-Egg Roll Stage was the Cast of Glee!! I tried to hard so get some good pictures… but none of them came out 🙁 There were so many people there and we were so far back that all I got were super blurry faces.
Next we headed to the Story Time Stage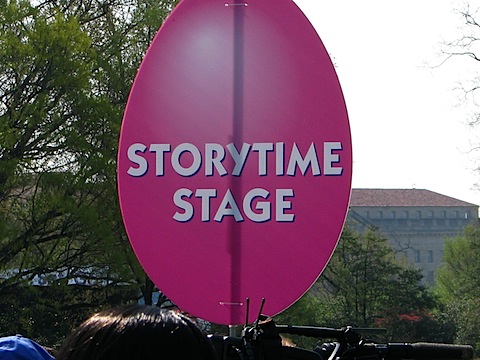 This was my favorite part of the day!!!
We got to meet Reese Witherspoon!!!!!!!!
Here's a picture of her with her daughter 🙂
Reese was on the Story Time Stage reading a story to all the kids 🙂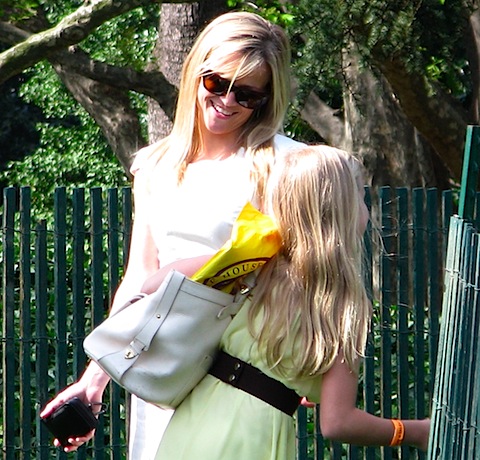 Apollo Ono was there too… but I didn't get a picture 🙁
Next we the Sport Zone. They had kiddie yoga, baseball, softball, football (along with the Washington Redskins), Golf, Soccer, and Tennis!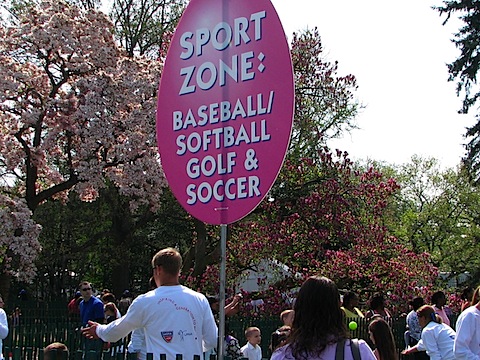 Next was Hoopapalooza!!! These kids had so much fun with the hoolahoops!!!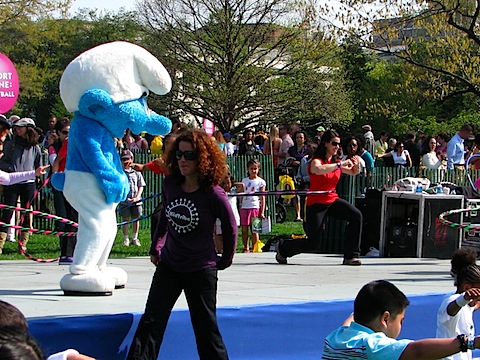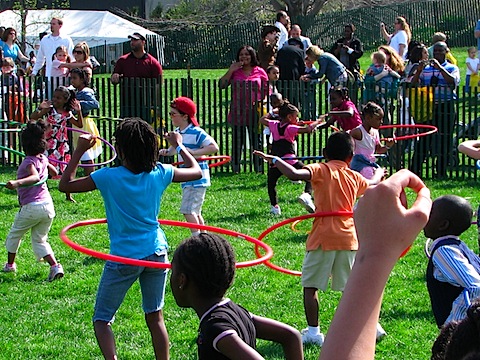 In the Egg Hunt area with the traditional Egg Roll, and egg dying, art & crafts, and face painting.
Next was the "Play With Your Food" area! Sadly, I got no pictures of this 🙁 By this time I had a very exhausted baby.
What I love about this area was all the snacks were fruit! There were no "junk" food at all!
The White House Chefs were there teach all the kids about how fun healthy food is! There was a "Make-A-Garden" section, a Farmer's Market section where kids learn about local produce, and Fun Food Science!
The snacks included all the fruit you can eat and fresh all fruit smoothies courtesy of Whole Foods.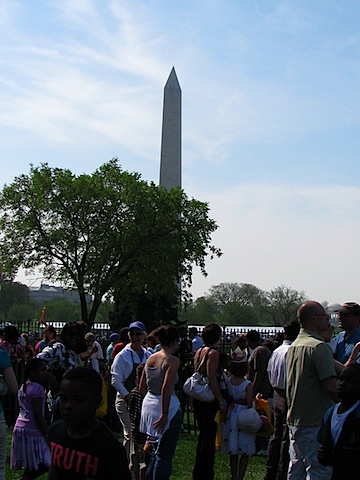 Here's a picture of M on the White House grass!!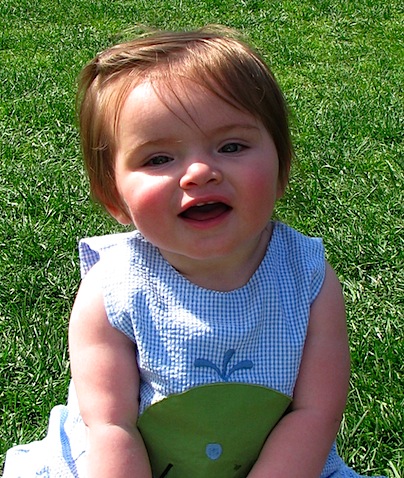 I tried to leave a little early so M can get some rest, but Obama was playing basketball with the kids and apparently there's a rule that no-one is allowed to leave the White House grounds while the President and his family are on the lawn. After waiting to leave for forty-five minutes… we got leave.
This event was so worth all the time we waited in line! I loved how organized the event was and how Michelle Obama placed emphasis on being active and eating healthy.