Whole Wheat Banana Chocolate Chip Cookies
Happy Friday!! Are you excited for Memorial Day weekend? I know I am!!
I'm so glad you all enjoyed my Nutrition Q & A! Your comments were all so sweet! I am so proud to be a cancer survivor and I do my best to support the cause. I plan on writing a more detailed post on it in the future.
On most days, my day starts at 6:15 a.m. My alarm goes off at that time every morning. Sometimes I wake up to it… sometimes I get woken earlier by you know who.
This day she slept in till 7 a.m., so I was able to get breakfast ready for her before she woke up.
This is her "Mom why are you taking a picture of me so early in the morning with egg on my face?" face. 🙂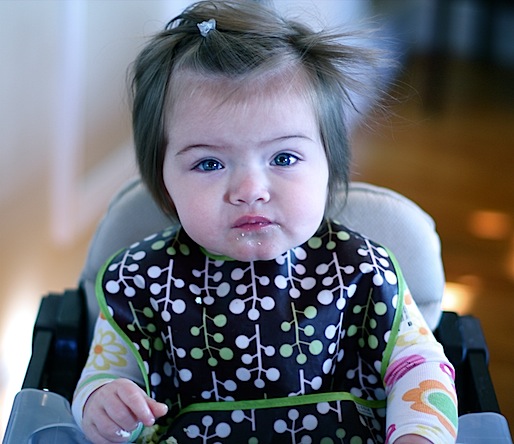 On the menu for Miss M was a scrambled organic farm fresh egg, chopped kiwi, and a toasted whole wheat english muffin with Crofter's Super Fruit Spread.
She ate all the egg and kiwi, and picked at the English muffin.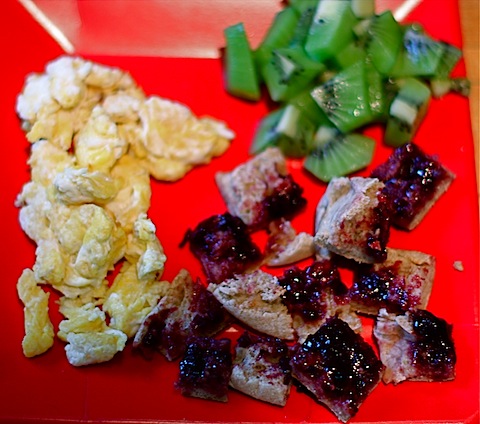 It still amazes me that two brown eyed people conceived a child with some of the bluest eyes I've ever seen!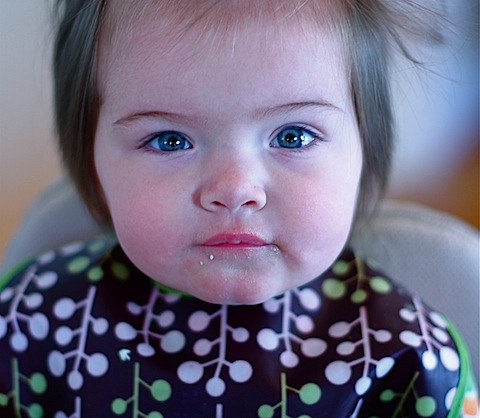 My mission for the day other than taking care of my little munchkin was to purchase a large suitcase and play around with a new cookie recipe.
M and I are traveling to Minneapolis to visit my brother 🙂 We're so excited! But… traveling alone with a baby is tough. There are so many items to pack… hence the need for a very large suitcase!
Here are just some of the items I will be traveling with:
Stroller
Car Seat
Car seat base
Pac-n-play for her to sleep in
Tons of diapers
Wipe
Multiple changes of clothes
Snacks
Travel Meals
Toys to keep her occupied
Not to mention a million odd and ends and my clothes too!
Between my husband and I, we had accumulated a lot of REI dividend points, so I ventured to REI and ended up purchasing this monster of a suitcase! Its not the most attractive suitcase… but with all the points we earned it was practically free! Score!!
I was also able to squeeze in a yoga class. My yoga studio has childcare now! I'm so happy about that because no childcare = no yoga 🙁
I also experimented in the kitchen.
I'm such a messy baker!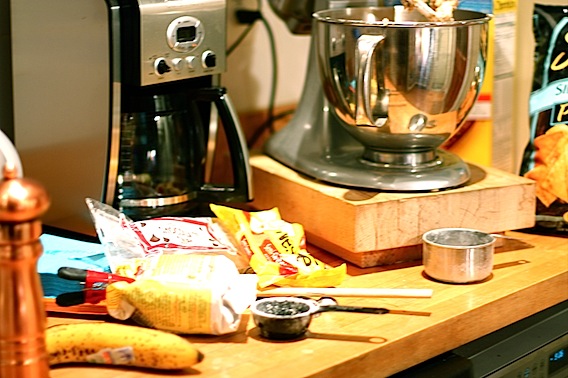 I've seen these cookies before but have never attempted to make them. I decided to add my own little twist to them and try to make them into a healthy snack.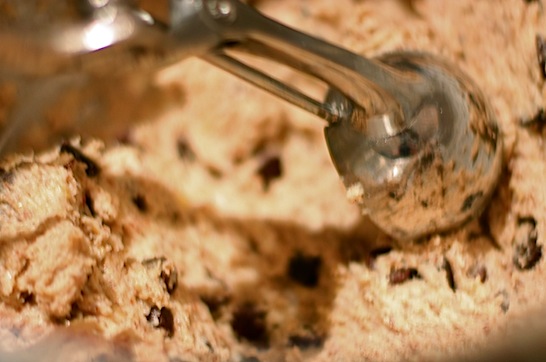 I used whole wheat flour and flax meal as the base. These cookies were so moist and dense! It made for the perfect afternoon snack!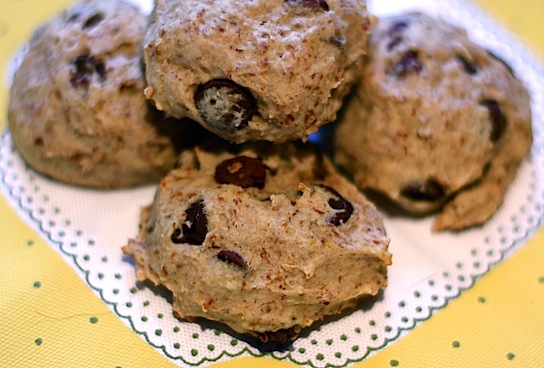 Ingredients:
2 very ripe bananas
1/2 cup (1 stick) butter (softened)
1/4 cup white sugar
14 cup brown sugar
1 tablespoon vanilla
2 cups whole wheat flour
1/2 cup flax meal
1 teaspoon salt
1 teaspoon baking soda
Directions:
Preheat oven to 350 degrees.
Cream bananas and butter together. Add sugars and vanilla. Mix until creamy. In a separate bowl, combine flour, flax meal, salt, and baking soda. Slowly add dry ingredients to wet ingredients. Mix until combined.
Drop by rounded tablespoon onto cookie sheet. Bake for 15 minutes or until edges are lightly browned. Let cookies set on cookie sheet for a few minutes, then move to a cooling rack.
~~~~~~~~~~~~~~~~~~~~~~~~~~~~~~~~~~~~~~~~~~~~~~~~~~~~~~~~~~~~~~Do you have any big plans for the holiday weekend?
My husband will be in town so we've got lots of fun family time planned 🙂
Have a great weekend!!!!