Vegan Banana Muffins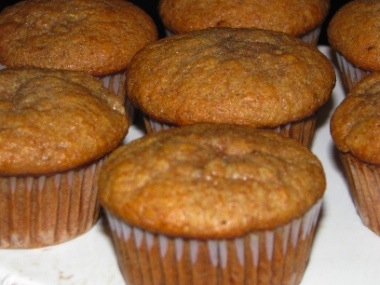 I fondly remember growing up with the smell of banana bread in the kitchen. I was trained by my mother to NEVER throw out over ripe bananas… they make the best banana bread! This is true in every way! There have been days I crave banana bread and use bright yellow bananas. The end result wasn't bad or good. I've made a few tweaks to my mother's recipe over the years. The biggest change I made was taking out the eggs and butter. I basically "Veganized" the recipe. When I made these changes I found the end result was a deliciously moist muffin. I can't wait for my daughter to grow up with that same smell of banana bread in the kitchen!
Ingredients:
2 cups whole wheat pastry flour
1 1/2 teaspoons baking soda
1/2 teaspoon salt
1 cup sugar
3/4 cup canola oil
1/2 cup unsweetened applesauce
1 Tablespoon pure vanilla extract
4 over ripe bananas
Method:
Preheat over to 325 degrees
Combine all dry ingredients in a bowl. Wisk together to sift. In a separate bowl, wisk together all the wet ingredients except the bananas. Combine wet with dry ingredients. Mix with electric mixer. Slowly work in bananas. Blend just until combined. You still want to see lumps of banana in the batter.
Line muffin tin with wrappers.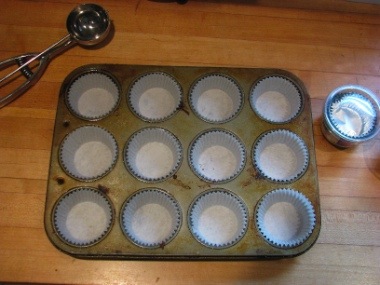 For accurate measurement, use an ice cream scooper to distribute the batter evenly into muffin cups.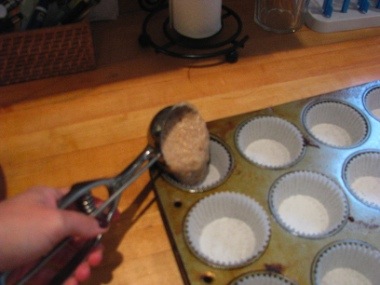 Bake muffins for 13 minutes than rotate in oven and bake another 13 minutes. Cool completely on cooling rack. ENJOY!!!!
TIP: If you have over ripe bananas lying around and don't feel like baking banana bread or muffins just yet, peel the bananas and throw them in a Ziploc freezer safe bag. When you're ready to bake, pull the bananas out and defrost.
Question of the Day: What was your favorite baked good growing up? Is it still your favorite today?