Vegan Double Chocolate Chip Cookies
I was on a mission this weekend to make the most delicious vegan double chocolate cookies ever. I was determined to make my "healthy" cookies taste like they weren't. I was semi-successful… My first two attempts resulted in failure… the third time… much better! Not all of my baking is vegan… but, if I can make something from more natural ingredients and have it taste just as good… I will. For those who aren't familiar with my baking philosophy, you can read it here.
To start, I mixed together whole wheat pastry flour, cocoa, salt, & baking soda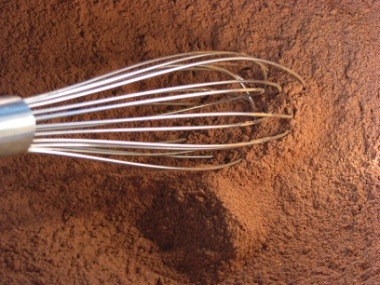 In a seperate bowl, I mixed the sugar, canola oil, vanilla, soy milk, & flax meal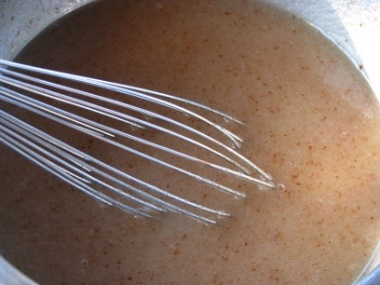 Combine the wet ingredients with the dry ingredients, then mix in the chocolate chips.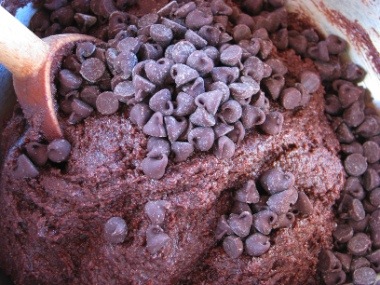 Drop by HEAPING tablespoon onto ungreased cookie sheet.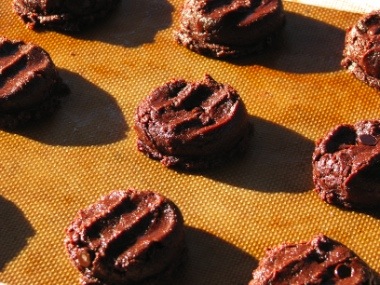 Bake in oven preheated to 350 degrees for no more than 10 minutes
Let cookies set in pan for 2 minutes, than carefully place on cooling rack.
This last step is super important… if you leave them in the oven too long or let them sit on the pan too long, they will overbake.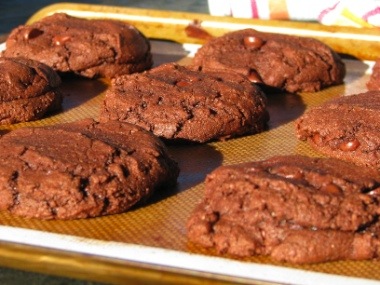 Ingredients
1 3/4 cup whole-wheat pastry flour
3/4 cup unsweetened cocoa
1 teaspoon unsweetened baking soda
1/2 teaspoon kosher salt
1 cup canola oil
1/2 cup soy milk
2 cups natural sugar (you can just use regular sugar)
4 teaspoons ground flax seed
1 tablespoon vanilla
1 cup semi-sweet chocolate chips
Sift flour, cocoa, baking soda, & salt in a large bowl. In seperate bowl, mix oil, soy milk, sugar, flax meal, & vanilla. Add wet mixture to dry ingredients, mix well. Mix in chocolate chips.
Drop by heaping tablepoon on ungreased cookie sheet ( I use a silpat). Cook at 350 degrees for no more than 10 minutes. Remove cookies immediately, let cook in pan for 2 minutes, carefully transfer to baking sheet.
~~~~~~~~~~~~~~~~~~~~~~~~~~~~~~~~~~~~~~~~~~~~~~~~~~~~~~~~~~~~~~~~~~~~~~~~~~~~~
Question… have you ever "Veganized" a baked good? If so, what method do you use, and how does your product come out? I'm super interested 🙂
Have a great day!