Mac & Cheese Muffins (Power Your Lunchbox)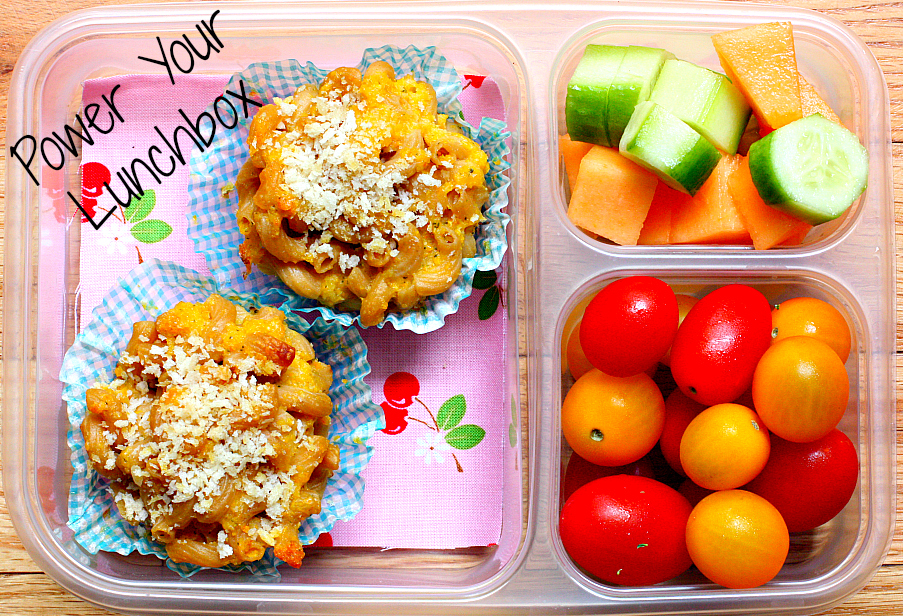 I am so excited to be a part of the new Power Your Lunchbox Pledge by Produce for Kids®, which launched August 11 and runs through September 15. It encourages parents to pack healthier lunchboxes for their kids this back-to-school season. Visitors to poweryourlunchbox.com can pledge to pack healthier lunchboxes; get RD-approved, kid-friendly lunchbox ideas and tips; and download coupons from companies supporting the program. To take part in this great initiative, I made Produce for Kid's Mac & Cheese Muffins. They were delicious!! I made them for dinner and there was more than plenty to include in our lunch routine. My family loved these!! For lunch I added in a mix of yellow & red cherry tomatoes and cantaloupe & cucumber slices. My kid's loved it.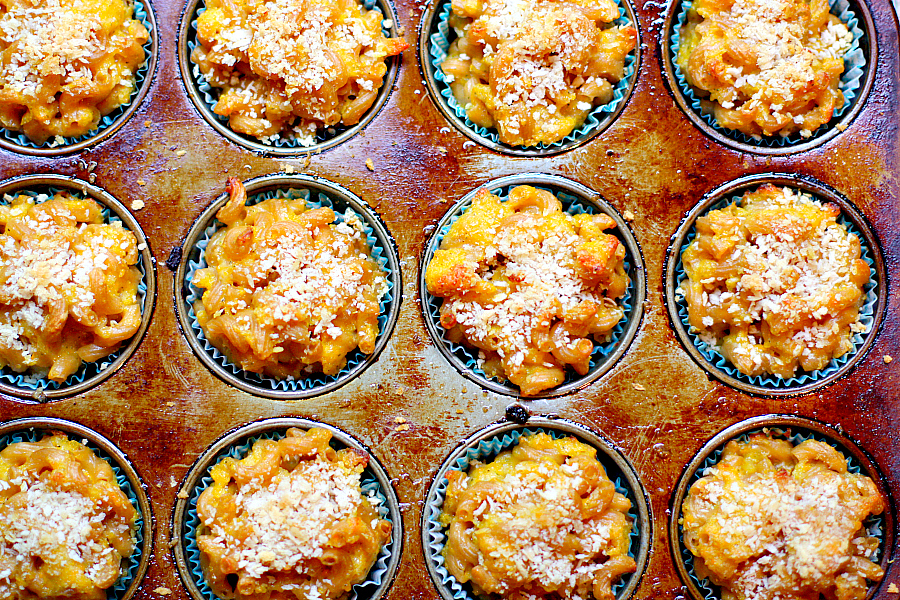 Here's the recipe:
Ingredients
¾ medium sweet onion
1 cup baby carrots
4 broccoli florets
1 cup shredded lowfat cheddar cheese
1 cup shredded part-skim mozzarella cheese
1 large egg
1 Tbsp. unsalted butter, softened
2 tsp. olive oil
1 box (14.5 oz.) whole wheat macaroni noodles, cooked according to package directions
1 cup whole wheat bread crumbs, divided
Instructions
Preheat oven to 350°F.
Puree onion, carrots and broccoli in food processor or blender until smooth.
Mix cheddar, mozzarella, egg, butter and olive oil in large bowl. Add cooked macaroni, vegetables and ½ cup bread crumbs. Stir until just incorporated.
Spoon mixture evenly into greased muffin pan. Sprinkle remaining bread crumbs on top and bake 30 minutes, or until lightly browned.
Notes
Suggested Sides: • ½ cup cherry mixed fruit salad • ½ cup carrots and cucumbers, sliced • 1 blended fruit pouch
Produce for Kids Instagram and Twitter fans can use the #PowerYourLunchbox hash tag to show off their healthy lunchboxes throughout the program to be automatically entered to win weekly prizes and have their lunchboxes featured on Produce for Kids' Facebook page. Prizes include bento boxes, fruit-infusing water bottles, grocery store gift cards and more. Parents looking for even more tips and resources for healthy lunchboxes are invited to join me & Produce for Kids and partner companies at the #PowerYourLunchbox Twitter party on August 20, 2014 at 9pm ET.