Easy Weeknight Meal: Red Beans & Rice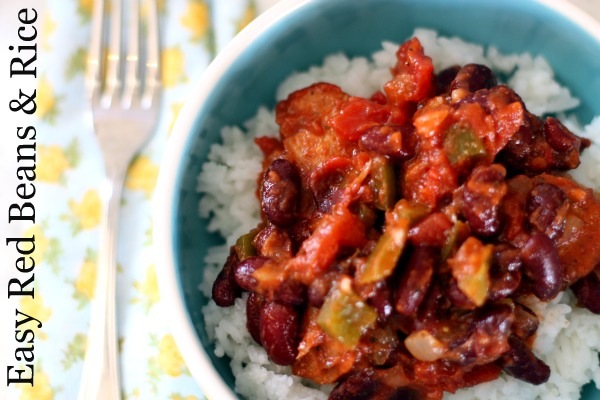 This is a recipe repeat, and definitely a recipe worth repeating. I was struggling with dinner ideas and remembered how easy my Red Beans & Rice recipe was.  I just happened to have all the ingredients on hand and was so excited to make this tasty dish.
Here's how easy this meal came together.
First you slice up some andouille sausage and saute it in a little olive oil over medium heat for about 5 minutes. I used Trader Joe's Chicken Andouille Sausage but any Andouille sausage will do. It went perfectly with this meal.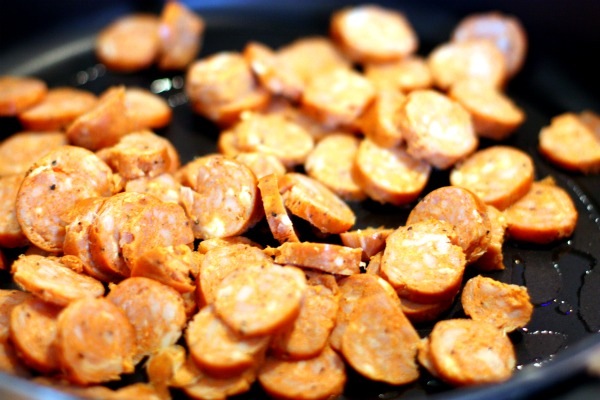 To the sausage, add one chopped onion, one chopped bell pepper, and two finely chopped cloves of garlic. Cook for about 7 minutes until veggies are tender.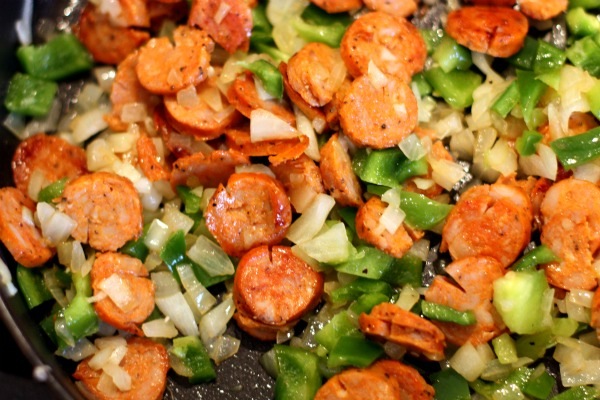 Next add in your kidney beans, diced canned tomatoes, oregano, salt, pepper, paprika, and a cajun spice of your choice. I used CrawDaddy's Cajun Spice Mix. This is from the local CrawDaddy's at my hometown in Texas. Unfortunately they don't sell it nationwide 
Zataran's is my next favorite seasoning.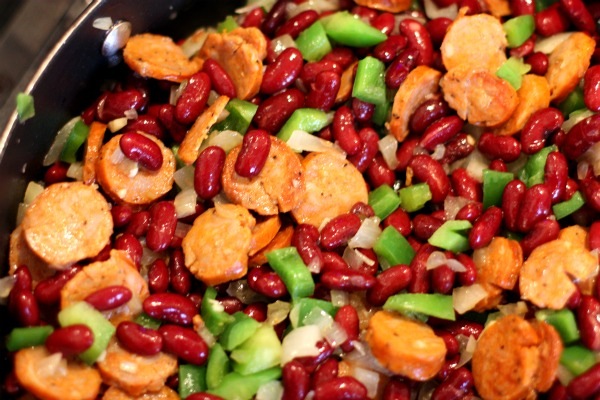 You want to cover the bean mixture and let it simmer for 25 minutes. While this is simmering, cook your rice. You can use whatever rice you like. Normally we eat brown rice, but we're on a mission to clean out our pantry and we have a very large bag of white rice needed to be used. I cooked 1 cup of dry rice in two cups of water for 20 minutes. The rice was ready just in time.
Ingredients:
1 pound andouille sausage (sliced)
1 onion (chopped)
1 bell pepper (chopped)
2 cloves of garlic (finely chopped)
olive oil
2 can's kidney beans (drained & rinsed)
1 28 oz can diced tomatoes
1 tsp dried oregano
1 tsp paprika
1/2 tablespoon cajun seasoning (more depending on your taste)
1 cup dry white rice
2 cups water
In a large saucepan, drizzle about a tablespoon of olive oil and saute sliced sausage over medium heat until it starts to brown a little. To the sausage, add chopped onion, bell pepper, & garlic. Cook for about 7 minutes or until veggies are tender. Add kidney beans, tomatoes, and spices. Cover and simmer for 25 minutes.
While the beans are simmering, combine your water & rice in a medium sauce pan. Bring to a boil. Reduce heat, cover & cook for 20 minutes or until rice is tender.
For serving , you can either mix the rice and beans together, or serve it like it did by layering the rice first, then topping it with beans.
I love how easy this family dinner came together.