Raspberry Jam Oat Bars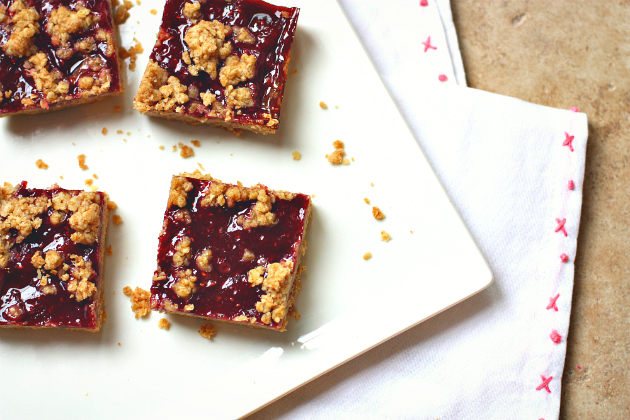 Hi Friends!  If you hadn't noticed, I have been taking a little break from my website lately. With everything that has gone on in my life with moving across the county and settling into a new routine, I found that I was struggling to come up with creative ideas for this little website. Then I realized all I wanted to do was be with my kids and help them through the transition. It was the best decision I ever made. I took a break from the internet world and gave 100% attention to everything else. The good news is, I never felt guilty about it. I knew I would be back when I was ready. Then one day M asked me to make raspberry bars for her. I hadn't made these in years.
I decided to seize the opportunity, wipe the dust off my DLSR and snap photos of the little creation we made together. I was fun takes pics again after a much needed break. I even suggested we use a different type of jam (like peach), but they wanted nothing to do with it.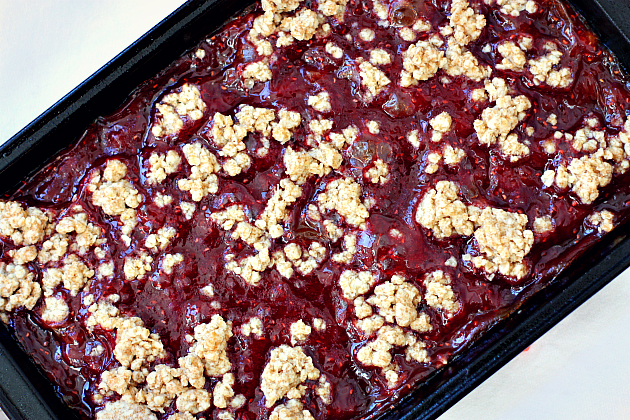 My family is very picky about what type of jam they eat. I've bought every fruit jam out there, but they MUST have raspberry. Every time I try to sneak a different kind in the mix they always moan and want their raspberry jam.
The good thing about these bars is you can use any type of jam you like.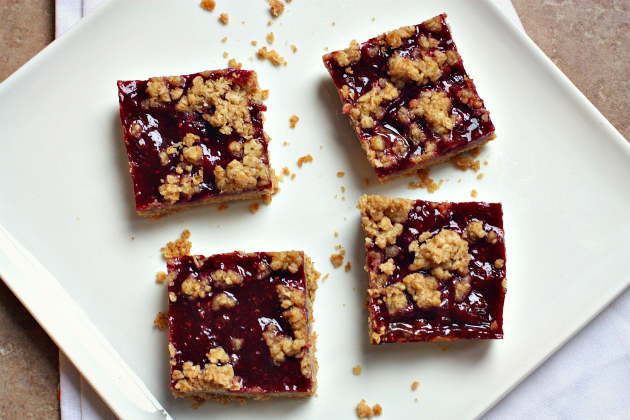 These one pan bar are simple and delicious! They make for the perfect little lunch box treat 🙂
Raspberry Jam Oat Bars
1 1/3 whole-wheat pastry flour
1/2 cup light brown sugar, firmly packed
1/4 teaspoon salt
1/2 teaspoon baking soda
1/2 cup unsalted butter, cut into small pieces
2 cups quick oats, such as Quaker
1 cup raspberry jam
Directions
Heat oven to 350 degrees. In a mixer or food processor, place flour,oats, sugar, salt, baking soda, and butter. Pulse several time until mixture is combined and a crumbly dough forms. Spray an 8×8 pan with non-stick cooking spray. Press 2/3 of the dough firmly into the pan. Next spread the jam evenly over the crust. Then sprinkle the remaining dough evenly over the jam.
Bake for about 20 minutes then cool completely… this will take a few house. Cut into 2×2 inch squares and enjoy!