Caprese Corn Salad: Clean out the Freezer Dish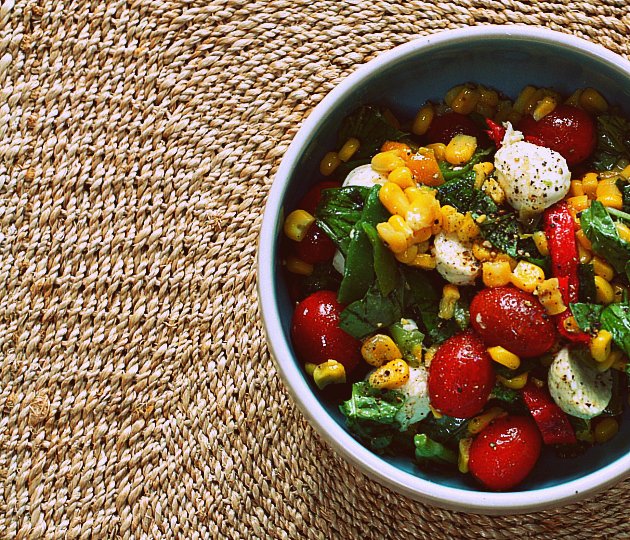 With the Spring Season in full bloom, our family has been busy doing a lot of house projects. On the top of my list was to clean out the freezer. This dish came together in less than 30 minutes and all it involved was a little thawing and chopping. All these ingredients are some of my favorite flavor combos and pairs perfectly with leftover chicken or steak.
I loved that I was able to put together a nutritious meal and clean out my freezer all at the same time! Be sure to check out Easy Home Meals and  NFRA for more frozen food tips!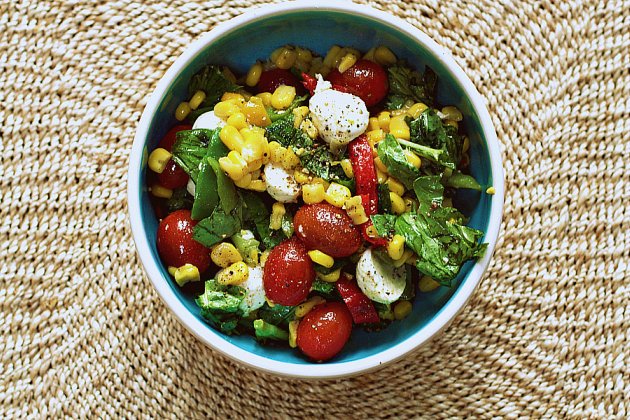 Caprese Corn Salad
Ingredients:
Salad Dressing:
5 tablespoons white balsamic vinegar
1/4 cup olive oil
1/2 tsp dijon mustard
salt & pepper to taste
Whisk all ingredients in a small bowl and set aside while prepping salad
Salad:
4 cups frozen corn
1 1/2 cups frozen bell peppers (chopped)
2 cups cherry tomatoes
8 oz mozzarella pearls
1 cup basil leaves (torned or chopped in small pieces)
Place frozen corn & bell peppers in a strainer and place under warm running water until thawed. Using a napkin, pat corn and bell peppers dry and place in large bowl. Add tomatoes, mozzarella pearls, and basil. Pour salad dressing over the ingredients and gently fold until salad is mixed through. Serve immediately or within the next two hours.