Mommy Brain & Spinach Ricotta Stuffed Shells
I'm sure you've all heard of pregnancy brain before… right?
I swear when I was pregnant I forgot EVERYTHING! Someone would tell me something and I would forget it 5 minutes later.
When I was pregnant, I would wear my flip flops on my way to work and change into my fancy heels when I got to work. Well one morning I forgot to bring my heels and mindlessly walked in to work with dress slacks, a cardigan, and flip flops… classy… I know. Needless to say I learned my lesson and always kept a pair of heels in my car to make up for my pregnancy brain.
After I had my daughter I was really looking forward to getting my head back in order… and think straight again. Well my friends… I'm here to tell you that pregnancy brain is replaced by mommy brain.
Yesterday morning I packed my daughter's bag, took her to daycare, then drove to work. I felt like something was a little off. Well… shortly after I got to work I remembered my daughter's lunch bag was sitting on our kitchen counter! How could I do that?! How could I forget to send my 9 1/2 month old to daycare without lunch?!?!!!!
Luckily I have a very understanding boss who is a mom herself. She chuckled when I told her what I did. So I left work, picked up my babies lunch, and took it to daycare. Lesson learned! Now I have a mini-checklist right by my keys so I make sure not to forget anything… let's hope it works 🙂
Phew! Glad I got that off my chest!
Over the weekend I made a batch of homemade pasta sauce minus the meat.
I like making big batches of things, especially sauces, and freezing them.
Now that I know how to make my own marinara sauce from scratch, I can't imagine buying Ragu' again.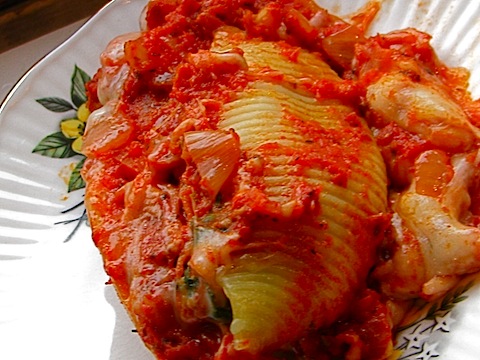 I've mentioned before that I LOVE meals that have all the food groups in one meal. These stuffed shells are perfect for that!
These shells contain lean Italian turkey sausage, ricotta, and spinach. I know they make whole wheat jumbo pasta shells, but I couldn't them in my grocery store, so I went with the regular shells.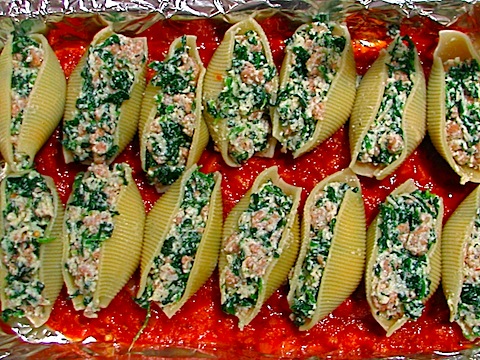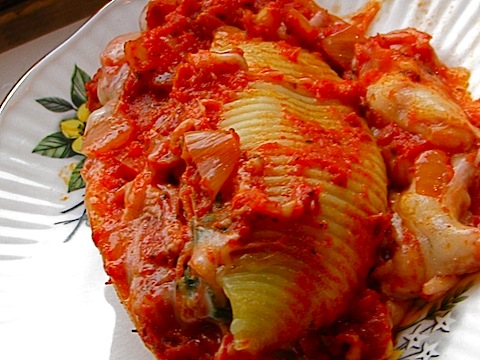 This dish was so good! And it contained my husbands favorite ingredient… MEAT 🙂 This dish makes plenty of food so it's good for lots of leftovers for a quick and easy meal.
Ingredients:
About 3 cups of homemade sauce – minus the meat
One box of whole wheat pasta shells, whole wheat if you can find them
3 cups part-skim ricotta
1/2 parmesan cheese
3 links lean Italian turkey sausage (remove casein)
1 teaspoon onion salt
2 teaspoons garlic powder
1 tablespoon Italian seasoning
1/4 teaspoon kosher salt
about 10 grinds of fresh cracked pepper
One 10 oz box of frozen chopped spinach, thawed and drained
1 egg yolk
part-skim mozzarella
Directions:
Preheat oven to 350 degrees.
Remove turkey sausage from casein and cook in saucepan until cooked through.
Cook pasta shells according to box directions.
Combine turkey sausage, ricotta, parmesan, onion salt, garlic powder, Italian seasoning, salt, pepper, spinach, and egg yolk.
In a 13×9 baking dish, spread about 1 cup of sauce on the bottom of dish.
Fill each shell with about 2 tablespoons of filling.
Pour remaining sauce on top of shells.
Cover with foil and bake for 30 minutes.
Uncover and sprinkle with 1/2 cup mozzarella cheese and bake for additional 10 minutes or until cheese in bubbly.
Enjoy!!
~~~~~~~~~~~~~~~~~~~~~~~~~~~~~~~~~~~~~~~~~~~~~~~~~~~~~~~~~~~~~~~~~~~~~~~~~~~~~~~~~~~~~~~~~~~~~~~~~~~~~~~~~~~~~~~~~~~~~~~~~
Question of the Day?
Have you every had a "mommy brain" moment… even if you're not a mom 😉