Nutrition Q & A
Happy Wednesday 🙂
How are you? I'm doing pretty good… I do have something on my mind though….
I posted on Monday about my jalapeno pickling experiment. As mentioned on Monday… this is my first time doing this, and after reading some of the comments about food poisoning, I'm a little freaked out. What if I did it wrong? What if I open it up in two months and make everyone sick? Should I stick it in the refrigerator? What do I do?
Is there anyone out there that has any pickling experience? Your advice is greatly appreciated 🙂
On another note… I've received a few questions for my Nutrition Q & A. As always… the reader who asked the question is left anonymous for privacy reasons.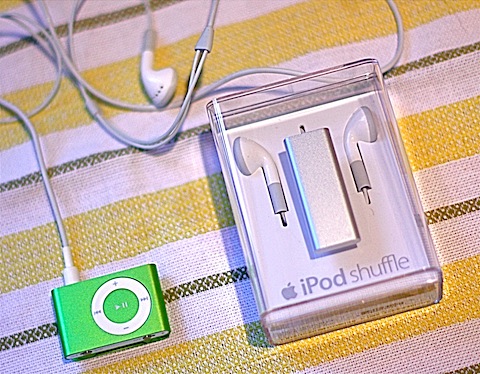 Q: I know this is really random. You've mentioned that you like to run a lot. How much do you run, and do you run with music or without?
A: I love running. I've cut back a lot over time, but I'm happy with my current routine. In an ideal week, I like to run six miles 3-4 times per week. On the other days I like to either go to the gym or attend a Hot yoga class. As far as running with music… I HAVE to run with music. Its actually ironic that you ask this because just the other day my trusty ipod shuffle DIED! I think these things are made to only last two years, that way you have to purchase a new one. But to answer your question… I love running with music. I make sure that the volume isn't to high because I want to be aware of my surroundings.
Q: I follow your blog all the time. I've read the book you recommend (intuitive eating) and try very hard to eat sensibly. My problem is that I often find myself mindlessly eating all the time – almost binge eating! I've had a lot going on emotionally lately and have just found out that I cannot run (medical reasons) and have gained a lot of weight. I can easily stand to lose 15-20 lbs right now, but I feel like food controls me, not the other way around. What would you suggest to turn the table and get some control over my eating habits and weight? I don't want to try weight watchers or other diet plans, but I feel like I'm stuck on a downward slope.
A: Thank you for the email. I'm so glad to hear you enjoy my blog 🙂
I'm sorry to hear you're going through some emotional times. I know how hard it can be. I'm an avid runner myself, and know how heartbreaking it can feel for someone to tell you to stop running.
Being in a situation where you feel food controls you is tough. Unfortunately, there's no easy answer. The most important thing to remember is that "its not about the food." If you can recognize that, and get to the core reason of why you want to eat when your not hungry, then you will slowly get better and feel more in control. One thing that's worked for me is forcing myself to wait until I have hunger pangs to eat. Not severe hunger pangs… but that growling of the stomach that tells you its time to eat. This can be incredibly hard to do… especially if you're going through some emotional issues. It can almost create a little anxiety… but its important to feel that hunger because then you feel like you're in control again. Does this make any sense?
An exercise I often have my clients do is to go 4-5 hours without eating anything. Just calorie free beverages. The purpose of this is to let them experience what true hunger feels like. This isn't something that should be practiced on a regular basis. This is just something to do once, so you know what its like to feel hungry, and what its like to feel full. Some clients tell me they felt hungry at the four hour mark and ate then, which is fine. You don't want to push to extreme hunger… you just want to feel hungry.
I really hope I've helped a little.If you need any more advice, feel free to email me.

Q: Is coconut water really as good for me as its advertised? Do you drink coconut water? Love your blog by the way!
A: I love coconut water! And yes… I do drink it 🙂 What I love the most about it is the ingredient list. "Natural Coconut Water" is the only ingredient! For an 8.5 ounce serving it has 45 calories, 30 mg of sodium, 515 mg of potassium, and 11 gm of carbohydrates. I love to run and I practice hot yoga… hydrating with coconut water is vital for me. You can't beat that amount of potassium! Coconut water has more potassium and less sugar than your average sports drink.
Q: I'm so confused when it comes to buying bread! There's hundreds of them! Do you have any guidelines that you go by?
A: A guideline I like to use is to make sure the bread has at least 3-5 grams of fiber and no more than 120 calories per slice. I always make sure its 100% whole wheat. My favorite bread to buy is Martin's Whole Wheat Potato Bread. It has 4 grams of fiber and 70 calories per slice. 🙂
If you have any questions I'm happy to answer them! You ca submit there here 🙂
I have a busy day ahead.
On the agenda:
Hot yoga class
Finish up some paperwork
Blog
Finish Weekly Bite Newsletter
Conference call at 3pm
Clean upstairs of house
Run several errands
Figure out what to cook for dinner…
Oh… and take care of a 14 month old all day 🙂