Red Hot…
Hi 🙂
How was your weekend? I had one of the best weekends ever! The main component involved doing nothing 🙂 🙂 Plus Tim was here so that made me a happy camper 🙂
I did make it to a yoga class. It was one of the hardest Bikram Yoga classes. I swear I was sweating buckets! I can normally handle the heat, but it was so hot in there that I had to take a knee a few times! Phew! I downed the two liters of ice water I brought with me, and during my eight minute drive home, I finished a 14 oz coconut water and a 20 oz G2… and I was still thirsty! I had to work hard to rehydrate!
Remember a couple of weeks ago I mentioned about all the jalapenos I had?
I got some really great suggestions! Pickling and freezing seemed to be the best choice. I froze half of them according to Mia's suggestions. I just cut them in half, de-seeded them, wrapped em' up, and stuck them in the freezer.
The other half went into the pickling jar. This was my first time pickling anything. I researched tons of recipes and finally decided on one.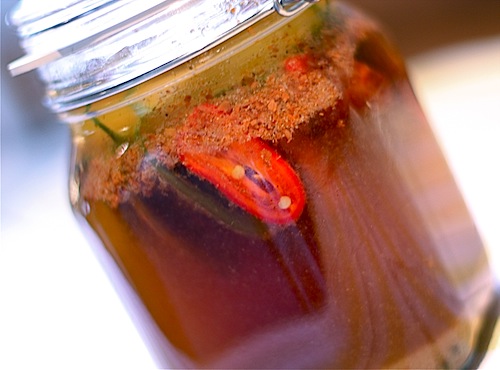 I dipped my jar in boiling hot water to sterilize it, then cut the jalapenos in half lengthwise. I decided to leave the seeds in.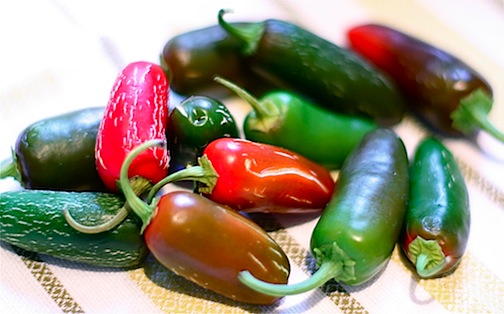 Next was boiling the pickling water. In the pot went:
2 cups white vinegar
1/2 cup water
1/3 cup olive oil
2 tsp kosher salt
1 tablespoon garlic powder
1 tablespoon onion salt
2 tsp red pepper flakes
2 tsp cumin
I brought the mixture to a rapid boil, then poured it into the pepper filled jar.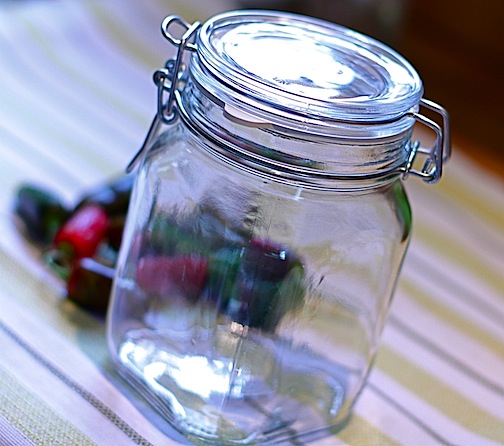 All sealed and ready!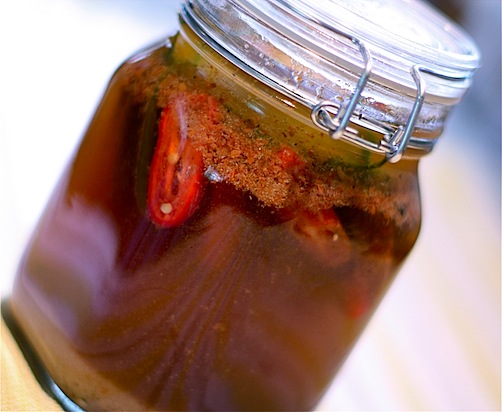 I know it looks kinda gross right now… but I'm hoping they'll taste great 🙂
We'll find out in two months! That's what the instructions said… to wait for two months to open the jar.
I feel like I'm doing some sort of science experiment!
Have you ever pickled anything before?
On the agenda today:
Yoga
UPS store to overnight a package
More work of Weekly Bite Newsletter
Grocery store and Trader Joe's
Blog 🙂
Figure out something fun to do with M 🙂 🙂
Have a great Monday!!!