Relationship Weight Gain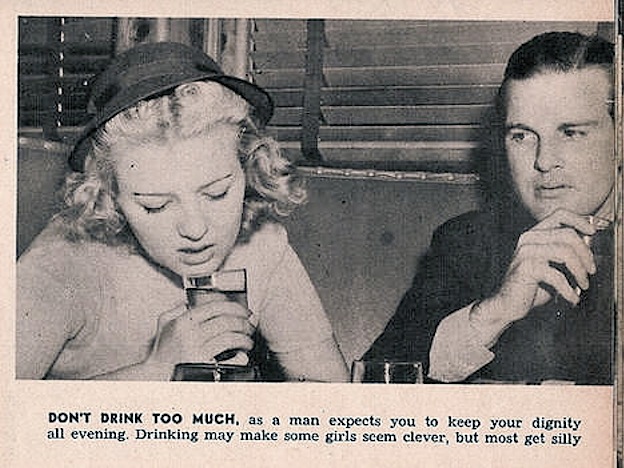 I love this picture! Google vintage dating tips for the full picture spread!


Relationship Weight Gain
This is a pretty common occurrence. Trust me… I've been there! We are in a committed relationship, in love, happy, and the pounds start to just pack on! We feel comfortable with our mate, eat out more, and skip workouts. Before we know it, an extra 15 pounds is on our once slender frame. There are ways to deal with this, and ways to avoid it.

Do Not Match Him Bite for Bite
Why does it seem that no matter how much our spouse eats, they never seem to put on an ounce? This may not be the case for everyone, but it's often true! Majority of men have faster metabolisms than women. They are often leaner as well. Men tend to gravitate towards a heartier comfort type meal, while women may stick to the standard lean protein, veggie, and salad type meal (pre-relationship). It's so easy to indulge in a triple meat double cheese pizza with your spouse… You're both doing it… so why not? Right!?!? Just because he orders and consumes a 22oz porterhouse steak does not mean we should too! I'm not saying to avoid these foods all together, by all means, we should eat foods we truly love, but we need to know our limits. A 5'3″ female requires much less calories than a 6'2″ male. Keeping our portions in check is key. Order your pizza ½ cheese & veggie and ½ sausage. If you want a steak, go for a leaner cut like a Filet, or order the porterhouse and just eat a small portion. Know that you're consuming high calorie foods and keep your portions small.
Each Person's Eating Schedule is Different
It's pretty rare that two people are both hungry at the same time each day. Each person's body will most likely feel hungry at different times. For example, let's say we got home from work at 5:15pm starving. We are so hungry we can't stand it. So, we snack our way to fullness. By the time your spouse gets home, dinner is ready, you're not hungry anymore, but you eat anyway. If we consistently do this, weight gain can be the result.
An easy way around this is to get to know each other's schedule. Communicate with each other regarding what time each of you will be home and what time dinner will be. If you're hungry for lunch at 1pm and dinner isn't until 7:30pm, you want to plan a moderate snack somewhere in the middle, that way you feel comfortably hungry at dinner. The same goes for the weekends. Communicate, come up with a plan, and go from there.
Do Not Become A Sympathetic Eater
Just because he's eating does not mean you have to eat. This is a hard one… I know! You're both watching TV and all of a sudden he's got a box of buttery crackers on his lap. Like I mentioned before, each person's eating schedule is different. Just because he's munching on Cheeze-It's does not mean you should join in… If you're not hungry, don't eat. If you're new to this type of thinking, it may be challenging in the beginning, but it will get easier.
Know Yourself
I've said this in just about every nutrition article, but you have to know yourself! Get to know your body and how it works. You know when you are eating too much and you know when you are slacking on your workouts. If you know you're the type of person who needs to workout consistently to keep your weight in check, then continue to do that. If you find yourself consistently avoiding workouts in favor of cuddle time, it is just a matter of time before the weight creeps up.
Make Yourself a Priority
It's important to take care of yourself and make yourself the priority. Knowing we are taking care of our body and making decisions each day towards the right direction makes us healthier, happier individuals. When we are happy with ourselves, this is likely to make us happier in life and in our relationship.
Question of the Day:
Have you experienced relationship weight gain?
I know I have. I got super comfortable, lost touch with my hunger, ate whenever, and gain some weight. It was a part life. I got to know my body very well over this time. I had to tune in and learn that I can enjoy whatever foods I loved, but didn't need to eat the entire plate. I'm a better person after going through that. I'm happy 🙂