The First Day…
Phew… its been one busy day!
6am – Wake up
6:15 – Get breakfast ready for M
6:30 – M wakes up
6:50 – M eats breakfast
6:55 – Pack M's lunch while she's eating breakfast
7:30 – Head out for a 6 mile run with M
8:45 – M plays safely in her crib while Mommy gets showered & ready for the day
9:15 – M comes downstairs with me to play while I eat breakfast
9:30 – Take pics of M in her first day of school outfit (Thanks to Grandma V 🙂 )
9:40 – Take M to her first day of pre-school!!!!
10am – Drop M off for her first day of school!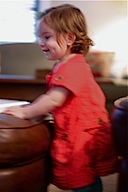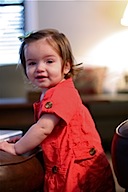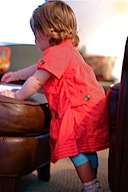 I shed a few tears at the door 🙁
I collect myself, get into the car, and drive into DC for a much needed haircut & color.
After two and a half hours, my hair looks normal again 🙂
I drive back to Alexandria, hit the store for some dinner ingredients, and pick up M.
And now… here I am… blogging away as I listen to my daughter play in her crib instead of taking a nap….
At least she had fun on her first day 🙂
So how's your day going??
I'll see you all this evening with a fun recipe 🙂