Edamame Kale & Sweet Cherry Salad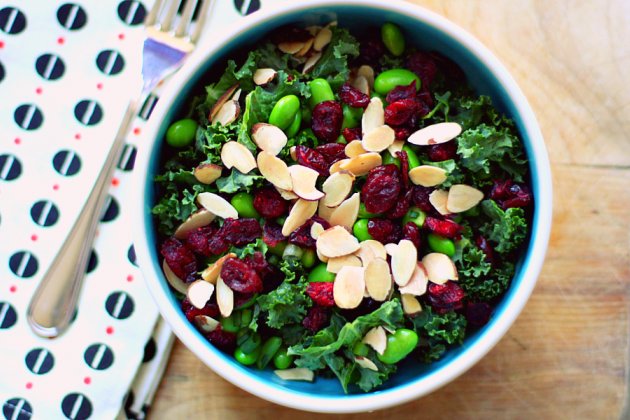 With February being National Heart Month, and in coordination with the NFRA & Easy Home Meals,  I created this healthy Edamame Kale & Sweet Cherry Salad. The vibrant colors not only make this salad look delicious, but it is nutritious and packed with flavor. The two main ingredients are Frozen Edamame, and Kale.  Edamame is packed with nutrition at 120 calories per 1/2 cup serving, 9 grams of fiber, 2.5 grams of fat, 11 grams of protein, and contains around 10% of the Daily Value for two key antioxidants; vitamins C and A. And for a plant food, it's quite high in iron; it has about as much as a 4-ounce roasted chicken breast, all of which are beneficial for the heart.
Here is everything you need to make this amazing salad:
4 cups fresh chopped kale (if fresh is unavailable, kale leaves can be found in the frozen food section.
2 cups frozen shelled edamame
1/4 cup chopped scallions
1/2 cup dried cherries (dried cranberries can be substituted)
1/4 cup slice almonds
2-3 tablespoons of your favorite vinaigrette.
All you do is combine the above ingredients in a large bowl, gently toss together with your favorite dressing, and serve.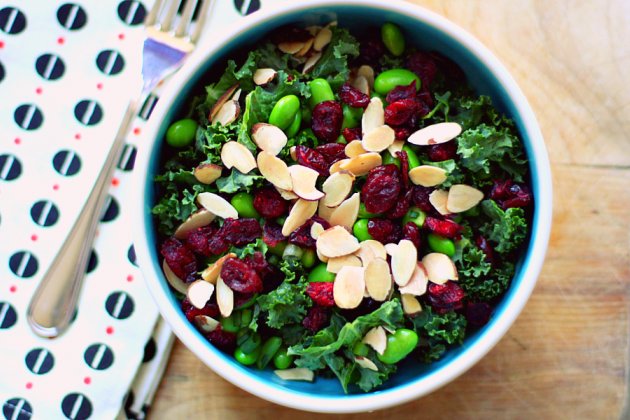 It makes for the perfect meal!
Enjoy!