Flower Pot Dessert {kiddie treat}
Made with chocolate avocado pudding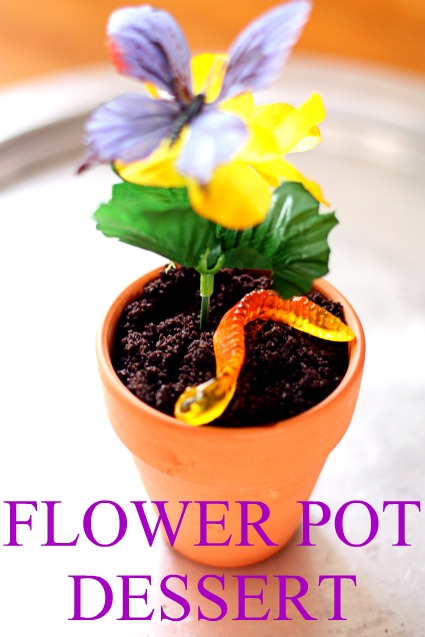 Before you cringe at the fact that I used avocado's to make chocolate pudding, let's talk about how incredibly cute this kiddie treat looks!
We had these flower pot desserts on special occasions when we were little. I remember the first time I saw one of these. I seriously thought it was dirt in a pot. After one taste I was sold! I decided to recreate this blast from the past for M, but with a few changes.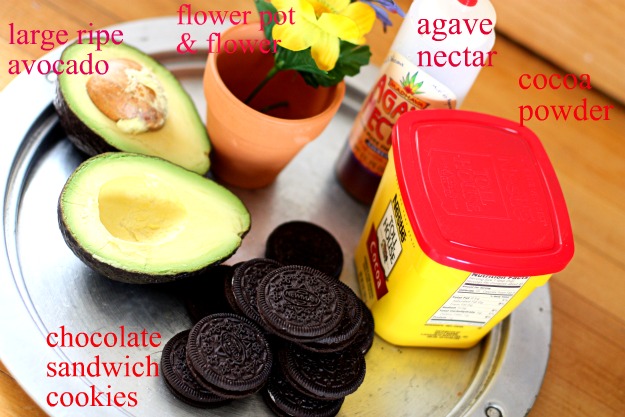 Before you make the chocolate avocado pudding, you want to crush the cookies.
I used Newman's Organic Newman'O's, but you can use Oreo's too 🙂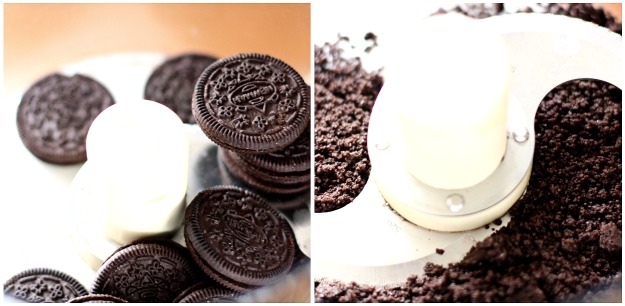 After the cookies are crushed its time to make the pudding. This was the first time I've ever made avocado pudding before. I was impressed! If avocado pudding isn't your thing, you can easily use instant pudding 🙂
Take one large ripe avocado, chop it up, and blend it in a food processor or blender. Before you blend it add about 3 tablespoons cocoa. Blend until all the cocoa is mixed through and has a pudding consistency. To the mix add two teaspoons vanilla and drizzle in agave nectar or honey to desired sweetness. I used close to 1/3 cup agave nectar and it tasted great 🙂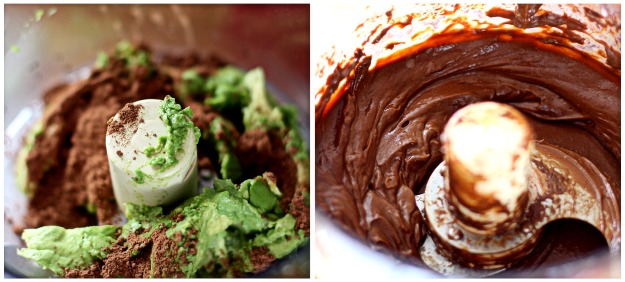 Once the pudding is how you like it, its time to layer the pot. Since there's a hole on the bottom of the pot, I placed a whole sandwich cookie on the bottom to serve as a stopper. Next you add a few tablespoons of pudding. Then layer with a few tablespoons of crushed cookies, then more pudding, and finally a nice thick layer of crushed cookies.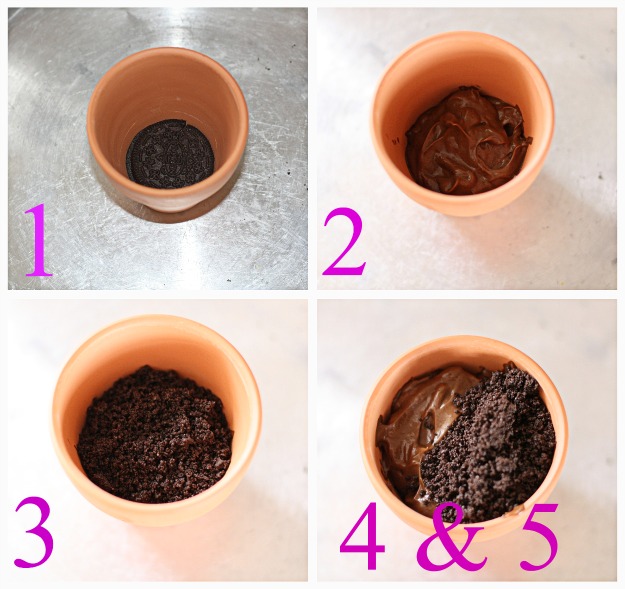 Once the pot is layered it's time to dress it up. I topped it with a cute flower I found at Michael's and gummy worm to add to the 'dirt appeal'.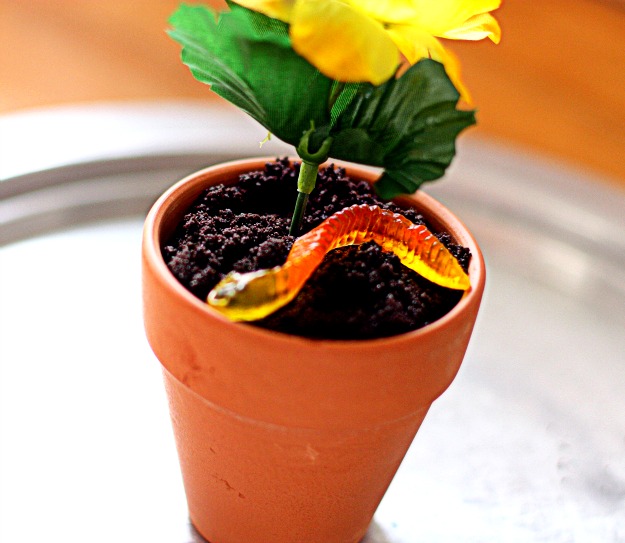 Ingredients:
1 small clay flower pot
1 fake flower
gummy worms
10 chocolate sandwich cookies
1 large ripe avocado
3 tablespoons cocoa powder
2 tsp vanilla extract
1/3 cup agave nectar (more or less to taste) – you can use honey too.
1/4 tsp salt
Rinse out the flower pot before use. Let dry. Crush the cookies into crumbs using either a food processor or blender. Set aside. For the pudding, chop up the avocado and place in food processor or blender. Add cocoa powder, vanilla, & salt. Blend until creamy. Be sure to scrape down the sides to ensure all cocoa powder is blended in. Slowly drizzle in agave nectar. Start out with 1 tablespoon and slowly add in more depending on the sweetness factor you like. If the pudding is too thick for you, add in a tablespoon or more of water or milk until the pudding is thin enough for you.
To layer the pot, place a whole sandwich cookie on the bottom of the pot to plug the bottom. Layer with 3 tablespoons pudding, then 3 tablespoons crushed cookies, then pudding, and then the final layer of crushed cookies.
Stick the fake flower into the pot and top with a gummy worm 🙂 Serve immediately or refrigerate until ready to serve.
This would make the perfect party treat!!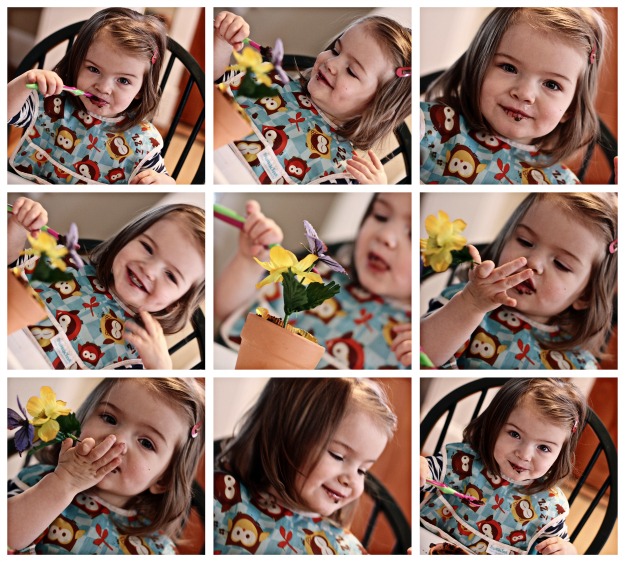 Somebody was VERY happy when they saw this upon waking from their nap. She was smiling & giggling the entire time.